Wrapped Roots Was A Blast!
Wrappedroots was a huge success with 40 competitors taking to the waters at Jodi Fisher's Ski School, with half having never skied in a tournament before or even seen a course.  Jodi's new "Gate Guide System" worked like a charm, helping the beginnings and intermediate skiers guide them when to go on the always important gate setup. Friends and family cheered on all the competitors, making for an amazing atmosphere.
In addition to getting new skiers into the sport, Jodi's fund raising tribute for Andy Mapple was unforgettable. The skiers and their families were treated to a professional breakdancer/painter (@Salvadorlivepaints), who performed a jaw dropping painting upside down, finishing his act by flipping the canvas and revealing a stunning image of Andy slaloming (see in video).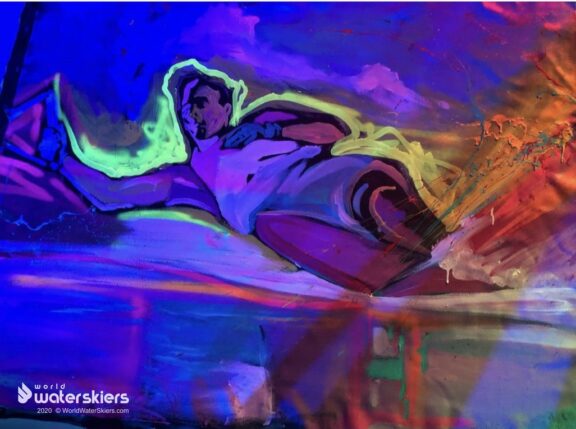 The painting and other unique items raised funds for the "Spray It Forward" campaign, which focuses on growing the sport through supporting over 100 college water ski teams across the USA. Spray It Forward recognizes the value in the over four thousand students who ski at the State, Regional and National collegiate level, with many students learning to ski for the first time while at College.
World Water Skiers was proud to be apart of Jodi's 1st Grass Roots event. All of the incredible memories were shared by those at the lake and captured through photos and videos, which will be archived on Jodi's new Club Page on WWS for future generations to enjoy.
Moving forward Jodi's can use his page to keep in members informed when new events hit the calendar and are featured on his page. Join Jodi and setup your club page, helping us create memories like this on your home lake.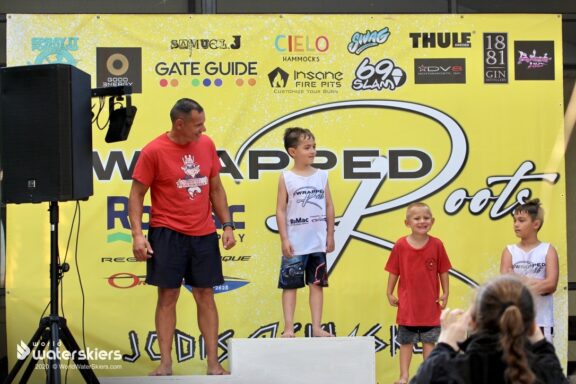 4 year old boy called Bruno Rodrigues from Apopka FL who has learned to deep start on a single ski all within the last two weeks and to start work in and figuring out the mini course and he just can not get enough of the course!
If you are planning a trip to Orlando or just stopping by hit Jodi up for a pull at his beautiful site and tell him how much you appreciate him for giving back to the sport!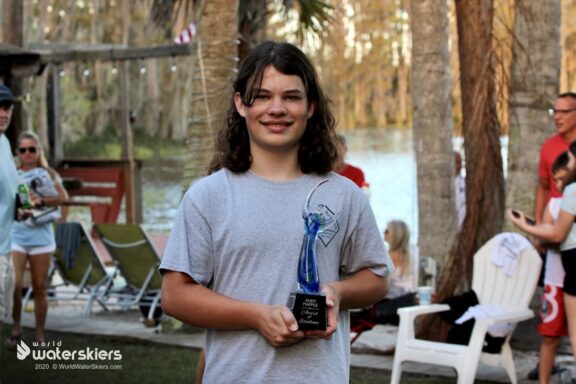 Congratulations to Levi Mitchell, winner of the
2020 Andy Mapple Award Of Excellence
Remember to support these special sponsors for stepping up and supporting our community.
JODI's VIDEO TO THANK EVERYONE
Jodi's Ski School
The Grove Resort Orlando
Thank you to the Andy Mapple Tribute Dinner Auction who help with Venue, Marquee, Entertainment, food, and Donations for the Auction.
Regal & Nautique of Orlando,
Marquee & Salvador Live Painting,
Romac Building Supply,
Samuel J Music Concert,
Rocco's Tacos & Tequila Bar Food ,
1881 Distillery Drinks,
Jodi's Ski Skool – Stained Glass Mural,
Wrapped Skis USA – Slalom Ski,
Insane Fire Pits – Design your own custom fire pit,
Tom King Photography – Framed image of Andy Mapple in Action,
Jet Surf Orlando Academy – His and Hers Jet Surf Experience,
JetSurf Orlando would like to donate a JetSurf Discovery Ride for 2 (Couple's ride).  Value $279,
Eagle Wetsuits – Impact Vest,
Get Your Lake ON Company,
Pull Sports Company – His and Hers T-Shirt, Hats and Hoodies,
Thule – 3 piece waterproof Travel Luggage,
---
PostTags:

2020 wrapped roots | Andy Mapple award of excellence | grassroots | Jodi Fisher | Jodi Fisher ski school | ski | skiing | slalom | waterski | wrapped roots | Wrapped Roots in Association with Romac

Credit:

Jodi Fisher

Source:
---