World Elite Shine in Fischlham
Weltelite Glänzte in Fischlham
World Elite Shine in Fischlham
Bezirksrundschau 22.8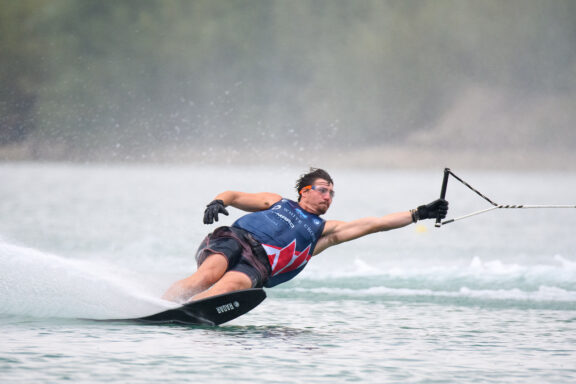 World record man Joel Poland(above) from Great Britain ahead of number two, Austro-Canadian Dorien Llewellyn (below)- the best water skiers in the world prevailed at the third of four World Waterski Overall Tour stops in Fischlham (Upper Austria).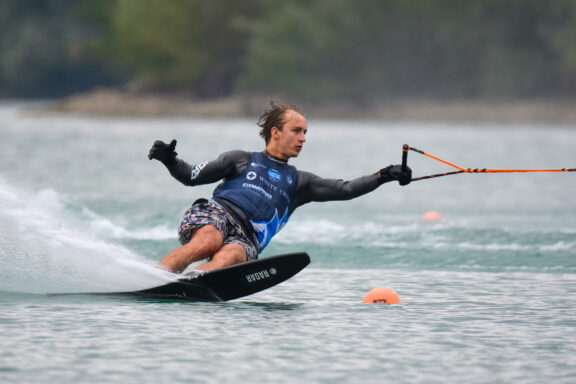 FISCHLHAM. European Championship bronze medalist Luca Rauchenwald from Carinthia, who finished third in the jumping with 61.70 meters, came in seventh in the combined. Alexander Gschiel (WSZ Salmsee/Upper Austria), who used the wild card as a dress rehearsal for the U21 home European Championships starting on August 31, was tenth.
Stormy weather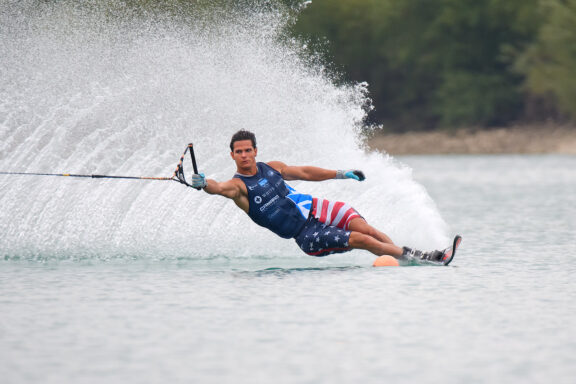 "There were extremely difficult, stormy conditions, so the performances were not so good. But it was a great experience to be able to compete with the world's best. Just to see how they prepare and then perform – it's just amazing," said Alexander Gschiel from Linz, who was able to reach 3.5 buoys on the 12-meter rope in the slalom: "I feel much more comfortable now after having material difficulties.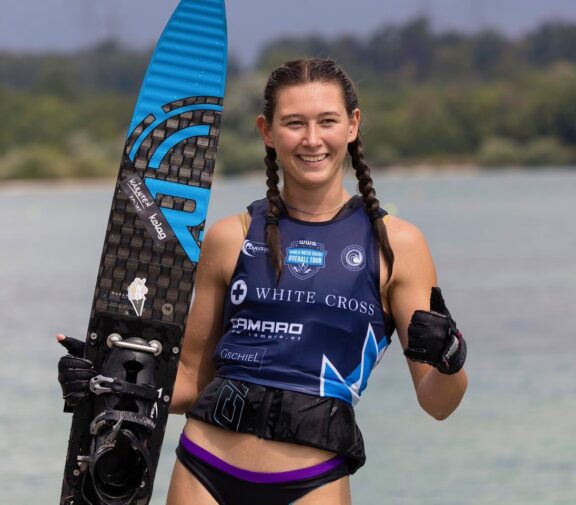 In the women's race, there were only two world-class athletes on the start line, with triple national champion Lili Steiner from Carinthia behind her in third place ahead of Elena Ahammer (WLU Fischlham). The local heroine left Steiner behind in the jumping (42.40 m) and in the trick event (3690 points) and may dream of another medal after the U21 European Championship bronze in 2021 at her home facility.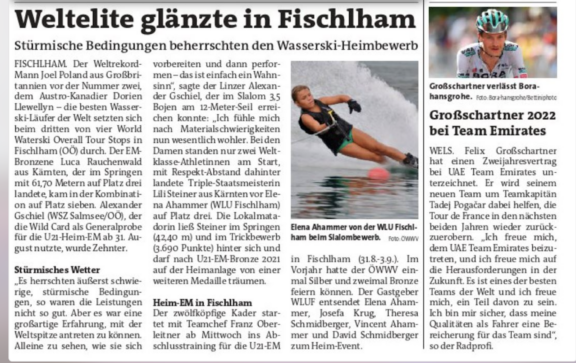 Der Weltrekord-Mann Joel Poland aus Großbritannien vor der Nummer zwei, dem Austro-Kanadier Dorien Llewellyn – die besten Wasserski-Läufer der Welt setzten sich beim dritten von vier World Waterski Overall Tour Stops in Fischlham (OÖ) durch.
FISCHLHAM. Der EM-Bronzene Luca Rauchenwald aus Kärnten, der im Springen mit 61,70 Metern auf Platz drei landete, kam in der Kombination auf Platz sieben. Alexander Gschiel(WSZ Salmsee/OÖ), der die Wild Card als Generalprobe für die U21-Heim-EM ab 31. August nutzte, wurde Zehnter.
Stürmisches Wetter
"Es herrschten äußerst schwierige, stürmische Bedingungen, so waren die Leistungen nicht so gut. Aber es war eine großartige Erfahrung, mit der Weltspitze antreten zu können. Alleine zu sehen, wie sie sich vorbereiten und dann performen – das ist einfach ein Wahnsinn", sagte der Linzer Alexander Gschiel, der im Slalom 3,5 Bojen am 12 Meter-Seil erreichen konnte: "Ich fühle mich nach Materialschwierigkeiten nun wesentlich wohler. Die Finne hatte sich ständig verstellt, das haben wir jetzt im Griff und jetzt funktioniert der Slalomski optimal", ergänzt der 19-Jährige, der bei der U21-Heim-EM einen Top 5-Rang in der Kombination erreichen will.
Bei den Damen standen nur zwei Weltklasse-Athletinnen am Start, mit Respekt-Abstand dahinter landete Triple-Staatsmeisterin Lili Steiner aus Kärnten vor Elena Ahammer (WLU Fischlham) auf Platz drei. Die Lokalmatadorin ließ Steiner im Springen (42,40 m) und im Trickbewerb(3690 Punkte) hinter sich und darf nach U21-EM-Bronze 2021 auf der Heimanlage von einer weiteren Medaille träumen.
---
PostTags:

Akquire clothing | austria cup | Britta Llewellyn | Brooke Baldwin | camero | Centre Nautique Pierre Plouff | Dorien Llewellyn | Dream Makers | Fischlham | Gmunden | Grumberg Hotel | Gschiel | Joel Poland | Kennedy Hansen | Kronehit | Louis Duplan | Martin kolman | Pol Duplan | Red Bull | Salzburg | Stieglbauer | wasserski | waterski | wels | White Cross | WWS Overall Tour | zum Alfons

Credit:

team WWS

Source:
---