Water Skiing In The Blood
Wasserskifahren im Blut
Water Skiing In The Blood
Salzburger Nachrichten 230thous Aug 27 2022
Dorien Llewellyn had to follow in oversized footsteps.
Mother Britta dominated the ladies for years, father Jaret is considered an absolute Legend in the scene. The son only discovered his love for water skiing during his vacations in his native Austria.
Conquering snow-covered slopes on two narrow boards have traditionally been a top priority in Austria. Those who make it to the top of the world, or even to international titles are sure of fame and honor and, above all, nationwide fame. Other sports can only dream of such national importance. Or have you ever heard the name, Britta Grebe? After all, the Upper Austrian has set four world records in the course of her career, won the European championship ten times in a row, and won two world championship titles. But not on alpine skis, but on water skis.
She knew early on that she would make it to the top. At the tender age of four, little
Britta confidently prophesied to her mother: "I'm going to be a world champion. However, it was not clear for a long time in which sport she would succeed. "I have always been interested in every sport. When the Olympics were on TV, I watched just about everything," Grebe recalls.
As a young girl, she first dreamed of a big career as a gymnast. But when she was 14, she switched from the gym to the water, where she started out enthusiastically in a rowing boat. "But that soon became too monotonous for me." She didn't discover her true passion and life's path until she was 17 when she went water-skiing. "That's when I knew right away that this was the sport for me."
She had barely come of age, packed up her bags, and set off for Florida, to the "Mecca of waterskiing. "The entire European elite trained at the ski school Britta went to. Fortunately, they recognized my talent and took me under their wings," reports
Grebe. As an absolute late bloomer in the scene, she subordinated everything to the sport
and worked only for food, lodging, and as much training time as possible.
"The first five years were super hard. The worst thing for me was that I couldn't spend Christmas at home for the first 5 years, because I couldn't afford the flight.
But I never lost sight of my goals, of what I was doing it for."
At the age of 23, her efforts were finally rewarded with a European Championship medal (bronze at that time). Two years later, she was crowned European champion for the first time and thus started her successful series of ten European Championship titles in a row.
However, the world championship title, which she announced at a young age, was to be a long time coming.
"Unfortunately, my nerves often played tricks on me. Again and again, I went into the final as the leader and then missed the victory in the end." The birth of son Dorien then seems to have finally loosened the curse. Less than 13 weeks after his delivery, she was already competing again at a European Championship. "Actually, I didn't want to take part at all, just to avoid coming in second." But when her husband Jaret unpacked the jumping skis he had secretly taken with them, she gave it a try "just for the fun of it" – and ended up standing at the top of the podium once again with baby Dorien in her arms.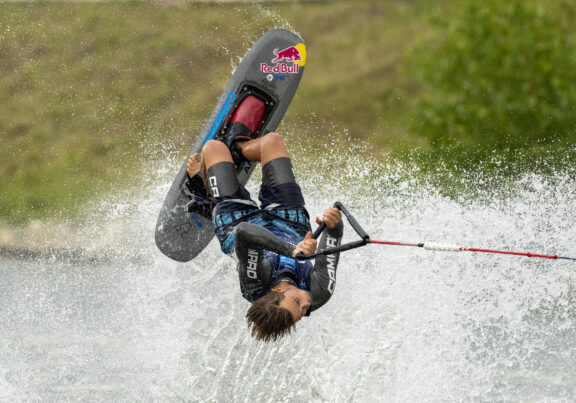 One of the reasons why Dorien hesitated for a long time to enter the water-skiing scene was the expectations that seemed to weigh heavily on him. His mother's successes are hard to top, and his father Jaret Llewellyn is considered the best of all time with a total of eleven World championship titles and enjoys legendary status.  So it's hardly surprising that Dorien first concentrated on another sport. He started playing ice hockey at the age of five and quickly showed such great talent that he even played in the junior team of the NHL club Florida Panthers. "I then developed my love for water skiing on the podium. A little later, her nerves finally held at a World championship. In 2000, she was crowned world champion for a second time.
Son Dorien can't remember his first time on the podium any more than he can remember his first water ski ride in his parents' arms at the age of six months. "I was always with them, watching them enthusiastically or in the water myself," says the junior
Mother Britta is proud of her son Dorien, who has long since stepped out of father Jaret's long shadow, and not just because of his sporting successes.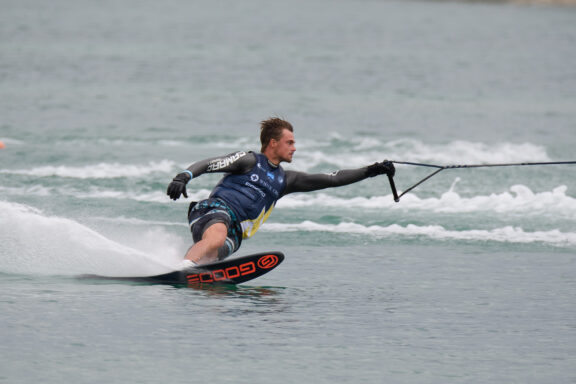 "I first discovered the sport in Austria. There, during the vacations, I was on the water with other kids almost every day for months and had tons of fun." In the beginning, he also competed for Austria and won six European Championship gold medals in the junior category.
At the age of 18, he finally decided on water skiing instead of ice hockey and also switched to the Canadian national team. "I just wanted to ski together with my father. Besides, waterskiing
simply get better support there," explains the now 26-year-old, who himself has long been a multiple world champion and winner of the Pan American Games.
His father's records, however, are still out of reach. In the jump, however, Dorien was one of only 13 athletes to break the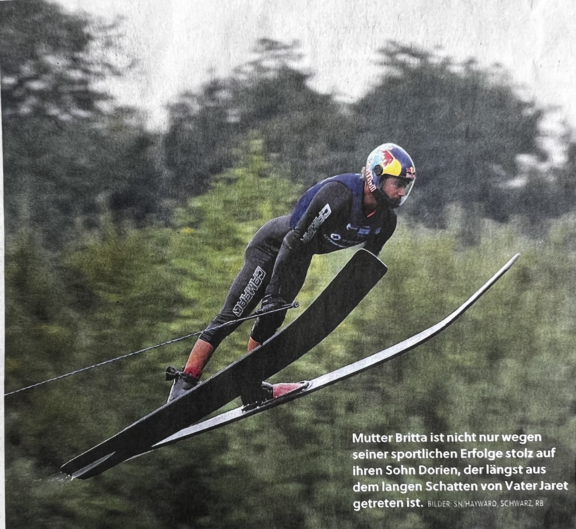 magic mark of 70 meters – and did so twice with pinpoint accuracy. He is still 3.5 meters short of his father's best. Dorien is also particularly strong in the spectacular trick skiing, where he does his flips behind the motorboat. In the slalom, with a height of 1.72 meters, he lacks a few centimeters to successfully scrape the turns between the buoys with a shorter rope length with each pass. In the combination of all three disciplines, however, he broke the world record in 2021 and thus brought it back into the family.
Dorien fell just short of victory when the world's elite met a week ago at Lake Plana in Fischlham, Upper Austria. At the "Austria Cup" organized by his parents and carried out with a lot of help from his Relatives on his mother's home course of many years, the 26-year-old had to give in to the British Joel Poland by a razor-thin margin. "That hurts, especially at home and in front of my whole family, not to win by such a narrow margin, but now I have to look ahead and really step it up at the last stop." After the rainy Fischlham, the final of the overall World Cup will take place in sunny Florida in October. There, too, the proud parents will keep their fingers crossed for their son.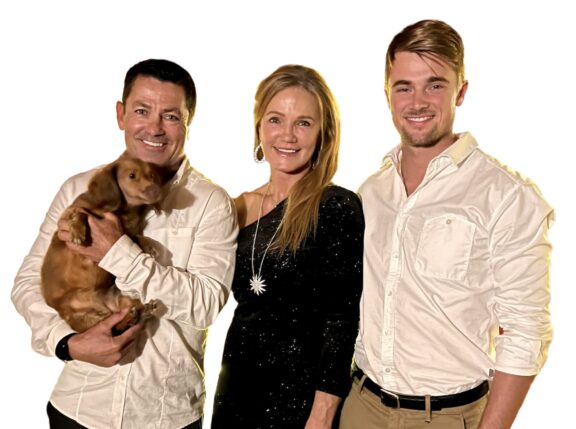 Written by CHRISTOPH PICHLER
---
PostTags:

Akquire clothing | austria cup | Britta Llewellyn | Brooke Baldwin | camero | Centre Nautique Pierre Plouff | Dorien Llewellyn | Dream Makers | Fischlham | Gmunden | Grumberg Hotel | Gschiel | Joel Poland | Kennedy Hansen | Kronehit | Louis Duplan | Martin kolman | Pol Duplan | Red Bull | Salzburg | Stieglbauer | wasserski | waterski | wels | White Cross | WWS Overall Tour | zum Alfons

Credit:

Christoph Pichler

Source:
---