Lacanau Cup 2023 Delivers Unforgettable Waterskiing Action
Lacanau Cup
Presented By Malibu Boats
Lacanau, France – July 3, 2023 – The first World Waterskiers Tour event, the Lacanau Cup, concluded over the weekend, from June 30 to July 2, with thrilling performances that left spectators in awe. With record-breaking feats, intense competition, and extraordinary displays of skill, the Lacanau Cup proved to be an unforgettable experience for both athletes and fans alike.
In the Women's Slalom Event, anticipation ran high as top contenders Jaimee Bull (CAN) and Whitney McClintock (CAN) had been trading wins in recent events. Both athletes showcased their remarkable talent, culminating in an equally impressive top score of 1@10.25m in the prelims. The stage was set for a nail-biting final, and the crowd eagerly awaited the outcome.
Manon Costard (France) was the first to brave the waters, setting a high standard with an impressive 4@10.75m. Allie Nicholson matched Manon's score, resulting in a tie. However, it was Whitney who reset the pace, flawlessly navigating the course at 10.75m. It was now up to Jaimee to surpass her competitors. With the crowd on the edge of their seats, Jaimee delivered an exceptional performance, reaching ball two and securing a final score of 1.5@10.25m, ultimately claiming victory at the Lacanau Cup.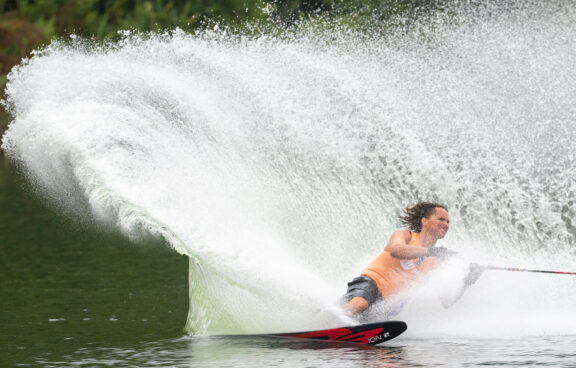 The Men's Slalom competition witnessed a fierce battle between eight talented skiers. Rob Hazelwood (England) and Thomas Degasperi (Italy) set the bar high with a commendable score of 3@10.25m each. Corey Vaughn (USA) and Will Asher (GBR) found themselves stuck at 3, unable to surpass their predecessors. However, Freddy Winter (England) raised the stakes with an impressive 5@10.25m, forcing the remaining skiers to push their limits. Dane Mechler (USA) and Brando Caruso (Italy) showcased their skills with scores of 4, but it was Nate Smith who rose to the challenge, completing the 10.25m line and securing back-to-back wins in Lacanau.
In the Women's Overall Competition, five skiers competed in the finals. Anna Gay faced an unfortunate early exit with 3.5@12m, while Paige Rini (CAN) set the pace in the Slalom event with 2@10.75m, dominating in her strongest discipline. Aliaksandra Danisheuskaya (USA) and Kennedy Hansen engaged in a close battle, with Aliaksandra scoring 3.5@11.25m and Kennedy achieving 1@10.75m. Giannina Bonnemann (GER) displayed remarkable consistency, securing 3@11.25m. Paige, with an exceptional score, ultimately claimed the 1000-point benchmark in Slalom.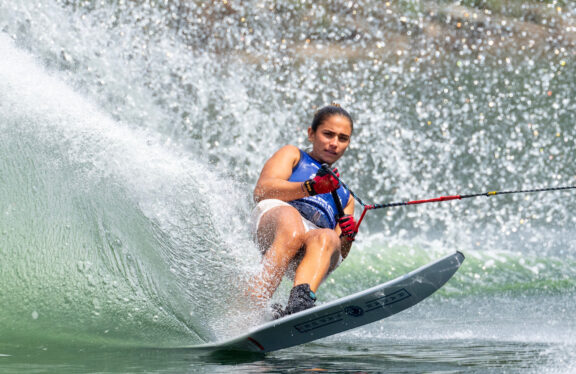 As the competition moved to the Tricks event, Anna Gay faced the challenge of outperforming her opponents but fell short of her usual pace, resulting in a score of 9620. Paige Rini fell near the end of her hand pass, affecting her scoring potential (7500). Aliaksandra's performance was slightly below expectations, resulting in a score of 6890. Giannina, with her blazing speed, secured the thousand points benchmark with a score of 10,180.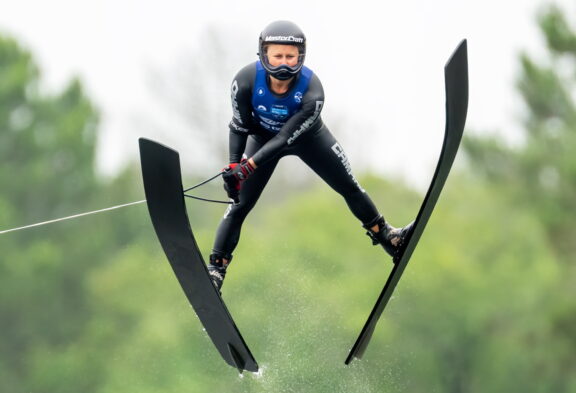 The Jump event witnessed Giannina maintaining her dominance, while a tight race for second, third, and fourth place unfolded. Anna posted a jump of 37.2m, while Paige's 46.9m leap took her to the top of the overall competition with 2598.41 points. Aliaksandra's strong jump of 51.7m put her in second place with 2586.82 points, closely followed by Kennedy's solid 43.3m jump, securing third position. Giannina displayed her expertise in her favorite event, posting an impressive 51.4m on her first jump and securing the overall victory with a total of 2891.35 points.
In the Men's Overall Competition, four finalists battled for the coveted title. Tristan, the younger brother of Louis Duplan Fribourg (FRA), started the proceedings with a score of 3@11.25m. Edoardo Marenzi (ITA) impressed with 1.5@10.75m, followed by Louis with a score of 4@10.75m. Joel Poland (GBR) delivered the best run of the day, achieving 2.5@10.25m and claiming the 1000-point mark.
The competition intensified as Tristan showcased his trick prowess (8570), and Edoardo encountered difficulties, resulting in a lower score of 7480. Louis fell short of his previous year's score, finishing with 10,840 points. However, Joel's performance, slightly off his normal pace, secured him a total of 10,990 points, propelling him into the lead but leaving the door open for Louis to shine in the Jump event.
Tristan faced a disadvantage due to slower speed but managed a respectable jump of 52.5m. Edoardo raised the bar with a leap of 59.6m, but it was Louis who broke the French national record with an astounding jump of 68.1m. Joel needed a 64m jump to claim victory, a challenging feat. Despite slipping on his first attempt, Joel improved on his second but fell just short. The tension was palpable as the score came in at 64.2, securing Joel's win by a mere 2.81 points, a margin less than a quarter buoy.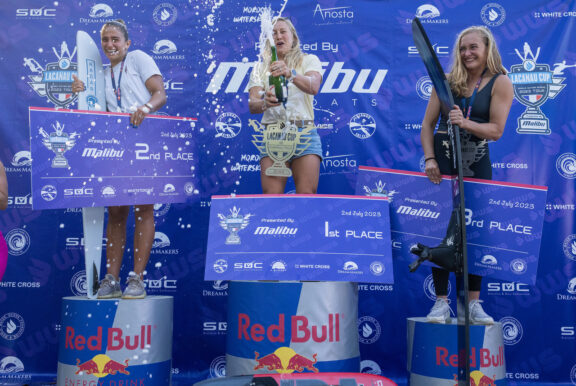 The Lacanau Cup 2023 showcased the highest level of skill, with each discipline fiercely contested right down to the last competitor. National records were shattered, leaving spectators amazed and exhilarated. We extend our heartfelt gratitude to the Lacanau Club, the dedicated judges, tireless volunteers, and generous sponsors whose contributions made this historic event possible. The growth of this tournament, both in terms of the competition and the attendance, is remarkable, and we eagerly anticipate what will unfold in 2024. Mark your calendars for next year's event, as it promises to be another extraordinary spectacle.
Photos of the event can be found on Getty Images
For photos please contact: Johnny Hayword
About World Waterskiers Tour: The World Waterskiers Tour aims to showcase the world's most talented waterskiers and provide them with a platform to compete at the highest level. With a series of events held in stunning locations worldwide, the tour brings together athletes, fans, and industry professionals to celebrate the sport of waterskiing.