The World's Elite Athletes Descend on Calgary
The World's Elite Athletes Descend on Calgary for the Thrilling WWS Calgary Cup
Presented By Tourism Calgary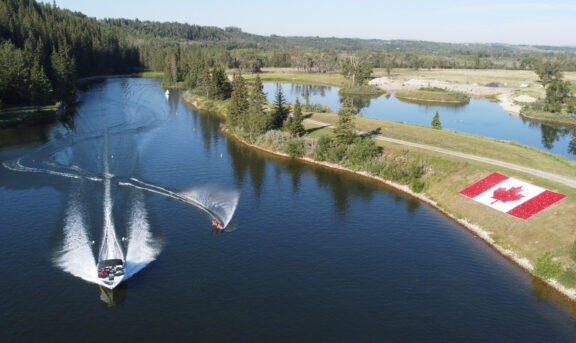 CALGARY, AB – Get ready for an adrenaline-pumping weekend of waterskiing action as the WWS Calgary Cup, presented by Tourism Calgary, takes center stage at the Lakes at Kastyn Stone/Predator Bay Ski Club on August 5th and 6th. This highly anticipated event is the 3rd Stop on the WWS Overall Tour and will feature a star-studded lineup of athletes from six nations, including France, Italy, USA, Germany, Great Britain, and Canada.
Following the immense success of last year's WWS World Overall Tour, Calgary emerged as the ultimate highlight with the largest crowd turnout. This year, we are thrilled to announce that the excitement is bound to be even greater, as the world's best Overall skiers return to Calgary, accompanied by the renowned Pro Slalom Shootout format.
The Lakes at Kastyn Stone/Predator Bay Ski Club, known for its breathtaking natural beauty, has hosted numerous national and international championships, including the unforgettable 2009 World Championships. Now, these world-class athletes will grace these picturesque lakes, surrounded by serene trees and wildlife, to deliver a spectacle that will leave spectators spellbound.
The Pro Women's field Slalom boasts incredible talent, with three out of the top four on the tour standings competing. Allie Nicholson from the USA, fresh off a win in Italy, and Canada's Whitney McClintock, with three wins already this year, will be joined by Alexandra Garcia from the USA, currently placed fourth on the tour, and determined to climb up the rankings.
The Pro Men's division will witness the presence of the reigning World Champion and record holder, Nate Smith from the USA. Smith will strive to beat his own Predator Bay site record of 1@9.75, set back in 2014. Canada's top slalom skiers, Call McCormick, and Stephen Neveu, will be formidable contenders, aiming to challenge the world champion on his throne and secure victories on their home turf.
In the Overall discipline, Germany's Giannina Bonnemann has been on fire, claiming victories in France and Austria. USA's Aliaksandra Danisheuskaya, who led last year in Calgary, will be determined to clinch the Calgary Title this time. World Overall Champion Hanna Straltsova from IWF makes her debut this season in Calgary, while Canada's phenom, Paige Rini, sets her sights on winning her first title of the season on home soil.
In the men's Overall category, Joel Poland from Great Britain has been enjoying an incredible season, winning the first two stops. However, rival Louis DUPLAN-FRIBOURG from France recently set a new national record at the Lacanau stop, and fresh off his European championship wins in jump, trick, and overall, he is a force to be reckoned with. Canada's Dorien Llewellyn, unfortunately recovering from an ankle injury sustained during a jump crash two months ago, is determined to make a triumphant comeback for the World Championships later this year in October.
For the Overall skiers, the WWS Calgary Cup is a game-changing event. They have the chance to drop their lowest score of the four tour events, making Calgary the first event where a tour champion could be crowned. The stakes have never been higher, and spectators cannot afford to miss this opportunity to witness world-class athletes compete for valuable tour points on one of the most beautiful lakes in the world.
The preliminary rounds on August 5th and the finals will on Sunday 6th which will be live-streamed, allowing fans worldwide to be part of the excitement.
For all event details, including schedule and live stream information, please visit the WWS Calgary Cup Event Page:
Admission to the event is free, but attendees must obtain a parking pass for entry. PARKING PASS
Join us at the Lakes at Kastyn Stone/Predator Bay Ski Club on August 5th and 6th to experience the thrilling WWS Calgary Cup and witness waterskiing at its finest!
For media inquiries, interviews, or additional information, please contact:
Contact Tour Director mailto:Jaret.Llewellyn@worldwaterskiers.com
Photo of the Event By Johnny@JohnnyHaywardphoto.com
About Tourism Calgary:
Tourism Calgary is dedicated to promoting Calgary as a world-class tourism destination. Through collaborative efforts, they aim to create memorable experiences and welcome visitors from all corners of the globe.
2023 Ski Fluid Classic Schedule and Running Order
The 2023 ski season is set to begin at Fluid with our first record competition of the year…the Ski Fluid Classic this coming weekend, April 28-30.
There are some big names on the starting list including:
numerous time Jump World Champion and Record Holder, Freddy Krueger,
current World Trick Record Holder, Pato Font,
former World Trick Champion, Neilly Ross.
current U17 World Overall and Jump Champion, Martin Labra.
Along with a ton of other top National competitors.
We are hoping to get the year off to a great start with some amazing performances. The action begins on Friday at 7:45am with Tricks and continues with all 3 events through Sunday afternoon.
The current schedule and running order has now been posted to the tournament page or can be found at this link:
https://worldwaterskiers.com/wp-content/uploads/2023/04/2023-Ski-Fluid-Classic-Running-Order-1.pdf
See you at Fluid!
2023 Canadian National Waterski Championships
2022 Florida Cup Official Schedule and Running Order
The 2022 Florida Cup is only days away and we cannot wait to host the best Overall skiers in the world at Ski Fluid. They will be battling it out for event title, the tour title and some big paychecks!
The Men's Overall World Record was broken 3 times at Ski Fluid in 2021 and a past Women's World Overall Record was set at Ski Fluid several years ago. With the caliber of skiers we have on the entry list, there is a good chance more records will be set to finish the 2022 season in style.
The Overall Pros will be skiing their preliminary rounds alongside some top amateur competitors on Friday starting at 7:45am. The Overall finals (Top 4 Women and Top 5 Men) will be webcast live starting at 1pm on Saturday. If you live in the Central Florida area come out and watch…if not tune into the webcast (link on the tournament page).
A link to the full schedule and running order is below:
https://worldwaterskiers.com/wp-content/uploads/2022/10/2022-Florida-Cup-Running-Order-1.pdf
Looking forward to a great event and an awesome after party at Elixir downtown Orlando!
2022 Lacanau Cup – Battle To The End!
Overall Battle Right to the End
As the sun set on the pristine beaches of Lacanau last Sunday, the lakes of (Lacanau Ski Club) finally settled from the excitement of the Lacanau Overall Cup and the Malibu Open. Both of these professional events brought about incredible skiing and hard-fought victories, with the Malibu Open representing some of, if not the highest scores ever seen in a professional slalom event. (full slalom story link below)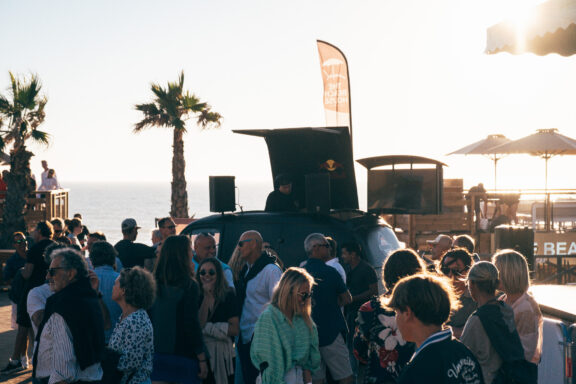 After the culmination of the slalom event and the Saturday night festivities organized by the event organizers for the slalom skiers on the beaches of Lacanau, the stage was set for the Overall finals on Sunday. The event displayed top-notch skiing, major plot twists, upsets, a full range of emotions, and two very deserving winners, or as we like to call it, a typical Overall event. After the preliminary round of jump was completed, Canadians Paige Rini and Dorien Llewellyn emerged as the top-seeded skiers into the final, yet with no protected scores, any of the finalists were still able to win the event.

In the women's slalom portion of the Overall final, Paige and Brooke Baldwin continued their dominance of the weekend by both running into the 10.75m line length. Brooke, going on the water first of the two, elected to run the 11m pass in a strong tailwind to give herself the best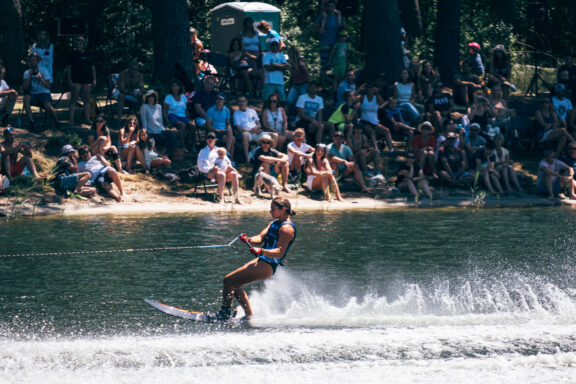 chance of running the 10.75m pass. Unfortunately, her gamble didn't quite go as planned, as Brooke fell at 2 ball at 10.75m, putting her arm through the handle in the process. Paige, having watched Brooke, strategically started her set at the 14m line length in order to run the 11m in a headwind, which she did, finishing with a solid score of 1@10.75 to set herself up for tricks, knowing she was the strongest in the field in that event. After inspecting her arm, Brooke and the medical staff felt it was unsafe for her to continue skiing and thus, the Overall race became a battle between Paige and France's own Ines Anguenot.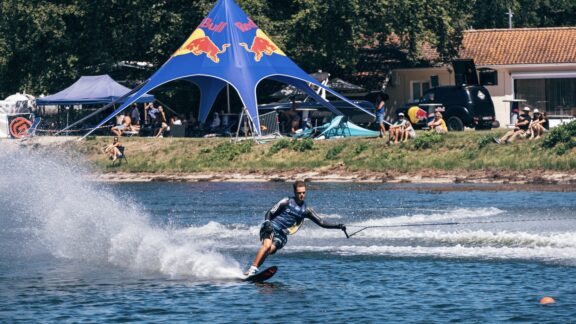 On the men's side of slalom, the final placements were not exactly surprising, yet the scores were lower than anticipated. Both Dorien Llewellyn and Joel Poland, who had been on fire in the slalom event, grabbing scores at 10.25m every round, failed to ski through 10.75m in what proved to be a very strong headwind, finishing with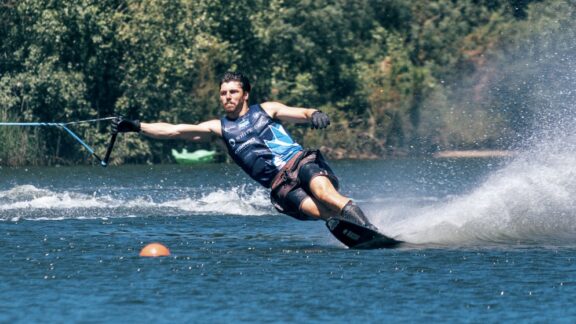 scores of 2.5 and 4 buoys respectively. These scores proved to decrease their previous gaps on Frenchman Louie Duplan-Fribourg and Tanguy Dailland, who both finished with 2@10.75m scores, as well as Martin Kolman not far behind with 4@11m. Thus, the men's event was already proving the potential to come down to the wire.
In the trick event, both Paige and Ines had unexpected falls in tricks, yet Paige proved her worth in the event, still finishing with the higher score of the two and taking a strong lead heading into jump. While Ines is quite the capable jumper herself and on par with Paige in the event, she would have felt the need to try to make up Overall ground in
tricks, possibly leading to her early fall on her hand pass. As for the men, the Trick event proved itself as the biggest wildcard event in Overall. After an early fall from Tanguy Dailland, essentially eliminating him from the Overall race, Martin Kolman showed the value of experience by not allowing his slalom deficit to influence his tricking, instead calming standing up two solid passes and finishing with a score of 10690. With Louie next up, the fireworks began to fly. Louie mastered his way through his flips and spins, finishing once again with a Tour Record 11900 points, which when paired with his solid slalom, began to put a real threat in the minds of both Joel and Dorien. Joel fended off any outward pressures and put his flashy skills on display for the excited French crowd, landing himself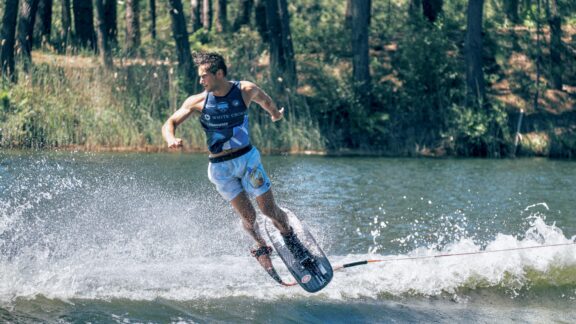 in second with a 11680 point total and setting up a brilliant final battle in the Jump event. Last off the dock, Dorien, who is often known for his fluidity in the trick event under pressure, was clearly putting himself under pressure as the Defending Tour Champion.  Dorien rushed his flips on his second pass, having a very uncharacteristic fall on his fourth flip, only rotating to his back before smashing into the water and making his chances at the Cup title extremely slim. 
WWS has been working closely with EyeTrick for the last few years and knew that if the scores could be posted in real-time trick would undergo a revolutionary transformation. It worked so well that it even caught the announcers off guard, who were not expecting to see scores as quickly as during the first replay of the trick pass. Jaret said "this was a dream come true, we did not realize how the data would come across our screen but for the sport, it is a game changer. To be able to walk fans through a pass and educate them on why the score came out the way it did is inspiring for the future of the trick event. Skiers will have to mentally deal with hearing their scores come out so fast, which will make the event so exciting." 
While the Jump event offers a great chance for consistent skiers to get good scores with 3 jumps, nothing is ever truly over until the last jump is taken. This proved true once again at the Lacanau Cup. With Tanguy Dailland and Martin Kolman putting up good jump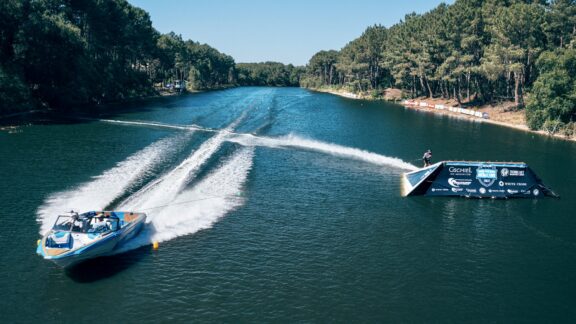 distances, the final three skiers presented multiple battles still raging. Primarily, there was the battle for the Lacanau Cup Title between Louie and Joel, with Joel holding a 0.3m lead over Louie, and between Dorien and Martin for 3rd place on the podium, with Kolman having about an 8m lead over Dorien. Louie took to the water first, smoothly flying through the air on all three jumps, improving each jump to finish with a 62m score. Thus, Joel needed a distance of 61.7m to win the Overall event. While most considered Joel to be well on his way to winning the Cup before even setting foot on the water, he failed on his first two jumps to find his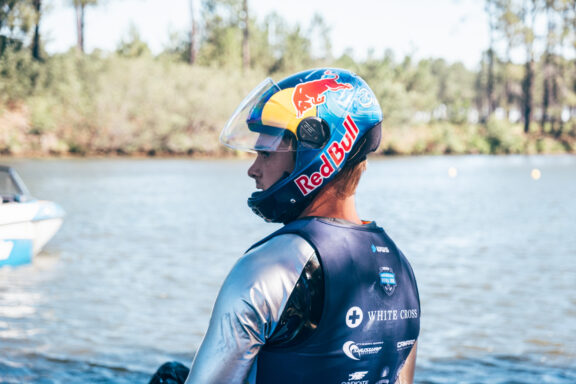 footing, landing short of the 61.7m distance each time. Then, with one final jump, Joel rounded the 600ft timing buoy, turning very late for the jump ramp and bringing with him tons of load into the jump. Despite his best effort, even this wouldn't prove to be the winning jump, leaving Louie on shore with both hands on the Lacanau Cup, yet still not entirely sure
whether to lift it just yet. While Dorien's requirement seemed highly unlikely, he still had a small chance to win the event with a jump in the 70m range. Still, this challenge proved too much with the conditions on hand, and after Dorien's 63.7m first jump, he clapped his hands together for Louie, knowing that the Frenchman had won the battle on home soil. 
As we move on to the 2nd stop of the WWS Overall Tour, the skiers look back on their time in Lacanau and reminisce on a truly unforgettable experience. The site, the people, the city, the beach, all in all, the memories will last a lifetime and we are already looking forward to next year. If you have not been to Lacanau this city and ski club need to be on your bucket list, they are truly one of the best on the planet. Lacanau is not just an incredible ski site, but with private villas available for rent, a pool, and an incredible restaurant right at the dock with the friendliest staff you can imagine, it is truly a special place. If you want to get a moment outside of the resort the ocean is 10 minutes away with endless restaurant options right on the beach where you can watch some of the best sunsets imaginable. But as the sun sets on Lacanau, we are off to Calgary, Canada, for the second stop of the WWS Overall Tour. On July 29-31 the battle continues to see who will take out the Overall Tour Title.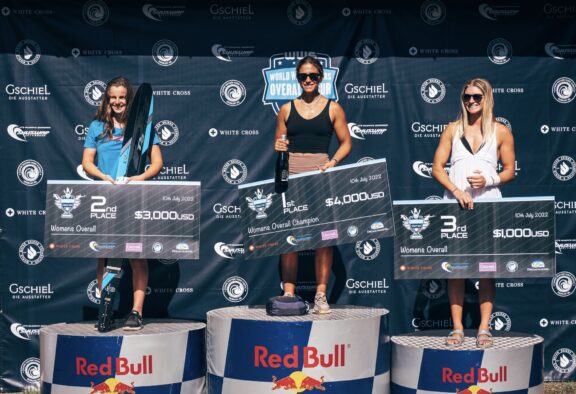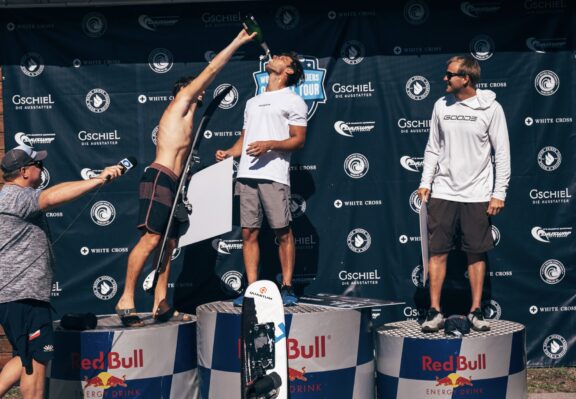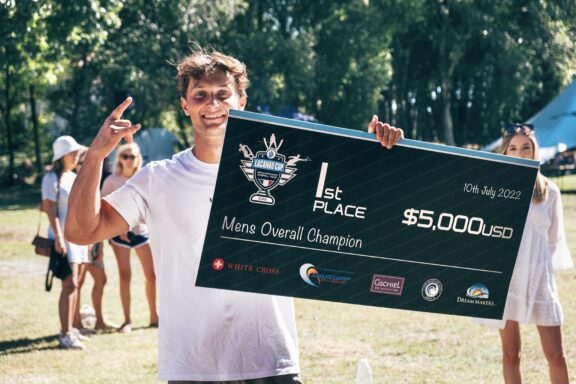 A Special thank you for all the long hours it takes to put on an event of this level. Hats off to Geraldine, Christophe, the Jamin family, the staff, judges, volunteers, and especially to the sponsors, which are special friends of the water ski community that wants to give back. So please check out the names at the bottom or on the Event Page and drop a personal thank you for their support, it is what builds a stronger foundation for our sport!
See full Malibu Open Slalom Recap Story
Thanks to Eudes M-Tivier for the great shots all weekend –
photos – Friday – Saturday – Slalom
photos – Sunday – Overall finals 
This club has it all, a Full pro shop, Marine sale and repair, Villa Rental, and dockside Restaurant (Lèau à la bouche) 
2022 Polk City Open Running Order
The 2022 Polk City Open will kick off this Friday 15th July with 3 days of some of the world's best waterski action. A tentative Schedule and Running Order has now been posted to the tournament page or the link can be found below:
https://worldwaterskiers.com/wp-content/uploads/2022/07/2022-Polk-City-Open-Running-Order-1.pdf
Headlining the starting list will be multiple time World Champion and Record Holder, Freddy Krueger, and current Women's World Trick Record Holder, Erika Lang. The field also includes numerous international skiers including a large contingent from Chile, Australia, and New Zealand along with a number of top US Junior skiers.
We are looking forward to a great event!!
Records at the Fluid Summer Showdown
The 2022 Fluid Summer Showdown was held last weekend (June 17-19) and featured some of the best skiers in the world competing for World Ranking List scores and attempts at National and World Records.
Erika Lang made history tricking 11420 in the second round of competition setting a new pending Women's World Trick Record!
Other National Records included:
Tia Byrne 1@35 Pending G2 Slalom Record
Lexi Abeslon 2@35 Pending G2 Slalom Record
Aaliyah Yoong 4@35 Pending Malaysian and Asian Slalom Record
Aaliyah Yoong 8080 Pending Malaysian and Asian Trick Record
Aaliyah Yoong 41.9m Pending Malaysian Jump Record
Elliot Westlund 53.4m Pending Swedish U17 Jump Record
Jake Abelson 11490 Pending B4/B5 Trick Record
Lexi Abelson 5910 Pending G2 Trick Record
There were also a ton of personal best and notable performances:
Neilly Ross 10760
Pato Font 11800 plus all 3 rounds
Jamie Calhoun 2@41
Jessie Dobbertin 4.5@38
Graham Fizer 3@39
Reagan Baxter 2.5@39
Quinn Haines 203ft
Thanks to Lynn Novakofski photos from Friday and Saturday have been posted to this WWS tournament page.
A big thank you to all of our officials who volunteered their time to help run this event and a special thanks to Becky Bartlett (Chief Scorer) who flew in to score the tournament along with Layne Moroney for stepping in as Chief Judge.
We are looking forward to our next event in July which is already completely full for 3 days. We still have room for the September and October tournaments but please sign up soon here on WWS if you wish to reserve a spot.
All the best for the rest of the season!
2022 Ski Fluid Classic Running Order (Tentative)
The 2022 Ski Fluid Classic is only a few days away and we are excited to host our first record tournament for this year!
Below is a tentative schedule and running order for the event.
https://worldwaterskiers.com/wp-content/uploads/2022/04/2022-Ski-Fluid-Classic-Running-Order.pdf
Included this year is 10-time Masters Champion Freddy Krueger, World Trick Record Holder Erika Lang, the No 1 ranked trick skier in the World Patricio Font and U21 World Champion Neilly Ross, along with a host of other National Champions and Record Holders.
The tournament will start at 7:30 each day with Tricks, followed by Slalom, then Jump with non-stop action all day.
All competitors must ensure their USAWS membership and EMS license is current, registration, waivers and payment has been made through the WWS system and their SafeSport certification is completed.
The USAWS Waiver can be completed online at:
https://skifluid.com/liability-waivers/
Spectators are welcome with ample free parking.
Drop by Action Water Sports in between watching or competing to check the 2022 MasterCraft line-up and their fully-stocked Pro-Shop.
See you at Fluid!
2021 WWS American Open Recap
As the 2021 Overall professional season comes to an end, the final battle did not disappoint. 5 of the Best Men's Overall skiers in the world faced off in what proved to be a challenging weekend. While the Ski Club of the Palm Beaches at Okeeheelee Park is typically known as one of the premier sites in the world, having hosted multiple World Championships of different levels, heavy rain on Friday for official practice, followed by extreme wind conditions throughout the tournament made for a difficult weekend of skiing. Nevertheless, Joel Poland, Dorien Llewellyn, Rob Hazelwood, Edoardo Marenzi, and Martin Kolman put forth their best to take home the American Open Crown.
In the end, Great Britain's Joel Poland completed the Overall sweep,
placing 1st in all three individual events en-route taking home the grand prize of Overall Champion. Close on his heels was Canada's Dorien Llewellyn, who narrowly finished second in each individual event, coming up just short to claim 2nd in Overall. Also from Great Britain, Rob
Hazelwood rounded out the podium as the 3rd place finisher in Overall, having exhibited an uncharacteristic fall in slalom, finishing 3rd,
while also taking the 3rd place in Trick, and finishing 5th in Jump. Italy's Edoardo Marenzi, an event dark horse, finished 4th in Overall and finally in 5th was Martin Kolman from the Czech Republic, who had an early fall in tricks and was never able to recover after.
The one-round final began Sunday with the trick event in strong winds between 15 and 20mph. Each tricker was forced to play strategy in terms of which run, to begin with, toes in the stiff headwind surprisingly being the
preferred option for every skier but Hazelwood. When asked why he started with toes, Dorien Llewellyn said, "I would typically only do toes in a tailwind, but I was worried the wind chop would make flips really difficult. Also, I saw that the headwind made ski lines really draining for Rob at the end of his run, so I decided the tailwind for hands was more important." In the end, Joel's high-powered runs were enough to take the lead coming out of tricks, finishing with a score of 11220 points. Dorien was just behind with a score of 11010, followed by Rob's 9310, Edoardo's 7830, and Kolamn's 6450.
After a set of recap interviews following the Trick event, the Slalom event started with improving conditions, but deceptively strong winds were still in effect once each skier began to round the buoys. Edoardo looked to be running 11.25, until biting off a little too much at 5 and finishing with 4.5@11.25. Kolman decided
to take a risk and position himself for an 11.25 tailwind, knowing he had much ground to cover after tricks. Unfortunately, the gamble did not pay off, as he ended up inside 5 and finished with 4@11.25. Joel Poland finished his set and stated, "It looks pretty nice from here and the lake still skis well, but man the wind did not make things easy. When I pulled out for my gate at 39 the wind just kept pushing me." All the skiers shared Poland's sentiments, only realizing just how difficult the conditions were when skiing through their first passes. Joel took the lead in the event with 2@10.75m, with Hazelwood and Dorien still left to ski. Knowing slalom was his strongest event, Rob was prepared to take the risk of running 11.25 in the tailwind, masterfully powering through the pass to set up at 10.75 in the headwind, which no other skier had been able to do. Unfortunately, Rob's fin skipped out of the water at the first buoy, and he finished with a score of 0.5@10.75. Finally, Dorien decided to play the long game in Overall and match Joel's 11.25 headwind pass. Having run 11.25, Dorien ran 1@10.75 in the tailwind, visibly disappointed that he had just let a great opportunity to gain points back on Joel on the table, but knowing he was still very much within striking distance for jump.
Finally, the Jump event experienced high-performance weather, with a beautiful headwind rolling down the lake just as the sun began setting. Despite the great wind, long distances were difficult to come by at Okeeheelee. Edoardo began the final discipline with an impressive 59.5m jump, followed by Martin Kolman's 60.7. Joel took to the water next and began his set with two underwhelming jumps, slipping on both, leaving all the pressure on his third and final attempt.
Seemingly pulling off a great jump, Joel looked disappointed with his 62.7m score, having become accustomed to seeing higher scores on the leaderboard. As the sun began to set behind the West Palm Beach trees, Rob Hazelwood could not find his footing on the ramp, slightly slipping on all three jumps to finish with a 58.1m leap. Then, with the sun almost completely out of view, Dorien Llewellyn took to the water with high hopes of capturing the American Open title with a 64m jump. Joel Poland looked on as Dorien opened his set with a 61.7m score, looking poised for more. But it was not to be, as Dorien followed up with back-to-back 62.2m jumps, and the Overall title was signed, sealed, and delivered to Great Britain's Joel Poland.
That wraps up the 2021 Overall Season! We would like to extend a BIG thank you to our sponsors and donors, we truly appreciate your passion to step up and back our vision in order to help the sport as a whole. Even though it is the off-season, there will be no resting. Bigger and Better is just around the corner for 2022. WorldWaterSkiers is excited to expand the "World Of Overall" to more events and open the door to new locations, which will be announced soon. So, stay tuned and be ready for more nail-biting action with the kickoff the WWS World Overall Tour.
The Heavy Weight Overall Battle Continues
The Heavy Weight Overall Battle Continues
The 2021 Overall World Championship title fight has been dubbed by many as one of, if not The Best Overall
competition of all time. With Joel Poland and Dorien Llewellyn maintaining World Record paces
throughout the event and Joel setting the new pending World Record in the preliminary round, viewers were completely captivated by the nonstop action. While Joel took home the Overall World Champion crown, the 2021 fight has not yet concluded, as the final Professional 3 Event tournament of the year looms, the American Open. The American Open will be held at Okeeheelee Park in West Palm Beach, Fl, on November 6-7, 2021.
Heading into the American Open, Joel Poland, GB, who showed his incredible form at the World Championships two
weeks ago, will feel confident that he can take the inaugural title. His CAN counterpart, Dorien Llewellyn, will be looking to get some semblance of revenge from the Worlds outcome, although he will be
coming off the Collegiate Nationals and will need to quickly revert to standard settings. Speaking of Collegiate Nationals, Dorien's teammate at the University of Louisiana Lafayette, Edoardo Marenzi, ITA will be making his WWS tournament debut as a potential spoiler to the title favorites. Marenzi will look to impress with his trick skiing, his flips being some of the best in the game. Moving along to other potential dark horses, Rob Hazelwood has certainly proven that he has the ability to take the title with his incredible slalom skiing, rock solid tricking and t
he potential to unleash a jump over 210ft.  Finally, the two former World Champions, Adam "Sledge" Sedlemajer  and Martin Kolman, both CZE, will look to show the young guns the importance of experience and tactics. Sledge has exhibited a resurgence in the last month, skiing nearly to his 2019 World Record pace just before the Worlds and Martin skiing amazing coming off a US Open win earlier this year.
With all the potential firepower on display, the American Open will be a testing ground to repackage the sport we love. Big plans will be executed to make this event the best for the Worlds' best skiers, at one of the most amazing sites in the World, The Ski Club Of the Palm Beaches.  The new trick judging format "EyeTrick" will revolutionize the way the trick event will be
looked at. This partnership will bring the progression of tricking to the forefront of the sport and with jump as the last event the crowd will be on its feet through the entire event. Will the youngsters keep the fire going, or will the former World Champions reclaim their throne? Come down to the shores of Okeeheelee Park to see who comes out on top and to meet these incredible athletes, or catch the finals live on Nov 7th from 2 pm on the WWS webcast.