The World's Elite Athletes Descend on Calgary
The World's Elite Athletes Descend on Calgary for the Thrilling WWS Calgary Cup
Presented By Tourism Calgary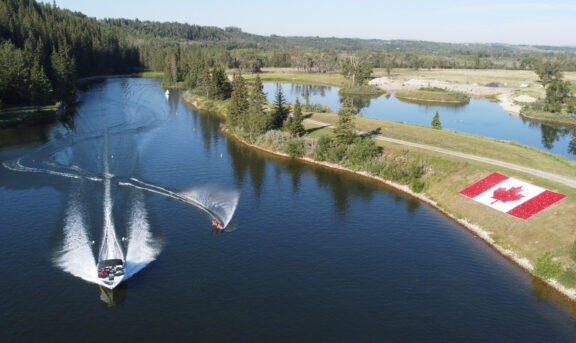 CALGARY, AB – Get ready for an adrenaline-pumping weekend of waterskiing action as the WWS Calgary Cup, presented by Tourism Calgary, takes center stage at the Lakes at Kastyn Stone/Predator Bay Ski Club on August 5th and 6th. This highly anticipated event is the 3rd Stop on the WWS Overall Tour and will feature a star-studded lineup of athletes from six nations, including France, Italy, USA, Germany, Great Britain, and Canada.
Following the immense success of last year's WWS World Overall Tour, Calgary emerged as the ultimate highlight with the largest crowd turnout. This year, we are thrilled to announce that the excitement is bound to be even greater, as the world's best Overall skiers return to Calgary, accompanied by the renowned Pro Slalom Shootout format.
The Lakes at Kastyn Stone/Predator Bay Ski Club, known for its breathtaking natural beauty, has hosted numerous national and international championships, including the unforgettable 2009 World Championships. Now, these world-class athletes will grace these picturesque lakes, surrounded by serene trees and wildlife, to deliver a spectacle that will leave spectators spellbound.
The Pro Women's field Slalom boasts incredible talent, with three out of the top four on the tour standings competing. Allie Nicholson from the USA, fresh off a win in Italy, and Canada's Whitney McClintock, with three wins already this year, will be joined by Alexandra Garcia from the USA, currently placed fourth on the tour, and determined to climb up the rankings.
The Pro Men's division will witness the presence of the reigning World Champion and record holder, Nate Smith from the USA. Smith will strive to beat his own Predator Bay site record of 1@9.75, set back in 2014. Canada's top slalom skiers, Call McCormick, and Stephen Neveu, will be formidable contenders, aiming to challenge the world champion on his throne and secure victories on their home turf.
In the Overall discipline, Germany's Giannina Bonnemann has been on fire, claiming victories in France and Austria. USA's Aliaksandra Danisheuskaya, who led last year in Calgary, will be determined to clinch the Calgary Title this time. World Overall Champion Hanna Straltsova from IWF makes her debut this season in Calgary, while Canada's phenom, Paige Rini, sets her sights on winning her first title of the season on home soil.
In the men's Overall category, Joel Poland from Great Britain has been enjoying an incredible season, winning the first two stops. However, rival Louis DUPLAN-FRIBOURG from France recently set a new national record at the Lacanau stop, and fresh off his European championship wins in jump, trick, and overall, he is a force to be reckoned with. Canada's Dorien Llewellyn, unfortunately recovering from an ankle injury sustained during a jump crash two months ago, is determined to make a triumphant comeback for the World Championships later this year in October.
For the Overall skiers, the WWS Calgary Cup is a game-changing event. They have the chance to drop their lowest score of the four tour events, making Calgary the first event where a tour champion could be crowned. The stakes have never been higher, and spectators cannot afford to miss this opportunity to witness world-class athletes compete for valuable tour points on one of the most beautiful lakes in the world.
The preliminary rounds on August 5th and the finals will on Sunday 6th which will be live-streamed, allowing fans worldwide to be part of the excitement.
For all event details, including schedule and live stream information, please visit the WWS Calgary Cup Event Page:
Admission to the event is free, but attendees must obtain a parking pass for entry. PARKING PASS
Join us at the Lakes at Kastyn Stone/Predator Bay Ski Club on August 5th and 6th to experience the thrilling WWS Calgary Cup and witness waterskiing at its finest!
For media inquiries, interviews, or additional information, please contact:
Contact Tour Director mailto:Jaret.Llewellyn@worldwaterskiers.com
Photo of the Event By Johnny@JohnnyHaywardphoto.com
About Tourism Calgary:
Tourism Calgary is dedicated to promoting Calgary as a world-class tourism destination. Through collaborative efforts, they aim to create memorable experiences and welcome visitors from all corners of the globe.
"It's not over till is over!"
"Women throwdown all the way to the end"
"Can The Story Get Better?"
While the men's overall battles over the last two years have been highly anticipated and tightly contested, the Women at the WWS Calgary Cup this last weekend showed that there should be just as much excitement around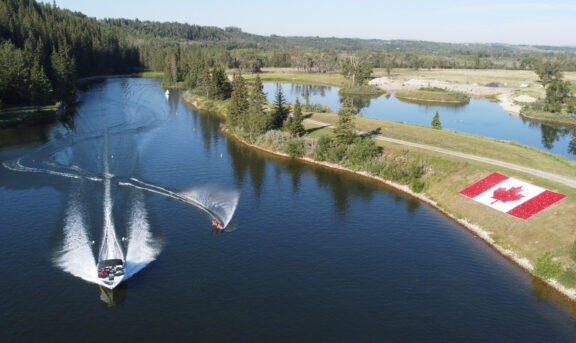 them as well. Brooke Baldwin, Aliaksandra "Sasha" Danisheuskaya, and Kennedy Hansen sent out a signal to their male overall counterparts, telling them to get ready to share the spotlight. Just as with the men, the women's overall battle raged up to the very final jump of the event, with the results being determined by only a few feet.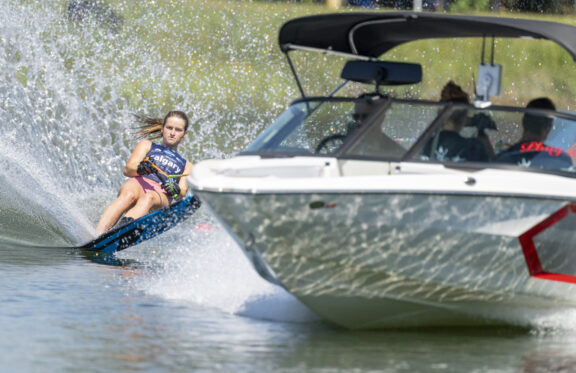 To begin the day, Brooke, having fallen early in the prelims and being the first on the water, continued her fine form of slalom, yet was visibly disappointed with her final score of 3.5@11.25. Given her recent string of scores at 10.75, Sasha and Kennedy knew this was a golden opportunity to strike. Kennedy, the next in the water, took the lead, narrowly eclipsing Brooke with a strategic 4@11.25 final score. Finally, Sasha, knowing her strength would come through in the trick event but even more so in Jump, finished with a solid opening event and a score of 2@11.25. Given their strengths in each event, Sasha was considered to have gained the upper hand coming out of slalom.
Yet, the story of overall can take many twists and turns throughout the course of a single day. Brooke decided to take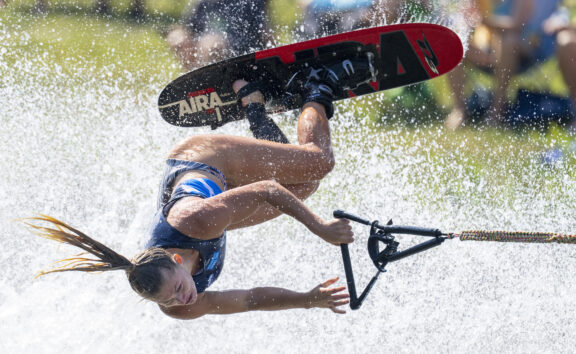 some risk and performed her hard-hands tricks run, starting with the Mobe Back to Backs. Nimbly flowing through each 20-second pass, she finished with a score of 7470. Next up, Kennedy, a rookie on the tour and skiing in her first WWS event, unfortunately falling early in her first run, but still managing 6020 points. Finally, Sasha, knowing that Brooke was putting pressure on her to perform in front of the large Canadian crowd, skied well, but missed a couple crucial tricks to both judges' decisions, time, and a fall in toes, causing her score to fall from 8030 points in the first round, to 6790 in the second. While the scales were beginning to tip in Brooke's favor, the jump event still would decide everything.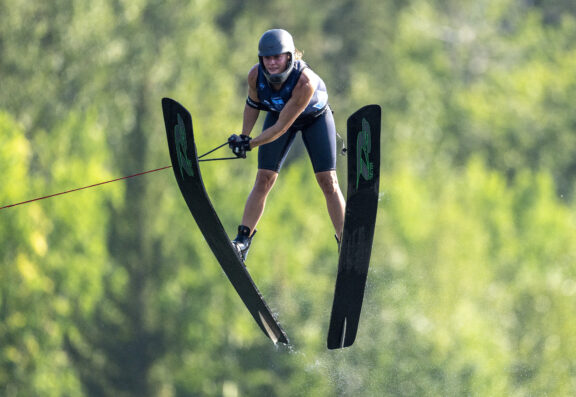 First on the water due to jumping at the 5' ramp height, Kennedy looked strong with a score of 42.4m. But her deficit after Trick would be difficult to surmount, as Brooke soared to 46.7m on just a 3/4 cut. Finally, Sasha, knowing she would need a score in excess of 49m, put forth a valiant effort on all three jumps, pushing the battle just to the limit, but ultimately falling just short with a score of 48.2m.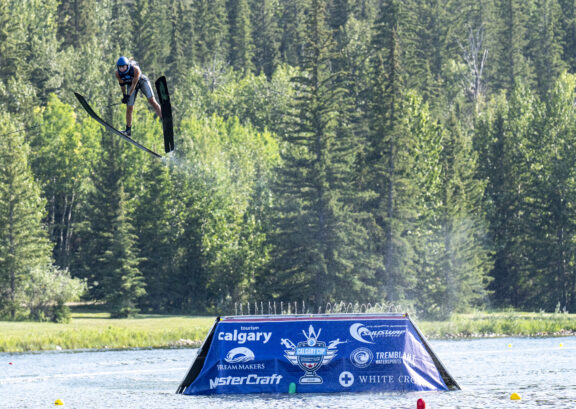 With her maiden win on the WWS tour, Brooke will take over from Paige Rini as the new tour rankings leader heading into the third stop in Fischlham, Austria. Brooke, Kennedy, and all the other girls will be looking to secure their placements on the tour leaderboard, with Brooke able to clinch the tour title with a win in Austria. Yet, the overall crown is never won until the final jump is done, so be sure to catch all the action on August 20 and 21! Things are about to get even more interesting!
For all the fans that came out and were stunned by what these amazing athletes can do on the water, mark your calendars for next year, the WWS Tour, WILL be back! We look forward to seeing you down at the most beautiful site in the world, The Lakes Of Cast And Stone!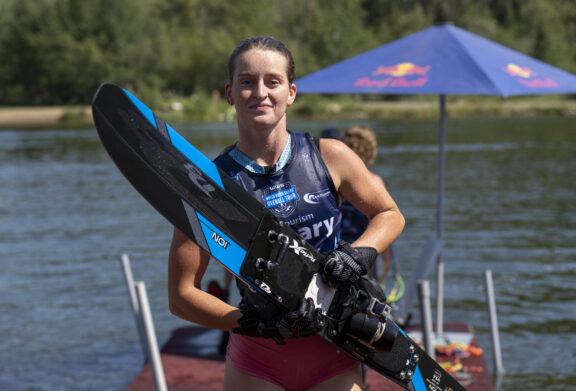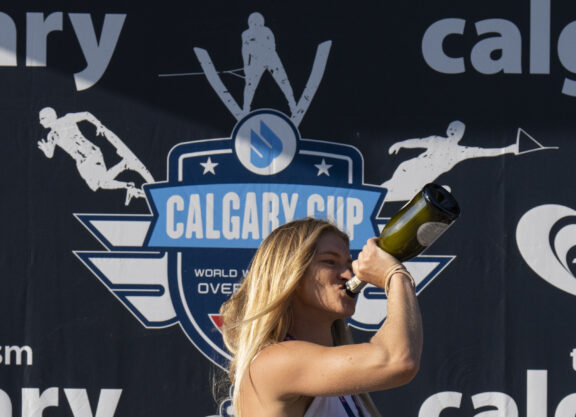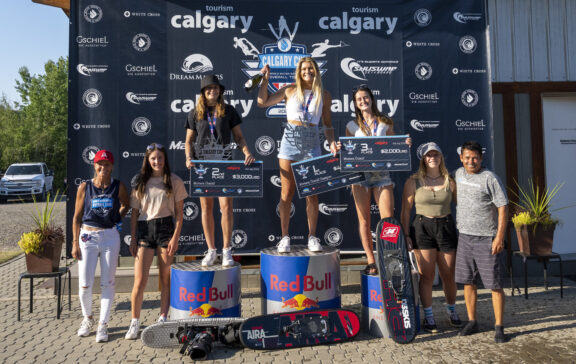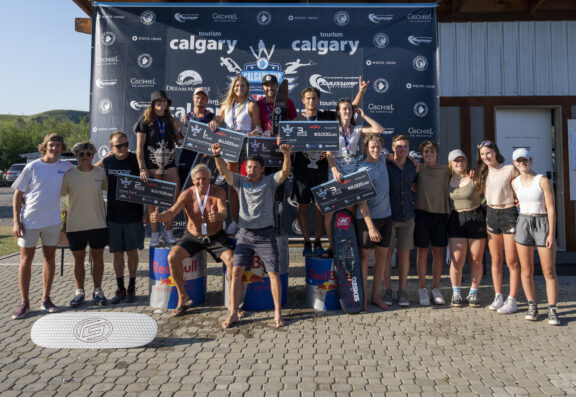 Full Photo Gallary Of the WWS Calgary Cup – Johnny Hayward
"I can't believe they can do that on skis!"
"That was awesome,
I never saw skiing like that!"
That is what we kept hearing from fans leaving the site!
WOW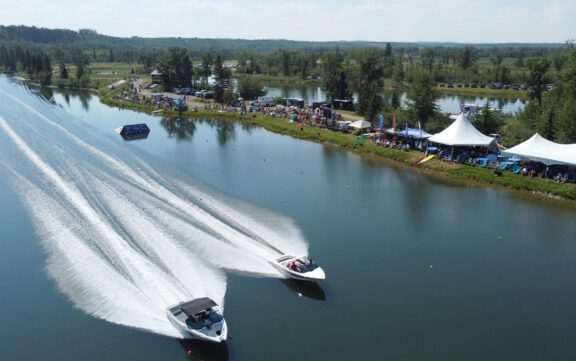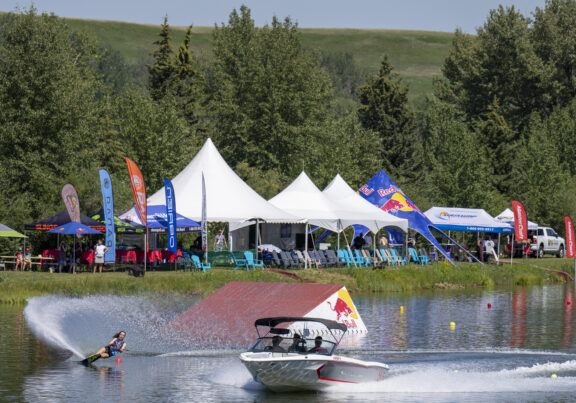 This heavyweight overall battles just keep getting better! The WWS Overall Pro Tour is now two stops into the season and the results continue to keep everyone on the edge of their seats for what is next to come. Following the incredible finish at Lacanau, which saw Louis Duplan-Friburg claim the tour ranking lead heading into the WWS Calgary Cup, Joel Poland, and Dorien Llewellyn lit the lakes of Predator Bay on fire with what can only be described as their World Champion Battle 2.0. Beginning with the slalom event, the men all improved upon their first-round scores, with Conley Pinette, first off the dock, running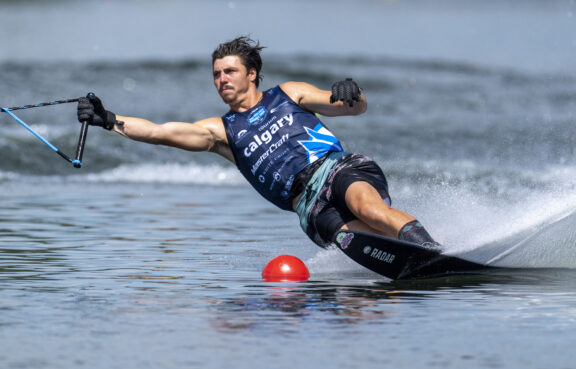 4.5@11.25m, followed
by Poland, who put the rest of the field on notice with a stellar 2@10.25m. Moving into the top three seeded skiers, Martin Kolman put down a solid 3.25@10.75m, with Louis ending up with a bit of ground to make up with his 3@11.25m, and Dorien rounding out the event in dramatic fashion with a seemingly solid full 10.75m pass, only to wind up late out of 5 ball and with too much slack to handle out of the gates, resulting in his final score of 6@10.75m with no continuation to 10.25m. Point – Poland.
The men then moved into the trick event with stronger winds starting to set in. Conley sparked the Canadian fan base with the first two stand-up passes of the day, clearly excited to be on his way to a great overall score in his home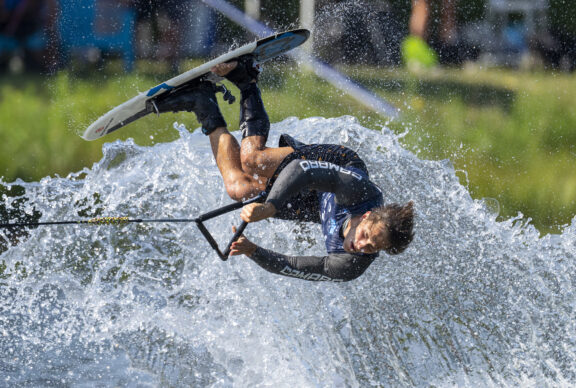 country. Following Conley, Joel looked to take another step towards securing the WWS Calgary Cup, standing up two solid, but slightly altered runs, still finishing with a great score of 11190.
Louis, looking to make up for his deficit in slalom, did just that by smoothly moving through both of his trick runs, only losing his final trick, TWL5B (600 pt trick), to a judge's decision, giving him a score of 11420 points. Finally, Dorien saw his chance to respond to Joel and looked locked in as he nailed both of his runs, securing himself the top score in trick with a 11610 point total. Point – Llewellyn, tie game.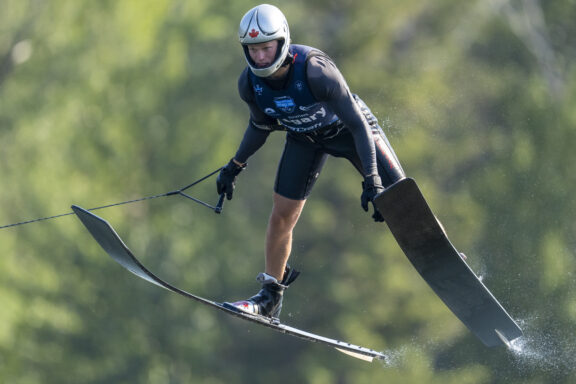 Heading into jump, the Overall race could not have been any simpler for Dorien and Joel, the name of the game was win Jump, win Overall. Their scores being almost exactly the same after slalom and trick, whoever managed to outjump the other would beat the other in Overall. As the headwind continued to increase in strength, the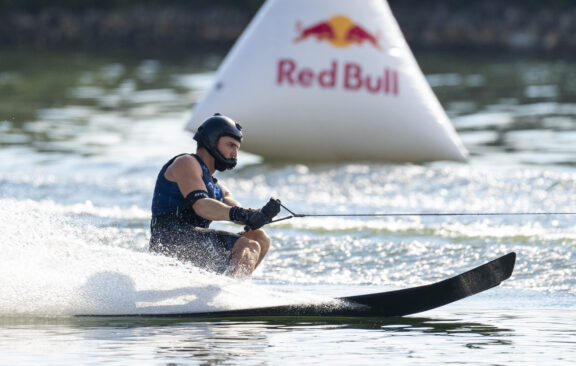 jumpers struggled to keep up their speed before the turn for the ramp. Conley, who was impressed with a 64m jump in the prelims, couldn't find his timing in the wind and finished with a 60.7m score. Joel, who has been in fine form in jump this year, adapted from his mistakes in Lacanau to secure a tournament-high 65.2m distance on jump two.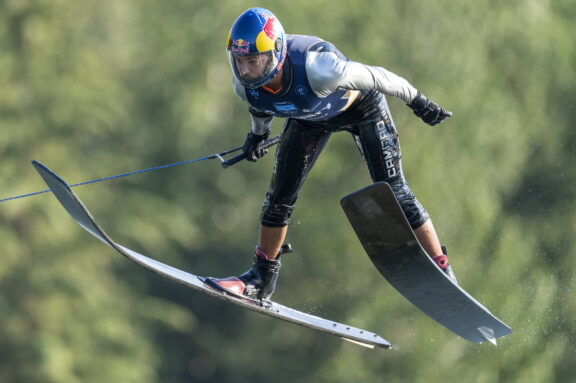 Dorien, the hometown favorite, left the dock as the final skier to strong applause from the Calgary crowd, knowing if he jumped 65.3m, he would win the title. After solid opening jumps of 62.6 and 62.7m, Dorien knew he had to push the limits on jump 3 and launched a visibly bigger jump on the final jump of the tournament. As the crowd quieted to wait for the score, Dorien sunk into the water and Joel raised his arms in triumph. Point – Poland, game, set, match. Dorien finished with a distance of 64.2m, just a meter shy of Joel.
Already being talked about around the world as having the greatest Overall battle of all time, Dorien and Joel found a way to create an even more exciting show at the Calgary Cup. Furthermore, Louis showed that even on a less than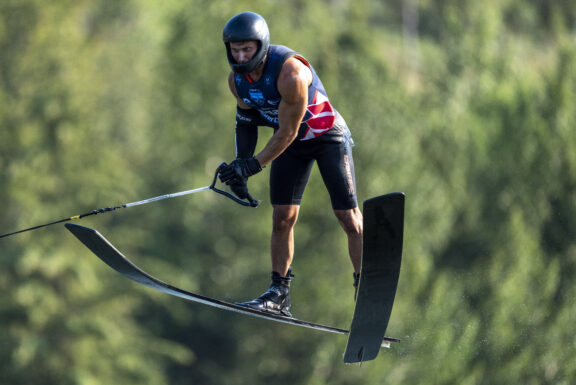 perfect day, he cemented his place in the ever-growing 3-way overall battle that will continue to rage this year and into the future. Finally, Martin Kolman continues to prove his consistency and will always be ready to strike at any mistakes made by the top 3 tour-ranking leaders. With the WWS Austrian Cup on tap next, there is no telling what is in store next, so make sure you don't miss any of the action!
For all the fans that came out and were stunned by what these amazing athletes can do on the water, mark your calendars for next year, the WWS Tour, WILL be back! We look forward to seeing you down at the most beautiful site in the world, The Lakes Of Cast And Stone!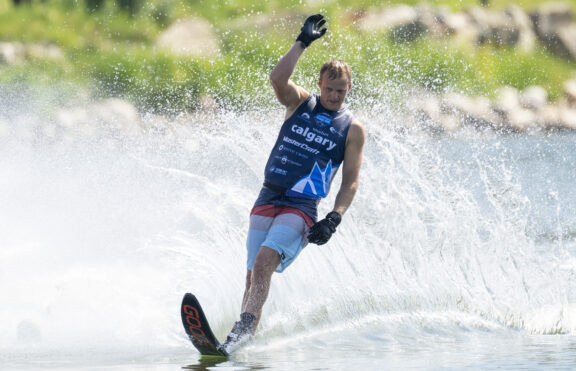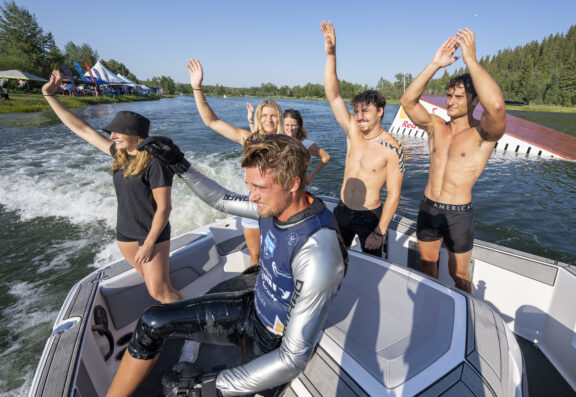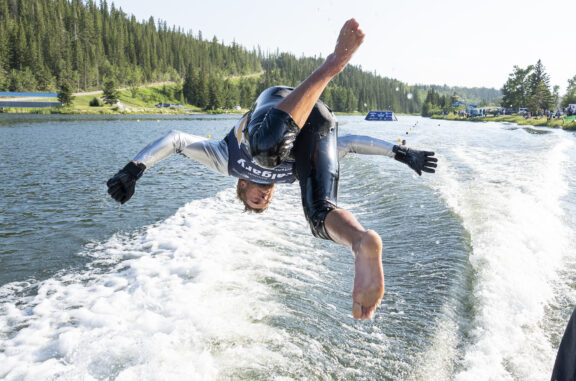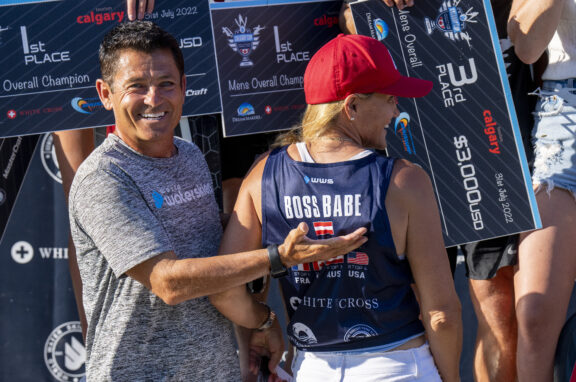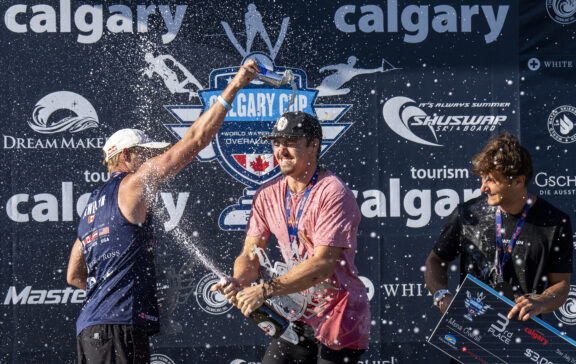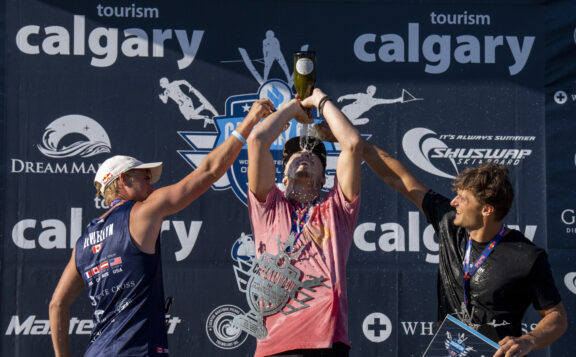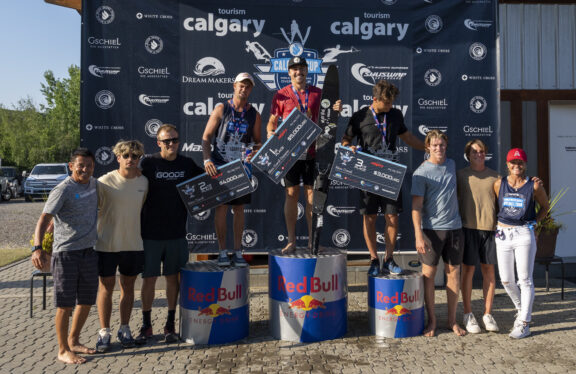 Full WWS Tour Points Standings
Full Photo Gallary Of the WWS Calgary Cup – Johnny Hayward