2022 Florida Cup Official Schedule and Running Order
The 2022 Florida Cup is only days away and we cannot wait to host the best Overall skiers in the world at Ski Fluid. They will be battling it out for event title, the tour title and some big paychecks!
The Men's Overall World Record was broken 3 times at Ski Fluid in 2021 and a past Women's World Overall Record was set at Ski Fluid several years ago. With the caliber of skiers we have on the entry list, there is a good chance more records will be set to finish the 2022 season in style.
The Overall Pros will be skiing their preliminary rounds alongside some top amateur competitors on Friday starting at 7:45am. The Overall finals (Top 4 Women and Top 5 Men) will be webcast live starting at 1pm on Saturday. If you live in the Central Florida area come out and watch…if not tune into the webcast (link on the tournament page).
A link to the full schedule and running order is below:
https://worldwaterskiers.com/wp-content/uploads/2022/10/2022-Florida-Cup-Running-Order-1.pdf
Looking forward to a great event and an awesome after party at Elixir downtown Orlando!
2022 Polk City Open Running Order
The 2022 Polk City Open will kick off this Friday 15th July with 3 days of some of the world's best waterski action. A tentative Schedule and Running Order has now been posted to the tournament page or the link can be found below:
https://worldwaterskiers.com/wp-content/uploads/2022/07/2022-Polk-City-Open-Running-Order-1.pdf
Headlining the starting list will be multiple time World Champion and Record Holder, Freddy Krueger, and current Women's World Trick Record Holder, Erika Lang. The field also includes numerous international skiers including a large contingent from Chile, Australia, and New Zealand along with a number of top US Junior skiers.
We are looking forward to a great event!!
Records Fall at the Holy Cow Cup!
Fifteen National Records were broken this past weekend at Ski Fluid's Holy Cow Cup along with a new pending U17 World Slalom Record.
The event was held over 3 days, Friday 24th to Sunday 26th of September and the weather gods smiled nicely upon the competition with brilliant weather every day.
Records fell in all events and in numerous divisions but the highlight was Charlie Ross breaking the U17 Boys World Slalom Record in the first round with 1.25@41off. He followed this up in the 3rd round with 1.5@41off and looked like he was on his way to number 3! At only 15 Charlie is the youngest to ever run 39 and has stormed onto the world slalom stage in the past year or so. He will definitely be one to watch at the upcoming World Championships and MasterCraft Pro in October.
Fluid currently claims the host site to the Men's World Overall Record with a new pending record in the approval process, as well as the site of the Women's World Jump Record and the U21 Men's Trick Record. In the past, Fluid has also seen the Women's World Overall and Trick Record as well as the Men's World Jump Record broken on it's waters. However, Charlie's achievement is the first World Slalom Record set on the site behind the 2021 MasterCraft Pro Star proving Fluid is the place for it all!
The other National Records included Neilly Ross breaking the Canadian Open Women's record twice with 10660 and 10790, Vale Gonzalez tying the Chilean Jump Record of 49.9m, Frankie Dees coming out of retirement for the M8 Jump Record of 123, 14 year old Jake Abelson laying down 11450 for a B4 Record, while his sister upped the G2 Slalom record to 1@35off. Bruce Kistler broke his existing trick record 3 times in M8, while Leza Harrison broke the W9 record in multiple rounds.
Other notable performances were from Team Fluid skiers, Jacinta Carroll flying 194ft in her first competition in almost 2 years and Jack Critchley launching 224ft setting themselves up nicely for the World's next month and the professional events that will complete the 2021 season.
There were so many other personal bests notched up during the event that it was impossible to keep count. Big thanks to all of the drivers, judges and volunteers that helped out over the 3 days. And a special mention to Action Water Sports for providing the 2021 MasterCraft Pro Stars for all of the competitors to perform behind.
The Holy Cow Cup is Fluid's longest running event and has been held annually since Fluid opened in 2009. This tournament wrapped up our amateur schedule for 2021, but we are looking forward to hosting the MasterCraft Pro presented by Action Water Sports on October 29/30 and will be back in 2022 with at least another 5 record events and we are sure even more amazing performances.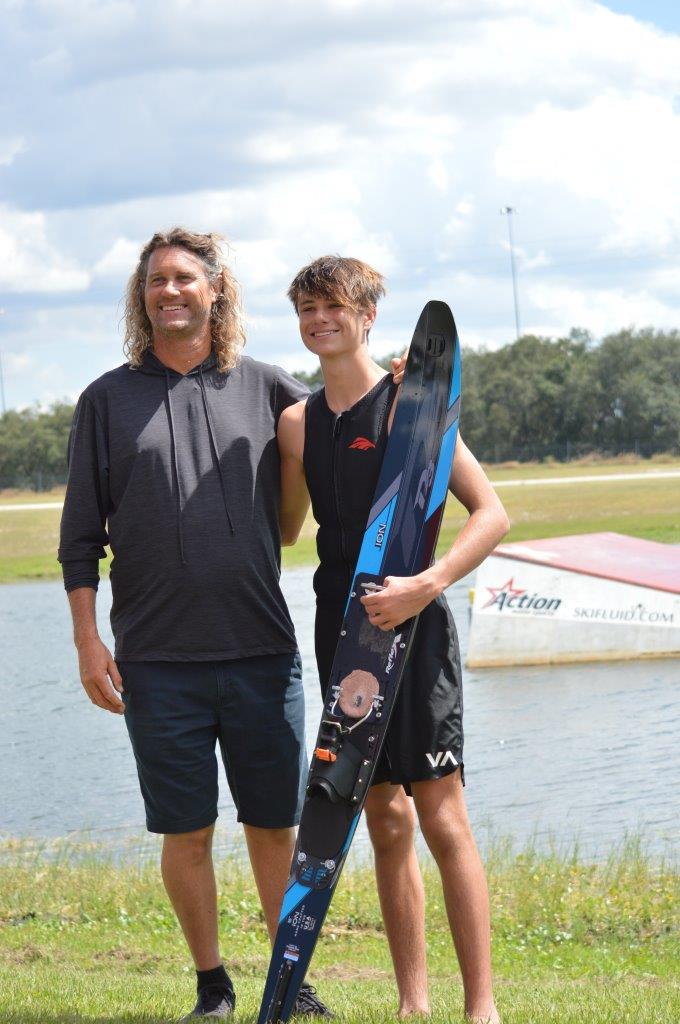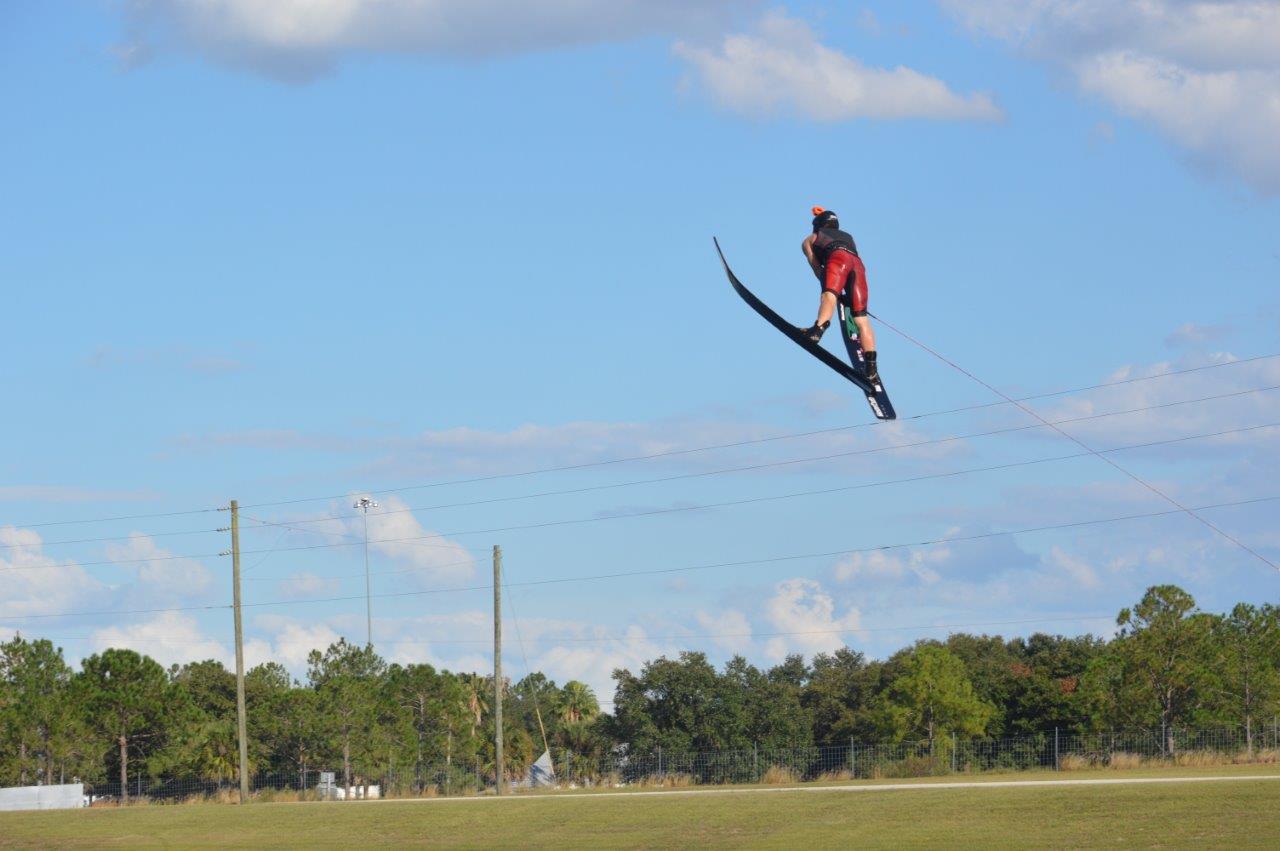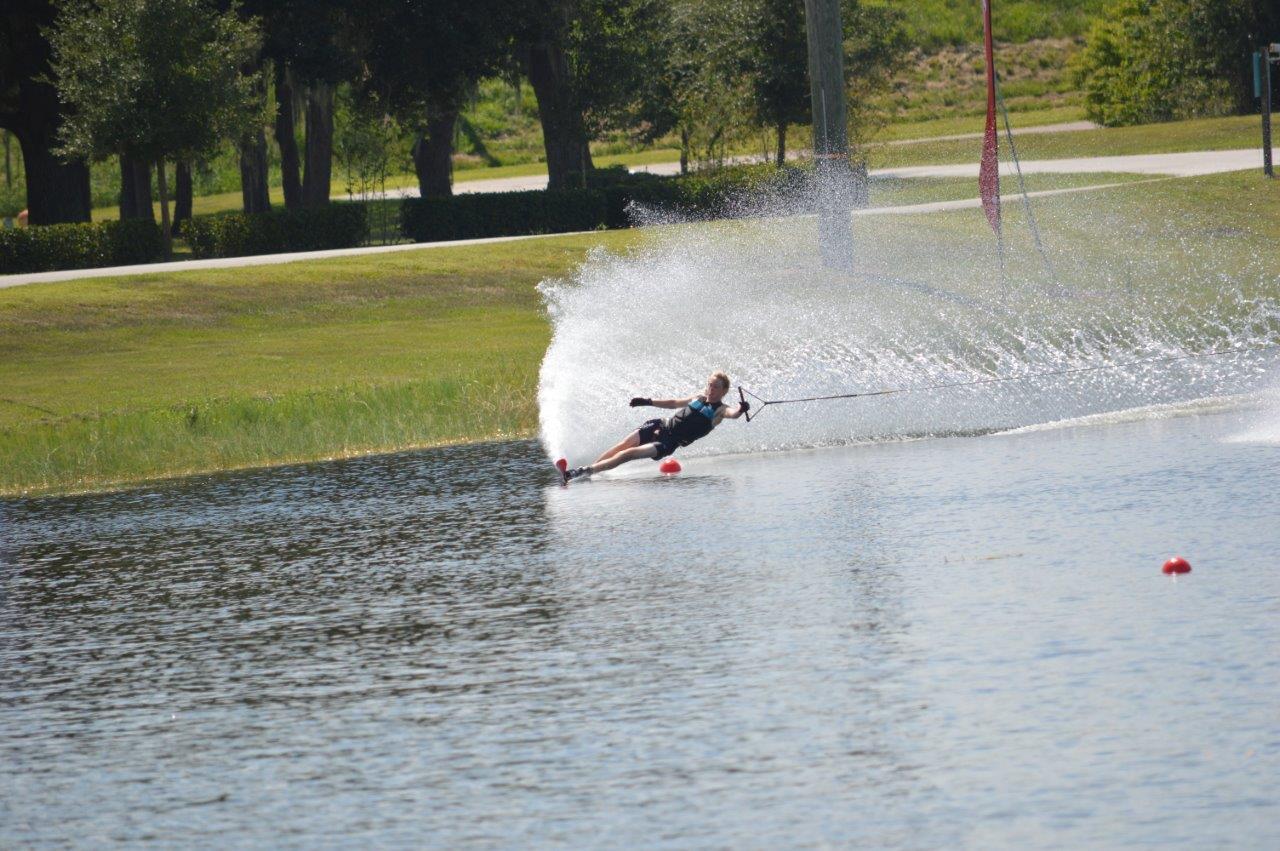 Team Fluid.
2021 Holy Cow Cup Running Order
Skiers and Officials,
Thank you all for registering to participate in the 2021 Holy Cow Cup…one of Ski Fluid's longest running events with an 11 year history!
This tournament will begin on Friday 24th September at 8:30am, with Saturday and Sunday starting at 8am. Please arrive early to complete your registration if it hasn't been done so already.
The Schedule and Official Running Order has been posted below:
https://worldwaterskiers.com/wp-content/uploads/2021/09/2021-Holy-Cow-Cup-Running-Order.xlsx
If there are any errors in your division, events or rounds please notify us asap.
All skiers must be current members of USAWS and have rejoined the Florida Water Ski Federation since the Nationals in August. If not please complete before skiing at:
The weather looks great for the 3 days and we are excited for a great competition!
See you all this weekend.
Team Fluid.
Llewellyn breaks World Overall Record Twice!!
This past weekend Dorien Llewellyn rewrote the record books setting 2 pending World Overall records in consecutive rounds at the Fluid Fall Record event.
Dorien has come close to this record a number of times but to perform all 3 events at this level in the same round of the same competition is intense and there is little room for error. On Saturday the 4th September, Dorien began his quest by tricking 11610, followed by slaloming 2.5@39. In Jump, he needed 225ft and on his second jump launched a massive 230ft leap for pending record number one!
In the second round his jump and trick score was down a little with 224 and 11010 so he needed a big slalom score. In champion fashion he ran a clean 39off pass and got 1@41 for pending record number two!
Congratulations to Dorien and all the best for a successful World Championships next month.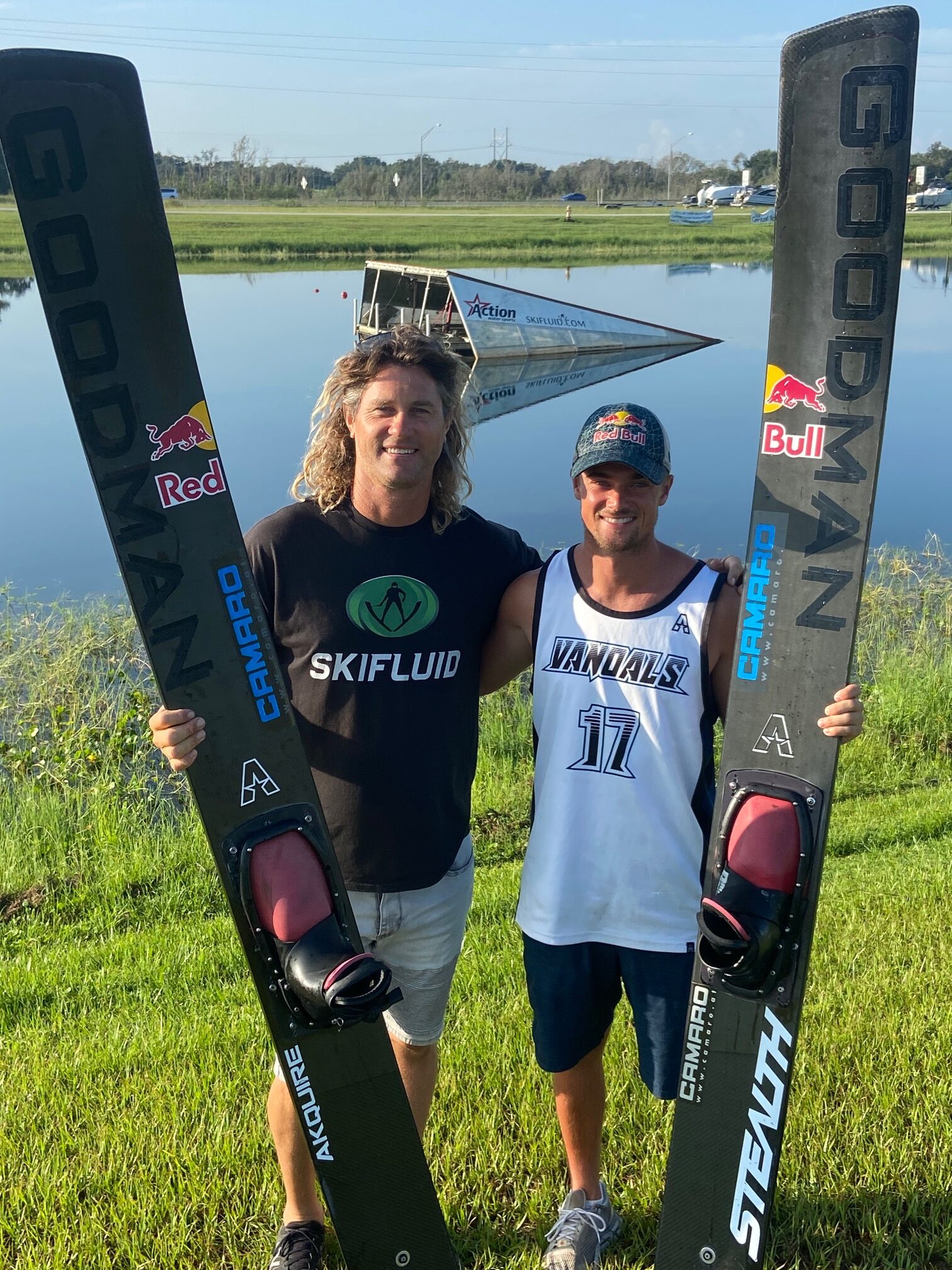 2021 Fluid Fall Record Running Order
Skiers & Officials,
The Fluid Fall Record will be held this coming weekend (September 4th and 5th) at Ski Fluid starting at 7:30 am on both Saturday and Sunday.
The Schedule and Running Order have been posted below but are subject to change depending on the weather. Tricks will be first both days, followed by Slalom around 10 am, then Jump.
Click to access 2021-Fluid-Fall-Record-Running-Order.pdf
All skiers must complete their registration prior to competing. We have 2 busy days of skiing with 90 rides planned each day so please arrive early to ensure you do not miss your turn. Due to the increase in Covid cases, there will be no check-in at Action Water Sports.
Everyone must renew their Florida Water Ski Federation at the beginning of the new ski year which began after Nationals. Please complete this prior to this weekend:
We are looking forward to a great event with a number of skiers moving into new divisions after the Nationals and taking their first shots at new National Records.
See you all this weekend!
Team Fluid
2021 Syndicate Florida State Championships Recap!
Thank you to everyone who came out this past weekend to participate in the 2021 Syndicate Florida State Championships!
We were extremely lucky with the weather and enjoyed two full days of great competition in nice conditions. There were some amazing performances and countless personal bests in all of the divisions along with one B4 National Trick Record set by Erick Macias.
Thank you to all who joined us on Saturday night for the Junior Awards Banquet at Action Water Sports. Seeing the kids receive their medals and stand on the podium to be recognized is the highlight of the event for us!
A big congratulations to Brenda Nichols and Tim Huston for their induction into the FWSF Hall of Fame and a special mention of the new college scholarship winners:
Cleia Stern – Donna & Stan Switzer Award
Jaeden Eade – Jeff Clark Award
Kaitlyn Kovacs – Bill Wenner Award
Thanks to Lynn Novakofski, photos from the event are now posted on the WorldWaterSkiers.com site. Please feel free to download them or contact us if you would like the higher resolution version. If you took any photos over the weekend you would like to share please reply to this address and we will add them.
Our sponsors were mentioned and thanked numerous times over the weekend and we could not run the event without them. They are listed below and we hope you support them in return. We would also like to thank George Levien and Dennis Longo who personally continue to donate to this event and we truly appreciate their support over the past 3 years!
Florida State Sponsors:
HO Syndicate, Action Water Sports, MasterCraft, WA Griffin Financial Services, VisitCentralFlorida.org, SkiFluid.
There were several skiers who registered for an additional round of competition if time permitted. We will refund the additional entry fee or please consider donating this to FWSF Junior Development. Almost $300 was raised for Junior Development at the bar during the banquet and we appreciate the generosity.
Lastly, the team of officials who work the event are amazing…thank you, thank you, thank you.
Cheers,
Kyle Eade.
2021 Syndicate Florida State Championships Running Order
The 2021 Syndicate Florida State Championships is all set for this coming Saturday and Sunday (July 10/11)!!
Competition will begin at 7:45am both days and will feature the State's best competing for their age division and open titles.
The official schedule and running order has been posted below:
https://worldwaterskiers.com/wp-content/uploads/2021/07/2021-Syndicate-Florida-State-Championships-Running-Order.pdf
All competitors need to register at Action Water Sports before skiing. 
Competitors can pick up special offers on HO/Syndicate equipment and all Juniors receive a free T-Shirt!
Awards for the Juniors will be presented on Saturday evening at the Junior Banquet…tickets are still available for $15 by contacting Kyle@SkiFluid.com
We hope to see you there.
Team Fluid.
Wrapped Roots Was A Blast!
Wrappedroots was a huge success with 40 competitors taking to the waters at Jodi Fisher's Ski School, with half having never skied in a tournament before or even seen a course.  Jodi's new "Gate Guide System" worked like a charm, helping the beginnings and intermediate skiers guide them when to go on the always important gate setup. Friends and family cheered on all the competitors, making for an amazing atmosphere.
In addition to getting new skiers into the sport, Jodi's fund raising tribute for Andy Mapple was unforgettable. The skiers and their families were treated to a professional breakdancer/painter (@Salvadorlivepaints), who performed a jaw dropping painting upside down, finishing his act by flipping the canvas and revealing a stunning image of Andy slaloming (see in video).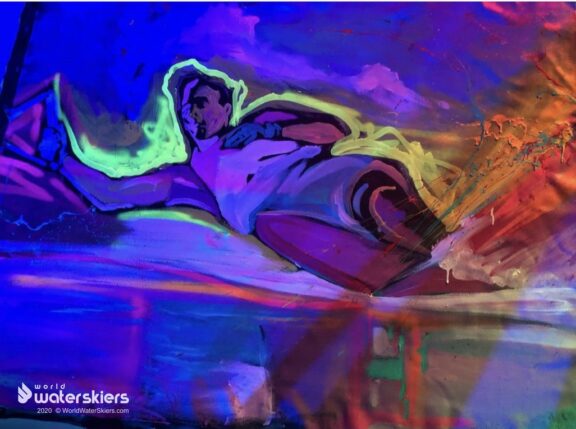 The painting and other unique items raised funds for the "Spray It Forward" campaign, which focuses on growing the sport through supporting over 100 college water ski teams across the USA. Spray It Forward recognizes the value in the over four thousand students who ski at the State, Regional and National collegiate level, with many students learning to ski for the first time while at College.
World Water Skiers was proud to be apart of Jodi's 1st Grass Roots event. All of the incredible memories were shared by those at the lake and captured through photos and videos, which will be archived on Jodi's new Club Page on WWS for future generations to enjoy.
Moving forward Jodi's can use his page to keep in members informed when new events hit the calendar and are featured on his page. Join Jodi and setup your club page, helping us create memories like this on your home lake.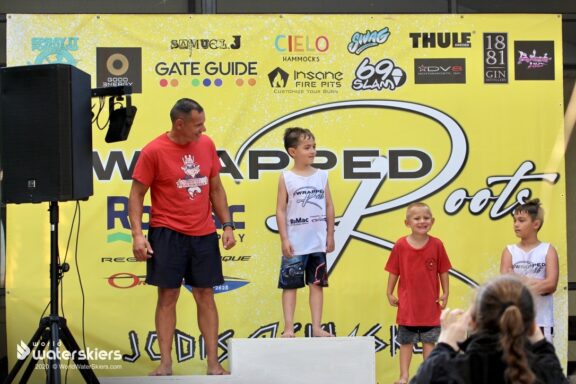 4 year old boy called Bruno Rodrigues from Apopka FL who has learned to deep start on a single ski all within the last two weeks and to start work in and figuring out the mini course and he just can not get enough of the course!
If you are planning a trip to Orlando or just stopping by hit Jodi up for a pull at his beautiful site and tell him how much you appreciate him for giving back to the sport!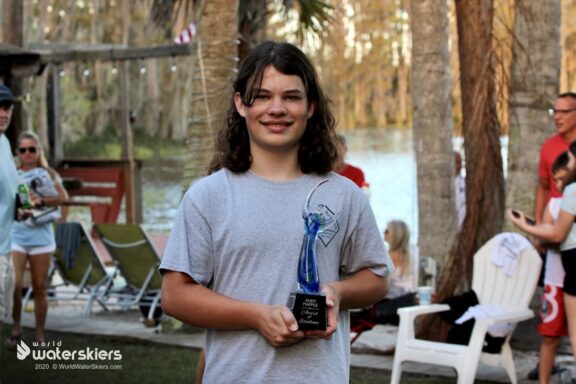 Congratulations to Levi Mitchell, winner of the
2020 Andy Mapple Award Of Excellence
Remember to support these special sponsors for stepping up and supporting our community.
JODI's VIDEO TO THANK EVERYONE
Jodi's Ski School
The Grove Resort Orlando
Thank you to the Andy Mapple Tribute Dinner Auction who help with Venue, Marquee, Entertainment, food, and Donations for the Auction.
Regal & Nautique of Orlando,
Marquee & Salvador Live Painting,
Romac Building Supply,
Samuel J Music Concert,
Rocco's Tacos & Tequila Bar Food ,
1881 Distillery Drinks,
Jodi's Ski Skool – Stained Glass Mural,
Wrapped Skis USA – Slalom Ski,
Insane Fire Pits – Design your own custom fire pit,
Tom King Photography – Framed image of Andy Mapple in Action,
Jet Surf Orlando Academy – His and Hers Jet Surf Experience,
JetSurf Orlando would like to donate a JetSurf Discovery Ride for 2 (Couple's ride).  Value $279,
Eagle Wetsuits – Impact Vest,
Get Your Lake ON Company,
Pull Sports Company – His and Hers T-Shirt, Hats and Hoodies,
Thule – 3 piece waterproof Travel Luggage,