Records Fall & Champions Crowned
Records Fall & Champions Crowned At WWS Flordia Cup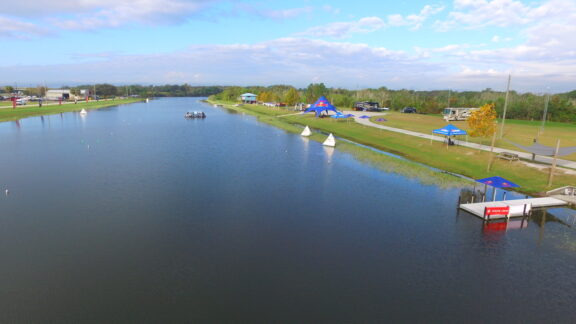 Here it is; 4 countries, 4 stops, 7 winners, 16 records, 2 Tour Champions, and 1 unbelievable year. The Florida Cup was the perfect cap to an unreal year. After an action-packed tour season, the Overall skiers pulled up to the record-setting shores of Ski Fluid, where most recently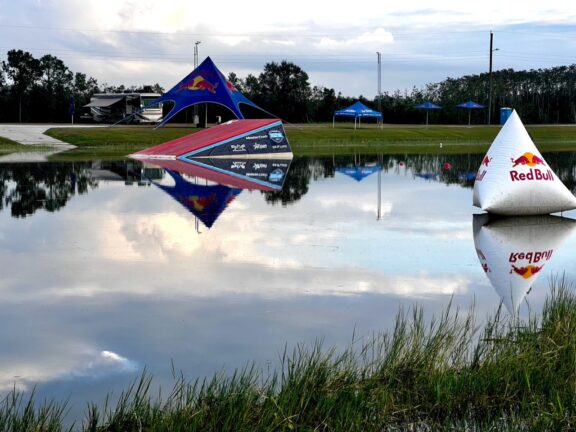 Jacinta Carroll became the first woman to jump 200ft, and Joel Poland and Dorien Llewellyn traded World Overall Records in 2021. Needless to say, expectations were high and the event did not disappoint.
Boasting the largest and most competitive female field a WWS event has seen, the Florida Cup was a staple as to how amazing the women's event can be with the likes of Regina Jaquess, Anna Gay, Hanna Stratslova, and Valentina Gonzalez making their
debuts. After having three different event winners this year, namely Paige Rini, Brooke Baldwin, and Kennedy Hansen, the question was if one of these three girls could become the first to win 2 titles in the same year. Unfortunately, Brooke, the tour leader heading into the event, sustained a back injury at the 3rd stop in Austria and was unable to compete. Nevertheless, the women put on a fierce battle from the onset of the preliminary round, with Regina breaking the WWS slalom record, finishing with a score of 1@10.25m, and Hanna breaking the WWS jump record, with a distance of 55.1m. Their performances were so strong in fact, that Kennedy would be knocked out of the event in the first round, thus, securing the Tour points lead and the WWS Overall Tour Title for Brooke Baldwin.
Heading into the women's final were, in descending order of placement, Hanna, Regina, Paige, and Anna. Beginning with trick, Paige and Anna were considered to be the strongest competitors, but due to a couple miscues, Paige fell early in her toe pass, leaving her in a sizable hole right out of the gate. Anna, on the other hand, showed her World Champion stature, setting a new WWS trick record with a score of 10350 points. Moving into slalom, with Hanna sitting on 8410 and Regina back a bit more at 7130 they both need to step up going into there strong events. Regina, largely considered one of, if not the best slalom skiers of all time, once again put on a clinic in the course, tying her record from the first round with 1@10.25m. Vaulting her into 1st place of the Overall race. Still, the fight raged on, as Hanna powered her way to a personal best in slalom of 0.5@10.75, knowing her strongest event was yet to come. 
Thus, moving into jump, Regina led, Hanna was close behind, and Anna rounded out the podium. All four women jumped exceptionally well, with Paige Rini putting on a spirited performance in an attempt to retake a podium place, and Regina's grit was on display with her solid jumping having only recently begun to truly recover from her ACL tear last year. But, it was Hanna who would not be denied, setting yet another WWS jump record, soaring 56.5m through the air, and thereby breaking Giannina Bonneman's 2 year withstanding Overall record. With all the action this year and the return of Giannina next year, the stage has been set for what could be the most exciting season of Overall skiing in history.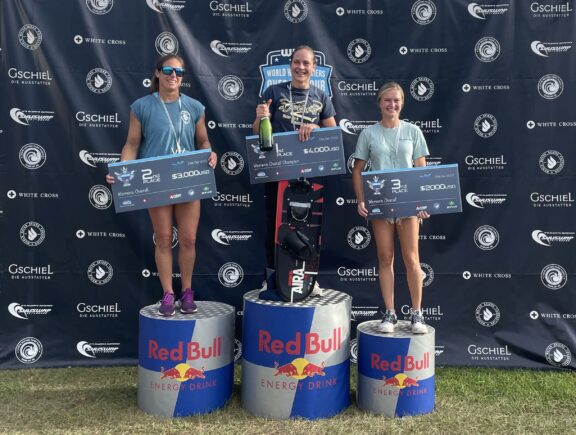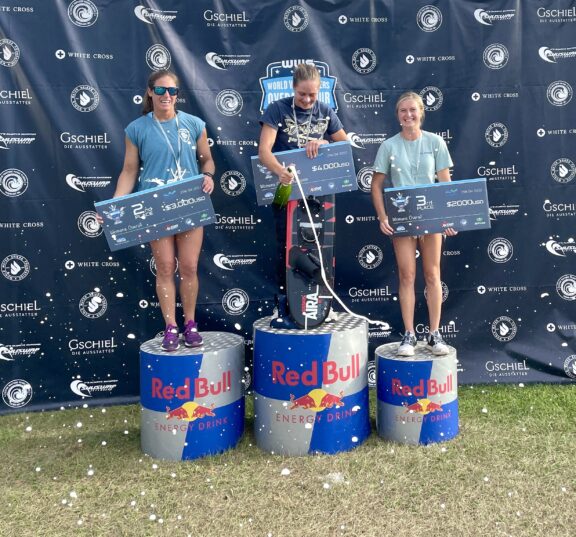 On the Men's side of the action, Dorien Llewellyn and Joel Poland once again looked to square off in their seemingly never-ending, heavyweight slugfest. With each of the Men having been to three stops, all 5 were guaranteed to make the finals, allowing for Dorien and Joel to push for high
scores in the first round, which they absolutely did. Dorien, being ranked an equal 2nd with Louie Duplan-Fribourg heading into the event, was the first of the two to complete a WWS Overall record-breaking round of 5@10.75m, 11060 points, and a 67.8m jump, which also happened to be a new WWS Jump record. Only 1 minute later, Joel would improve upon Dorien's score by a mere 5 overall points, with 5.5@10.75m, 11200 points, and a 67.1m jump! Thus, Joel would be the top seed in the finals, followed by Dorien, Martin Kolman, Edoardo Marenzi, and Tanguy Dialland, in that order.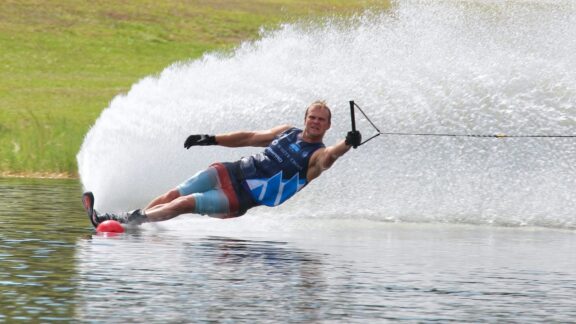 Also beginning with the trick event, Martin Kolman reminded everyone why he is the 2019 Overall World Champion with a blistering trick score of 11730. Still, Dorien kept himself well within striking distance with his own score of 11360 with Joel still to trick. After a slightly early fall in toes, the expectation was that Joel would fire back with his impressive flip sequence, but shockingly, Joel fell after his second flip, potentially eliminating him from the title race. Additionally, Edo proved himself to be a future title contender with a personal best of 10790. Then in the slalom event, Martin, who
had been seemingly struggling to find his form all year, picked the perfect moment to regain his winning ways, swerving to a solid score of 4@10.75m. Knowing that he was now the favorite to win the event, Dorien showed some nerves on his early passes but pulled himself together at the right time to power through the 10.75m line length, only to frustratingly fall at the final buoy. Yet, his score of 5.5@10.75m put him just 6 Overall points behind Martin and with his strength in jump, was a clear advantage to the Canadian.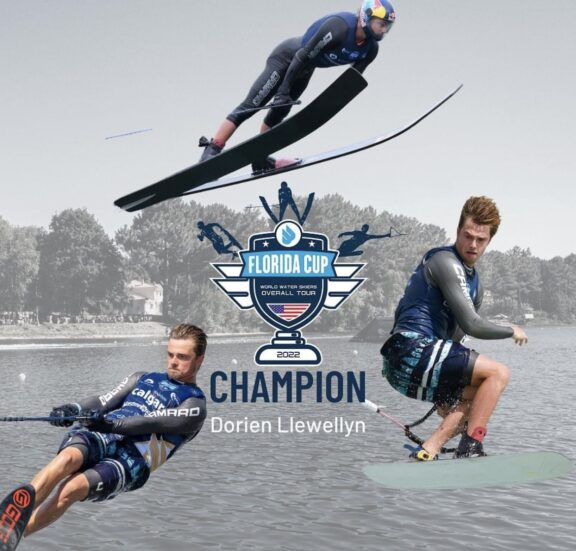 That being said, Martin would not go down without a fight. Despite only performing a 3/4 cut, Martin finished with the second-highest jump score of the round, an impressive 206ft jump, which Dorien would not beat after a 205ft first jump. Still, confident in his jumping, Dorien brought his cut later down the lake and boosted 219 and 220ft jumps to secure himself his first win of the 2022 season, finally able to stand atop the podium to spray the champagne. With these results, Dorien took sole ownership of the runner-up position in the tour standings and Martin found himself rounding out the podium in 3rd place, with Joel Poland's year-long success leading to his first WWS Overall Tour Title and the golden champions bib for the 2023 season.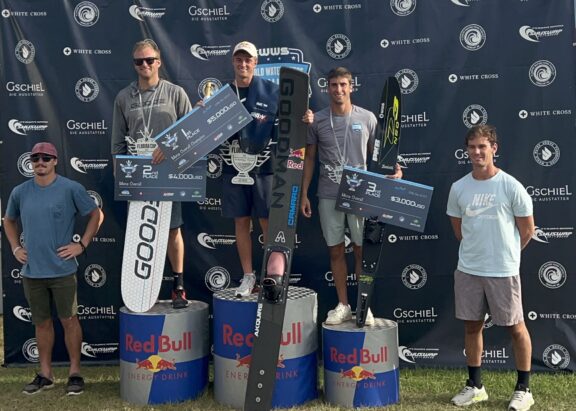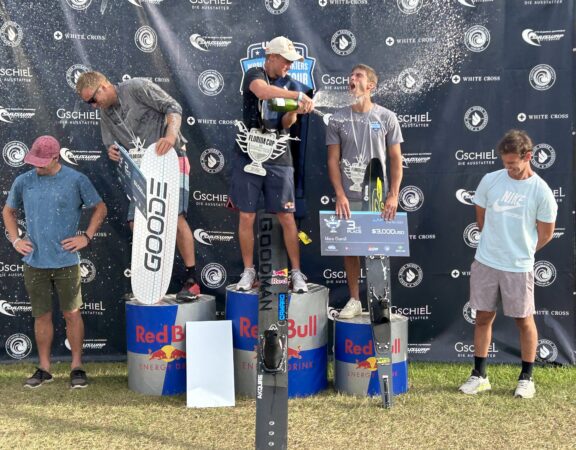 2022 Malibu Open In The Books!
Lacanau Always delivers Insane Scores!
As the sun set on the pristine beaches of Lacanau last Sunday, the lakes of (Lacanau Ski Club) finally settled from the excitement of the Lacanau Overall Cup and the Malibu Open. Both of these professional events brought about incredible skiing and hard-fought victories, with the Malibu Open representing some of, if not the highest scores ever seen in a professional slalom event. In order to move on to the finals on the men's side of the competition, skiers had to finish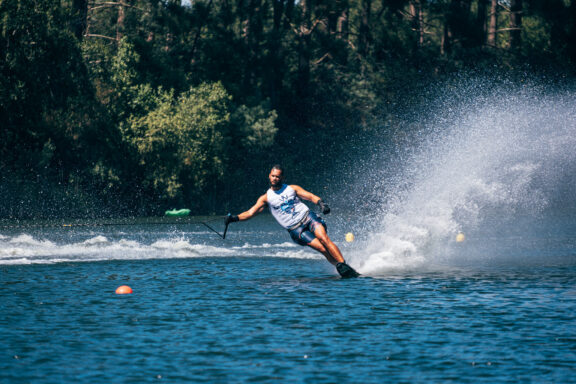 with a score of 3@10.25m or higher. Continuing on the high-scoring trend, the finals displayed a three-way tie for the lead between Dane Mechler, Jon Travers, and Brando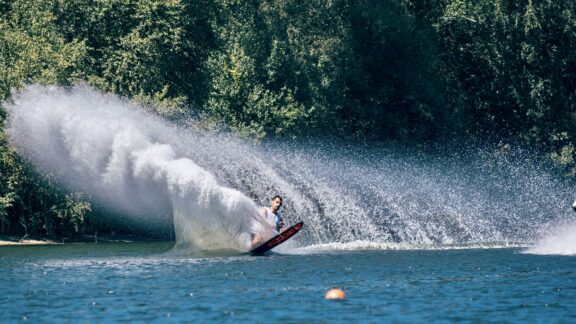 Caruso at 4@10.25m with only one skier remaining on the dock, namely top-seeded skier Nate Smith. Nate, who has been in incredible form this entire year, turned the first 3 buoys expertly at 10.25m and did not hesitate to turn the 4th buoy, seemingly never considering the possibility of skiing for a tie, and comfortably swinging out around the 5th and 6th buoys to run through yet another 10.25m pass.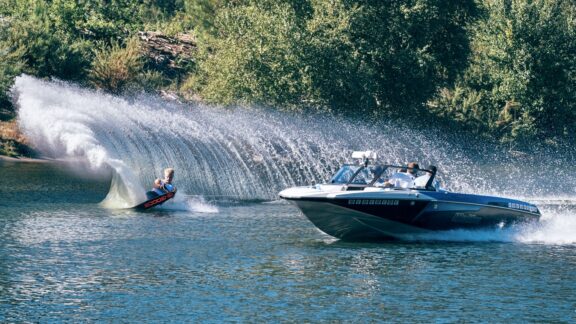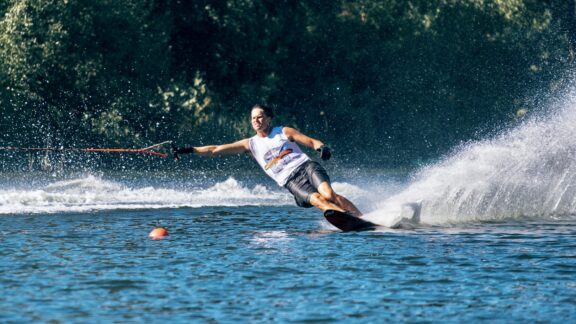 In the women's slalom event of the Malibu Open, there was a tough three-way North American battle between Canadian Paige Rini and Brooke Baldwin and Ali Garcia from the United States. Sandra Bottas was the only skier from another
continent to qualify for the four women final. Despite skiing quite well, Sandra wasn't able to overtake the other three,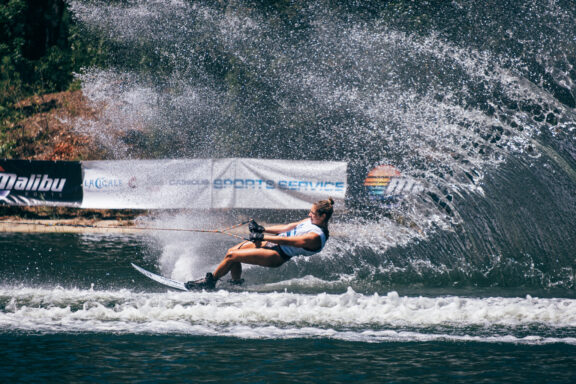 who had each finished with a score on the 10.75m in at least one round. With the requirement to start at 13m, leading to a tailwind 11m pass, both Ali and Sandra were unable to clear the rope length, finishing with a score of 3.5 and 2 buoys respectively.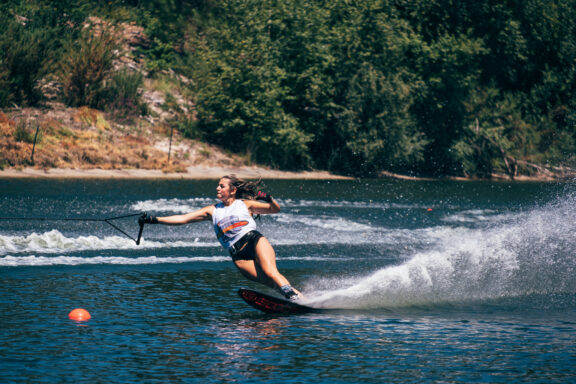 Next up, Brooke Baldwin, who had been increasing her scores at 10.75 each round of the competition, styled her way through the 11m tailwind pass and finished with 3@10.75m, the highest score of any woman in the event. Coming off the dock as the top seed, Paige Rini handle the pressure well and also made fine work of the 11m line length. Yet, the prospect of needing 3 buoys proved challenging, as Paige turned the 1st buoy too hard for her to be able to hold the angle through the wakes, leaving Paige short inside 2 ball and on the second step of the podium.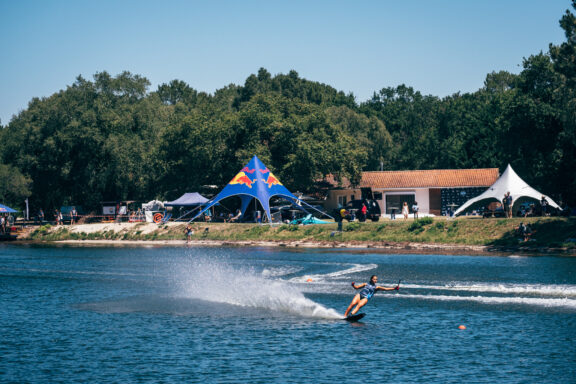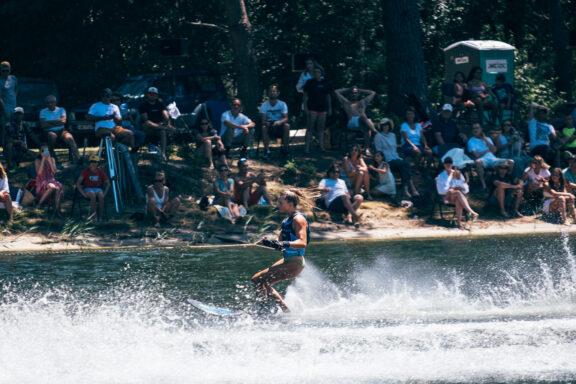 As the skiers move on to the next stop of the European circuit, the skiers look back on their time in Lacanau and reminisce on a truly unforgettable experience. The site, the people, the city, the beach, all in all, the memories will last a lifetime and we are already looking forward to next year. If you have not been to Lacanau this city and ski club need to be on your bucket list, they are truly one of the best on the planet. Lacanau is not just an incredible ski site, but with
private villas available for rent, a pool, and an incredible restaurant right at the dock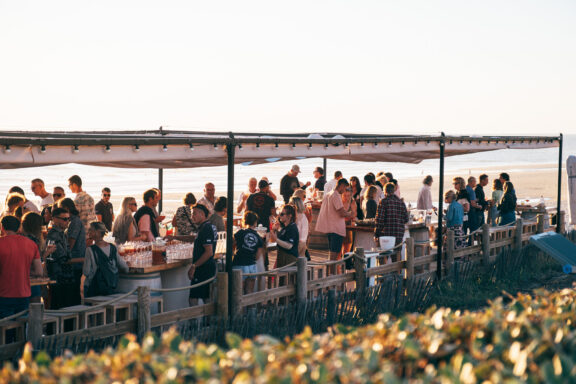 with the friendliest staff you can imagine, it is truly a special place. If you want to get a moment outside of the resort the ocean is 10 minutes away with endless restaurant options right on the beach where you can watch some of the best sunsets imaginable. But as the sun sets on Lacanau, WWS is off to Calgary, Canada, for the second stop of the WWS Overall Tour. On July 29-31 the battle continues to see who will take out the Overall Tour Title.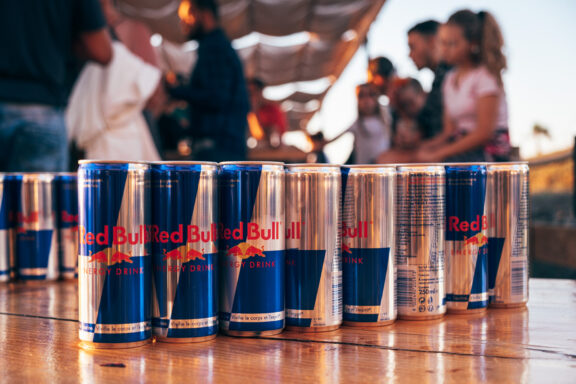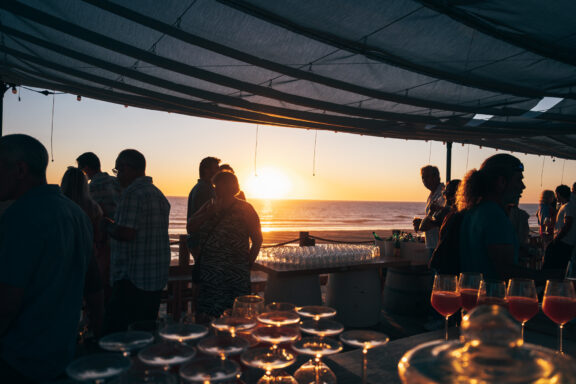 See full WWS Lacanau Cup Overall Story
A Special thank you for all the long hours it takes to put on an event of this level. Hats off to Geraldine, Christophe, the Jamin family, the staff, judges, volunteers, and especially to the sponsors, which are special friends of the water ski community that wants to give back. So please check out the names at the bottom or on the Event Page and drop a personal thank you for their support, it is what builds a stronger foundation for our sport!
Thanks to Eudes M-Tivier for the great shots all weekend –
This club is the real deal, not just world-class coaching – a full pro shop, marine sale and repair, Villa Rental, and dockside Restaurant (Lèau à la bouche), and a world-class beach 10 mins away.
Records Fall at the Holy Cow Cup!
Fifteen National Records were broken this past weekend at Ski Fluid's Holy Cow Cup along with a new pending U17 World Slalom Record.
The event was held over 3 days, Friday 24th to Sunday 26th of September and the weather gods smiled nicely upon the competition with brilliant weather every day.
Records fell in all events and in numerous divisions but the highlight was Charlie Ross breaking the U17 Boys World Slalom Record in the first round with 1.25@41off. He followed this up in the 3rd round with 1.5@41off and looked like he was on his way to number 3! At only 15 Charlie is the youngest to ever run 39 and has stormed onto the world slalom stage in the past year or so. He will definitely be one to watch at the upcoming World Championships and MasterCraft Pro in October.
Fluid currently claims the host site to the Men's World Overall Record with a new pending record in the approval process, as well as the site of the Women's World Jump Record and the U21 Men's Trick Record. In the past, Fluid has also seen the Women's World Overall and Trick Record as well as the Men's World Jump Record broken on it's waters. However, Charlie's achievement is the first World Slalom Record set on the site behind the 2021 MasterCraft Pro Star proving Fluid is the place for it all!
The other National Records included Neilly Ross breaking the Canadian Open Women's record twice with 10660 and 10790, Vale Gonzalez tying the Chilean Jump Record of 49.9m, Frankie Dees coming out of retirement for the M8 Jump Record of 123, 14 year old Jake Abelson laying down 11450 for a B4 Record, while his sister upped the G2 Slalom record to 1@35off. Bruce Kistler broke his existing trick record 3 times in M8, while Leza Harrison broke the W9 record in multiple rounds.
Other notable performances were from Team Fluid skiers, Jacinta Carroll flying 194ft in her first competition in almost 2 years and Jack Critchley launching 224ft setting themselves up nicely for the World's next month and the professional events that will complete the 2021 season.
There were so many other personal bests notched up during the event that it was impossible to keep count. Big thanks to all of the drivers, judges and volunteers that helped out over the 3 days. And a special mention to Action Water Sports for providing the 2021 MasterCraft Pro Stars for all of the competitors to perform behind.
The Holy Cow Cup is Fluid's longest running event and has been held annually since Fluid opened in 2009. This tournament wrapped up our amateur schedule for 2021, but we are looking forward to hosting the MasterCraft Pro presented by Action Water Sports on October 29/30 and will be back in 2022 with at least another 5 record events and we are sure even more amazing performances.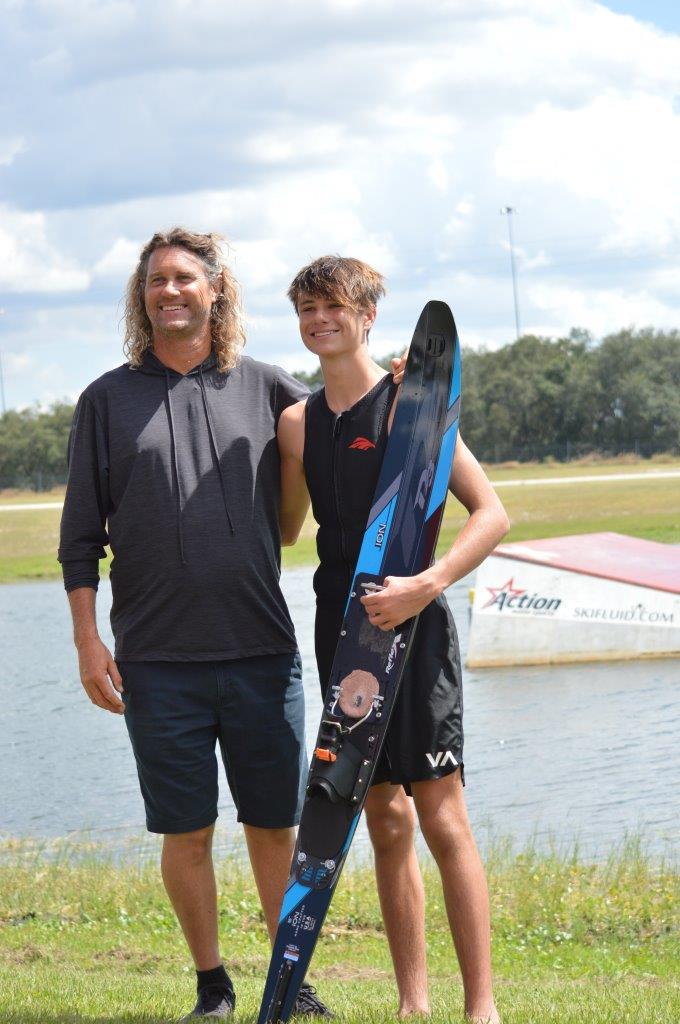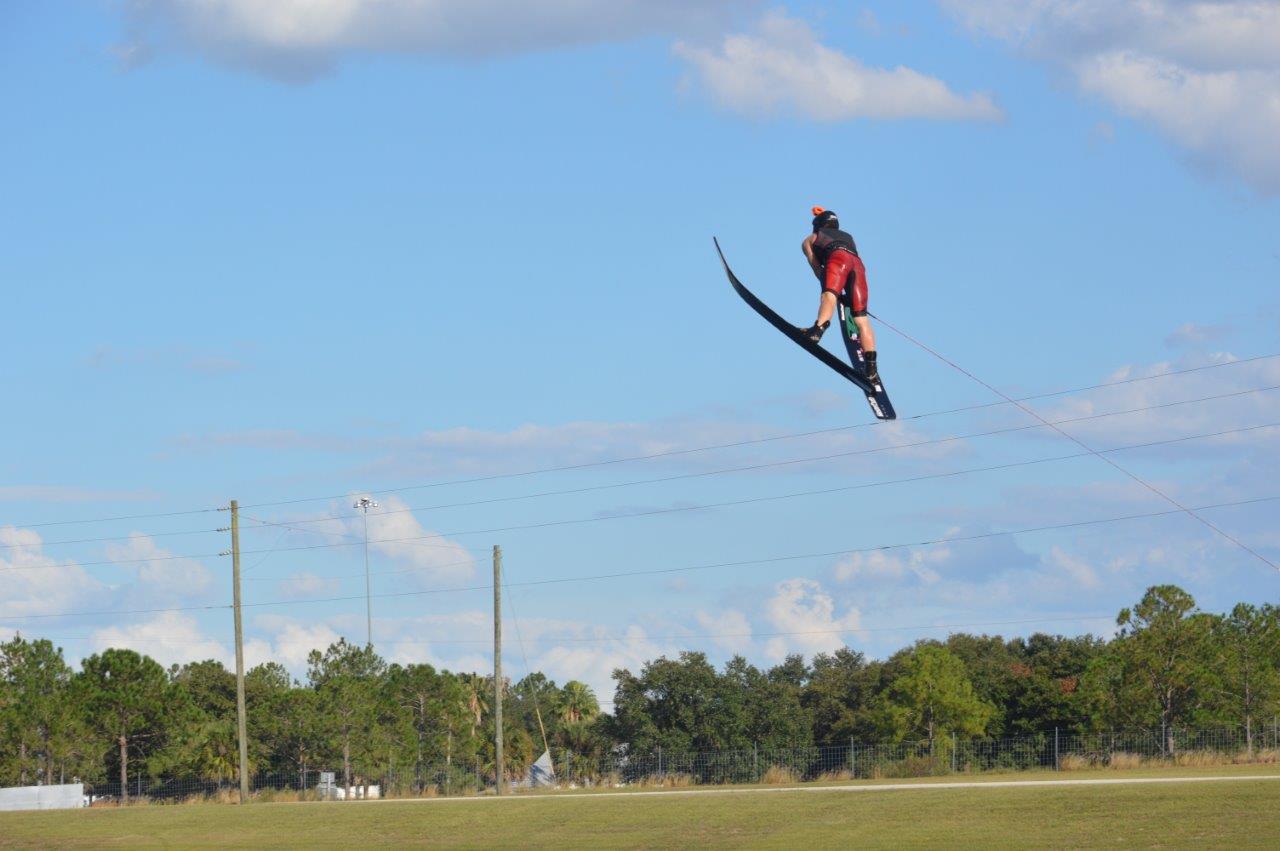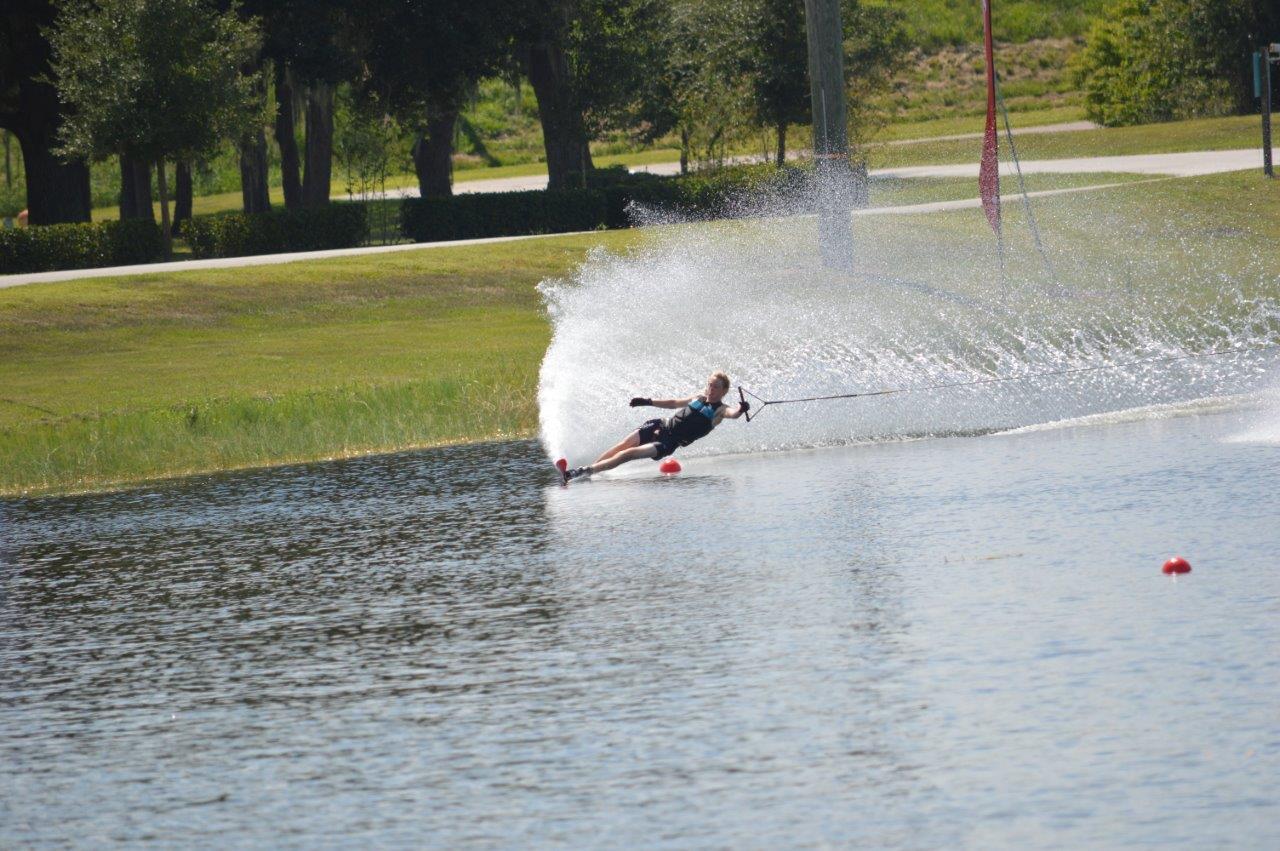 Team Fluid.
2021 Holy Cow Cup Running Order
Skiers and Officials,
Thank you all for registering to participate in the 2021 Holy Cow Cup…one of Ski Fluid's longest running events with an 11 year history!
This tournament will begin on Friday 24th September at 8:30am, with Saturday and Sunday starting at 8am. Please arrive early to complete your registration if it hasn't been done so already.
The Schedule and Official Running Order has been posted below:
https://worldwaterskiers.com/wp-content/uploads/2021/09/2021-Holy-Cow-Cup-Running-Order.xlsx
If there are any errors in your division, events or rounds please notify us asap.
All skiers must be current members of USAWS and have rejoined the Florida Water Ski Federation since the Nationals in August. If not please complete before skiing at:
The weather looks great for the 3 days and we are excited for a great competition!
See you all this weekend.
Team Fluid.
Llewellyn breaks World Overall Record Twice!!
This past weekend Dorien Llewellyn rewrote the record books setting 2 pending World Overall records in consecutive rounds at the Fluid Fall Record event.
Dorien has come close to this record a number of times but to perform all 3 events at this level in the same round of the same competition is intense and there is little room for error. On Saturday the 4th September, Dorien began his quest by tricking 11610, followed by slaloming 2.5@39. In Jump, he needed 225ft and on his second jump launched a massive 230ft leap for pending record number one!
In the second round his jump and trick score was down a little with 224 and 11010 so he needed a big slalom score. In champion fashion he ran a clean 39off pass and got 1@41 for pending record number two!
Congratulations to Dorien and all the best for a successful World Championships next month.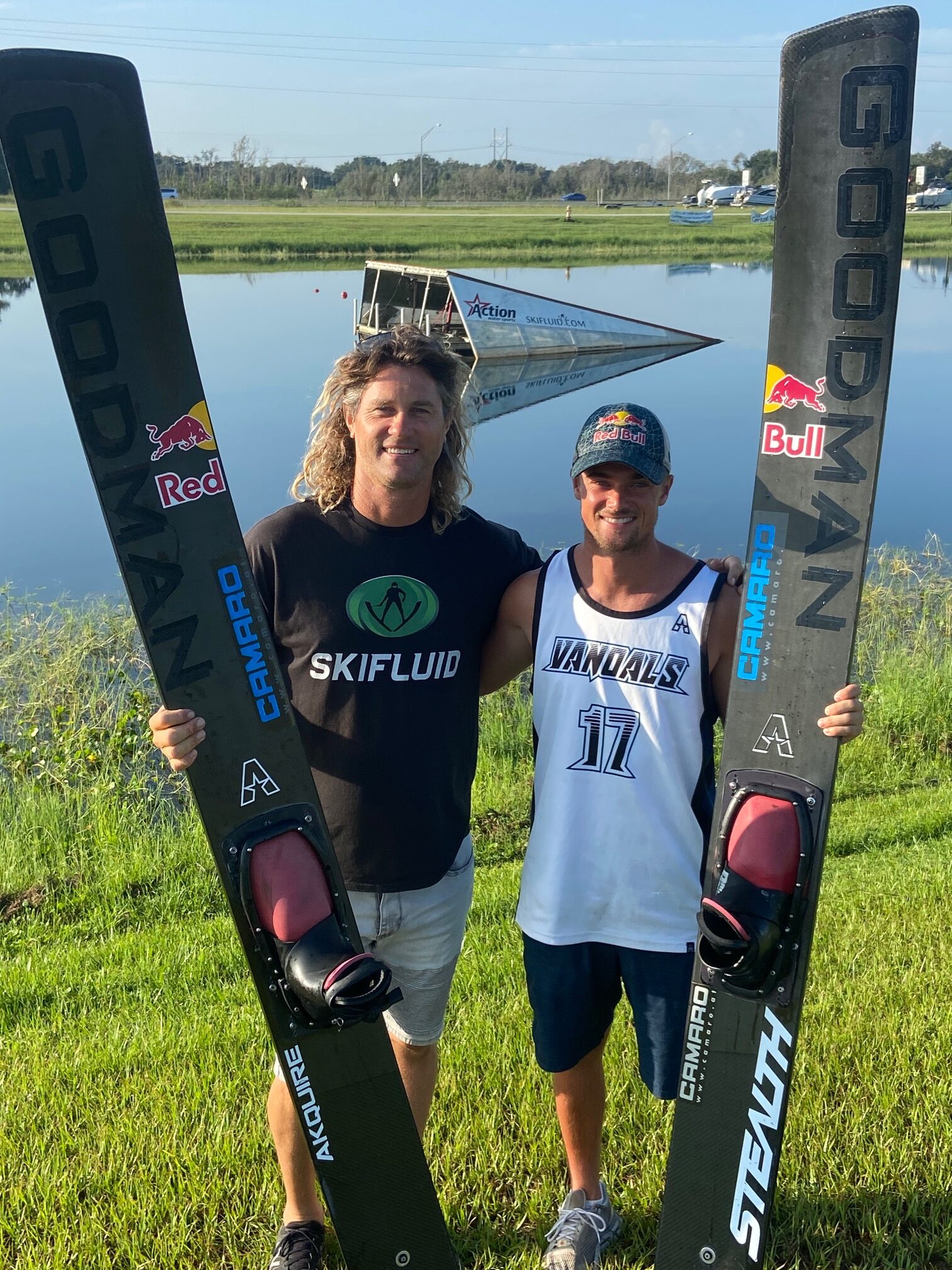 2021 Fluid Fall Record Running Order
Skiers & Officials,
The Fluid Fall Record will be held this coming weekend (September 4th and 5th) at Ski Fluid starting at 7:30 am on both Saturday and Sunday.
The Schedule and Running Order have been posted below but are subject to change depending on the weather. Tricks will be first both days, followed by Slalom around 10 am, then Jump.
Click to access 2021-Fluid-Fall-Record-Running-Order.pdf
All skiers must complete their registration prior to competing. We have 2 busy days of skiing with 90 rides planned each day so please arrive early to ensure you do not miss your turn. Due to the increase in Covid cases, there will be no check-in at Action Water Sports.
Everyone must renew their Florida Water Ski Federation at the beginning of the new ski year which began after Nationals. Please complete this prior to this weekend:
We are looking forward to a great event with a number of skiers moving into new divisions after the Nationals and taking their first shots at new National Records.
See you all this weekend!
Team Fluid
Holy Cow Records Fall
Dear Skiers and Officials,
We just wanted to take this opportunity to thank all of you for coming and participating in the Holy Cow Cup this past weekend.
We had 3 full days of competition with some amazing results and National records:
Karen Truelove W4 US National Record – 1.5@39
Diego Font U21M Mexican National Record – 3.25@39
Bruce Dodd M6 Canadian National Record – 3930
Dorien Llewellyn OM Canadian National Record – 11460
We also had a pending World U21 Trick Record by Pato Font with 12220!
And Dorien Llewellyn was only 2 overall points of setting another World Overall Record with incredible scores of 5@39, 222ft, and 11090.
The official results have been uploaded and a link can be found at:
While you are there, please check out all the information for the MasterCraft Pro presented by Action Water Sports that will be hosted at Ski Fluid this coming Friday and Saturday.
We hope you can make it back out to watch the best skiers in the world compete or tune in to the live webcast by TWBC.
Thanks again and a special note of appreciation to all of the officials who worked some long days to ensure the event was a success…we couldn't do it without you.
Cheers,
Kyle Eade
Ski Fluid, LLC.