Records Fall & Champions Crowned
Records Fall & Champions Crowned At WWS Flordia Cup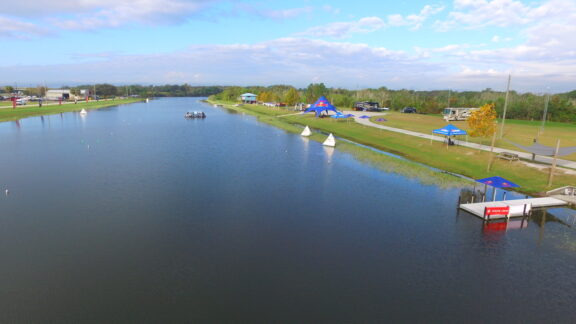 Here it is; 4 countries, 4 stops, 7 winners, 16 records, 2 Tour Champions, and 1 unbelievable year. The Florida Cup was the perfect cap to an unreal year. After an action-packed tour season, the Overall skiers pulled up to the record-setting shores of Ski Fluid, where most recently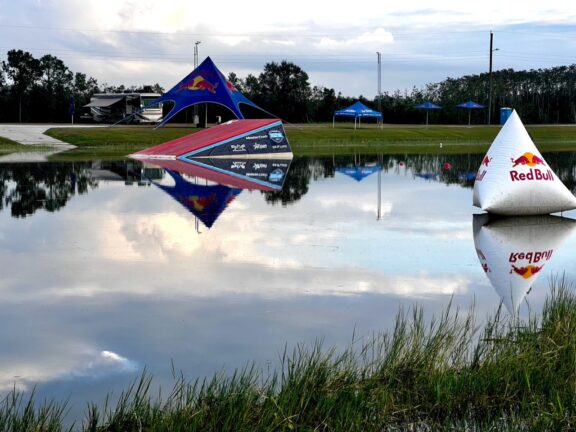 Jacinta Carroll became the first woman to jump 200ft, and Joel Poland and Dorien Llewellyn traded World Overall Records in 2021. Needless to say, expectations were high and the event did not disappoint.
Boasting the largest and most competitive female field a WWS event has seen, the Florida Cup was a staple as to how amazing the women's event can be with the likes of Regina Jaquess, Anna Gay, Hanna Stratslova, and Valentina Gonzalez making their
debuts. After having three different event winners this year, namely Paige Rini, Brooke Baldwin, and Kennedy Hansen, the question was if one of these three girls could become the first to win 2 titles in the same year. Unfortunately, Brooke, the tour leader heading into the event, sustained a back injury at the 3rd stop in Austria and was unable to compete. Nevertheless, the women put on a fierce battle from the onset of the preliminary round, with Regina breaking the WWS slalom record, finishing with a score of 1@10.25m, and Hanna breaking the WWS jump record, with a distance of 55.1m. Their performances were so strong in fact, that Kennedy would be knocked out of the event in the first round, thus, securing the Tour points lead and the WWS Overall Tour Title for Brooke Baldwin.
Heading into the women's final were, in descending order of placement, Hanna, Regina, Paige, and Anna. Beginning with trick, Paige and Anna were considered to be the strongest competitors, but due to a couple miscues, Paige fell early in her toe pass, leaving her in a sizable hole right out of the gate. Anna, on the other hand, showed her World Champion stature, setting a new WWS trick record with a score of 10350 points. Moving into slalom, with Hanna sitting on 8410 and Regina back a bit more at 7130 they both need to step up going into there strong events. Regina, largely considered one of, if not the best slalom skiers of all time, once again put on a clinic in the course, tying her record from the first round with 1@10.25m. Vaulting her into 1st place of the Overall race. Still, the fight raged on, as Hanna powered her way to a personal best in slalom of 0.5@10.75, knowing her strongest event was yet to come. 
Thus, moving into jump, Regina led, Hanna was close behind, and Anna rounded out the podium. All four women jumped exceptionally well, with Paige Rini putting on a spirited performance in an attempt to retake a podium place, and Regina's grit was on display with her solid jumping having only recently begun to truly recover from her ACL tear last year. But, it was Hanna who would not be denied, setting yet another WWS jump record, soaring 56.5m through the air, and thereby breaking Giannina Bonneman's 2 year withstanding Overall record. With all the action this year and the return of Giannina next year, the stage has been set for what could be the most exciting season of Overall skiing in history.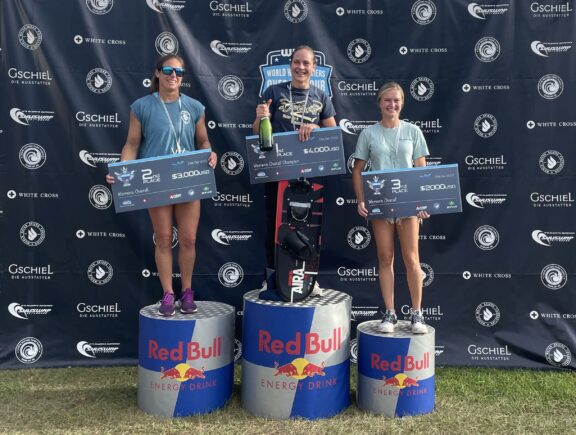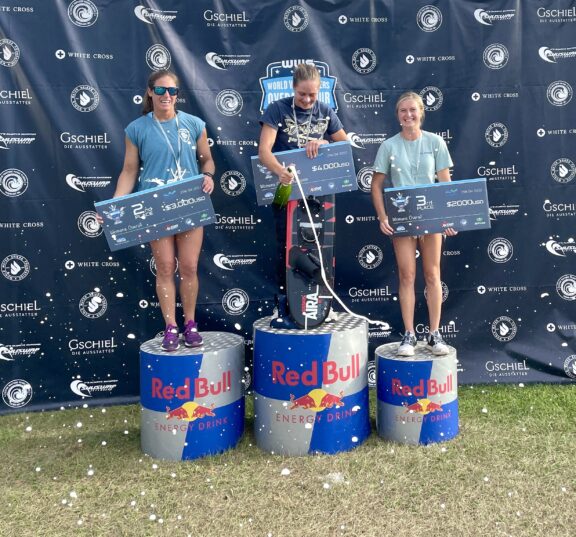 On the Men's side of the action, Dorien Llewellyn and Joel Poland once again looked to square off in their seemingly never-ending, heavyweight slugfest. With each of the Men having been to three stops, all 5 were guaranteed to make the finals, allowing for Dorien and Joel to push for high
scores in the first round, which they absolutely did. Dorien, being ranked an equal 2nd with Louie Duplan-Fribourg heading into the event, was the first of the two to complete a WWS Overall record-breaking round of 5@10.75m, 11060 points, and a 67.8m jump, which also happened to be a new WWS Jump record. Only 1 minute later, Joel would improve upon Dorien's score by a mere 5 overall points, with 5.5@10.75m, 11200 points, and a 67.1m jump! Thus, Joel would be the top seed in the finals, followed by Dorien, Martin Kolman, Edoardo Marenzi, and Tanguy Dialland, in that order.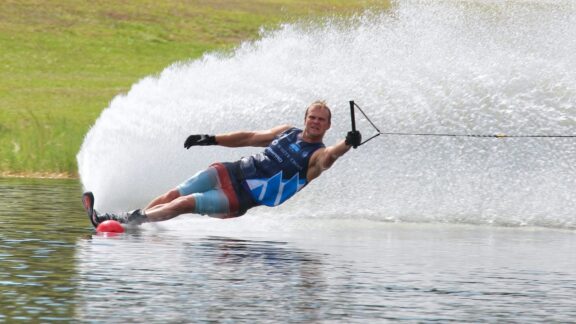 Also beginning with the trick event, Martin Kolman reminded everyone why he is the 2019 Overall World Champion with a blistering trick score of 11730. Still, Dorien kept himself well within striking distance with his own score of 11360 with Joel still to trick. After a slightly early fall in toes, the expectation was that Joel would fire back with his impressive flip sequence, but shockingly, Joel fell after his second flip, potentially eliminating him from the title race. Additionally, Edo proved himself to be a future title contender with a personal best of 10790. Then in the slalom event, Martin, who
had been seemingly struggling to find his form all year, picked the perfect moment to regain his winning ways, swerving to a solid score of 4@10.75m. Knowing that he was now the favorite to win the event, Dorien showed some nerves on his early passes but pulled himself together at the right time to power through the 10.75m line length, only to frustratingly fall at the final buoy. Yet, his score of 5.5@10.75m put him just 6 Overall points behind Martin and with his strength in jump, was a clear advantage to the Canadian.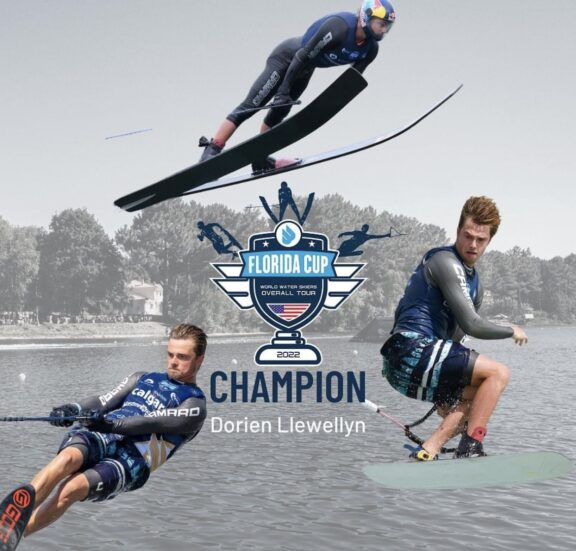 That being said, Martin would not go down without a fight. Despite only performing a 3/4 cut, Martin finished with the second-highest jump score of the round, an impressive 206ft jump, which Dorien would not beat after a 205ft first jump. Still, confident in his jumping, Dorien brought his cut later down the lake and boosted 219 and 220ft jumps to secure himself his first win of the 2022 season, finally able to stand atop the podium to spray the champagne. With these results, Dorien took sole ownership of the runner-up position in the tour standings and Martin found himself rounding out the podium in 3rd place, with Joel Poland's year-long success leading to his first WWS Overall Tour Title and the golden champions bib for the 2023 season.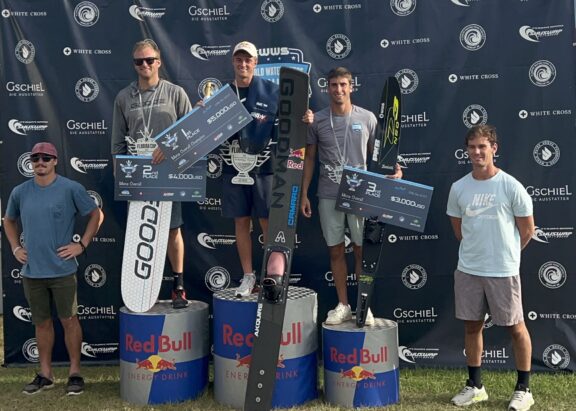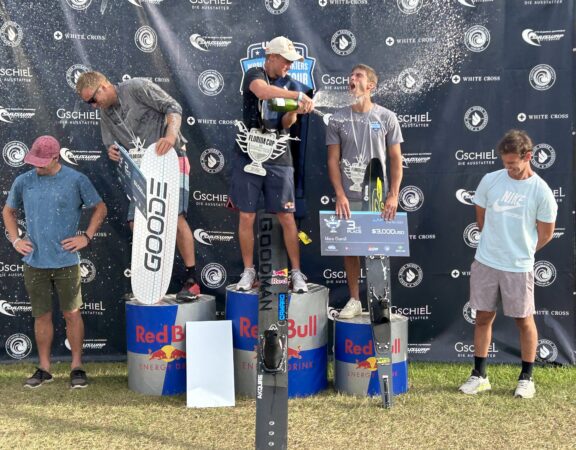 2022 Florida Cup Official Schedule and Running Order
The 2022 Florida Cup is only days away and we cannot wait to host the best Overall skiers in the world at Ski Fluid. They will be battling it out for event title, the tour title and some big paychecks!
The Men's Overall World Record was broken 3 times at Ski Fluid in 2021 and a past Women's World Overall Record was set at Ski Fluid several years ago. With the caliber of skiers we have on the entry list, there is a good chance more records will be set to finish the 2022 season in style.
The Overall Pros will be skiing their preliminary rounds alongside some top amateur competitors on Friday starting at 7:45am. The Overall finals (Top 4 Women and Top 5 Men) will be webcast live starting at 1pm on Saturday. If you live in the Central Florida area come out and watch…if not tune into the webcast (link on the tournament page).
A link to the full schedule and running order is below:
https://worldwaterskiers.com/wp-content/uploads/2022/10/2022-Florida-Cup-Running-Order-1.pdf
Looking forward to a great event and an awesome after party at Elixir downtown Orlando!
2022 Malibu Open In The Books!
Lacanau Always delivers Insane Scores!
As the sun set on the pristine beaches of Lacanau last Sunday, the lakes of (Lacanau Ski Club) finally settled from the excitement of the Lacanau Overall Cup and the Malibu Open. Both of these professional events brought about incredible skiing and hard-fought victories, with the Malibu Open representing some of, if not the highest scores ever seen in a professional slalom event. In order to move on to the finals on the men's side of the competition, skiers had to finish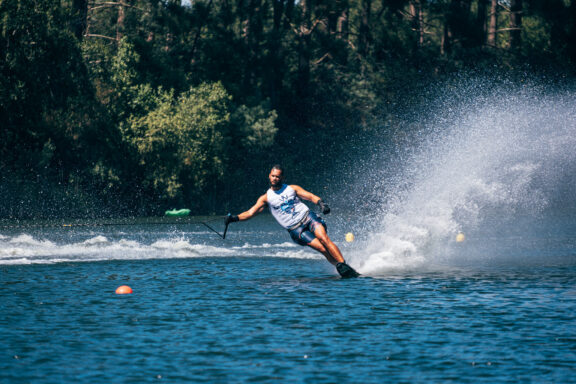 with a score of 3@10.25m or higher. Continuing on the high-scoring trend, the finals displayed a three-way tie for the lead between Dane Mechler, Jon Travers, and Brando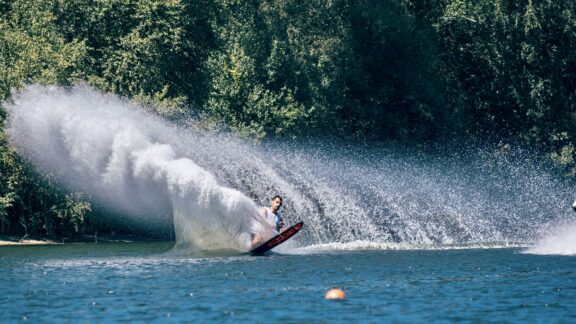 Caruso at 4@10.25m with only one skier remaining on the dock, namely top-seeded skier Nate Smith. Nate, who has been in incredible form this entire year, turned the first 3 buoys expertly at 10.25m and did not hesitate to turn the 4th buoy, seemingly never considering the possibility of skiing for a tie, and comfortably swinging out around the 5th and 6th buoys to run through yet another 10.25m pass.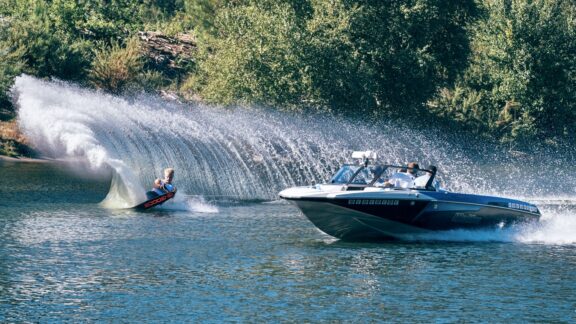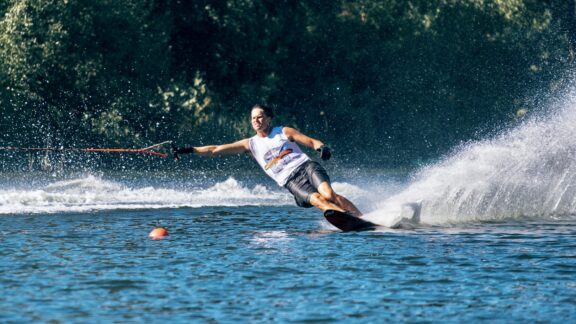 In the women's slalom event of the Malibu Open, there was a tough three-way North American battle between Canadian Paige Rini and Brooke Baldwin and Ali Garcia from the United States. Sandra Bottas was the only skier from another
continent to qualify for the four women final. Despite skiing quite well, Sandra wasn't able to overtake the other three,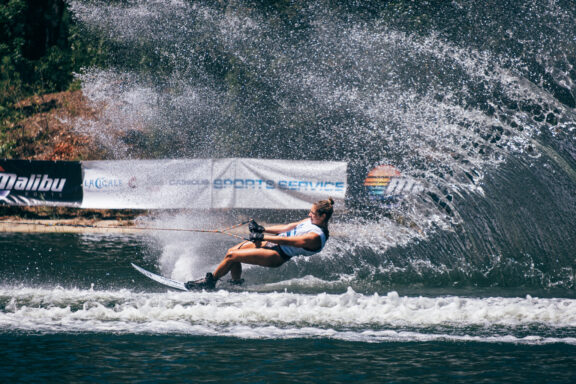 who had each finished with a score on the 10.75m in at least one round. With the requirement to start at 13m, leading to a tailwind 11m pass, both Ali and Sandra were unable to clear the rope length, finishing with a score of 3.5 and 2 buoys respectively.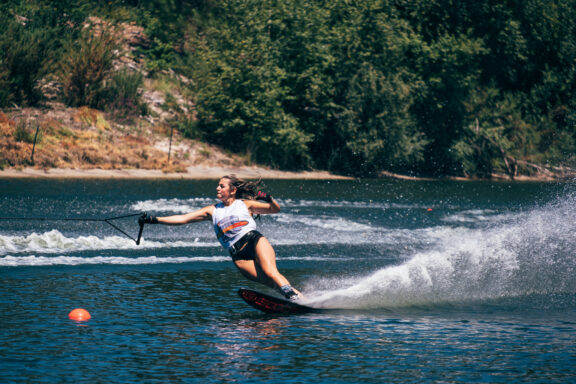 Next up, Brooke Baldwin, who had been increasing her scores at 10.75 each round of the competition, styled her way through the 11m tailwind pass and finished with 3@10.75m, the highest score of any woman in the event. Coming off the dock as the top seed, Paige Rini handle the pressure well and also made fine work of the 11m line length. Yet, the prospect of needing 3 buoys proved challenging, as Paige turned the 1st buoy too hard for her to be able to hold the angle through the wakes, leaving Paige short inside 2 ball and on the second step of the podium.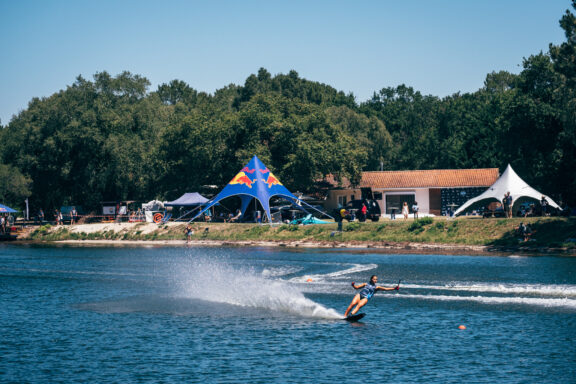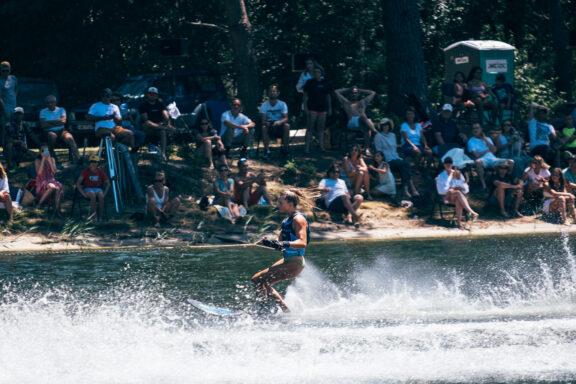 As the skiers move on to the next stop of the European circuit, the skiers look back on their time in Lacanau and reminisce on a truly unforgettable experience. The site, the people, the city, the beach, all in all, the memories will last a lifetime and we are already looking forward to next year. If you have not been to Lacanau this city and ski club need to be on your bucket list, they are truly one of the best on the planet. Lacanau is not just an incredible ski site, but with
private villas available for rent, a pool, and an incredible restaurant right at the dock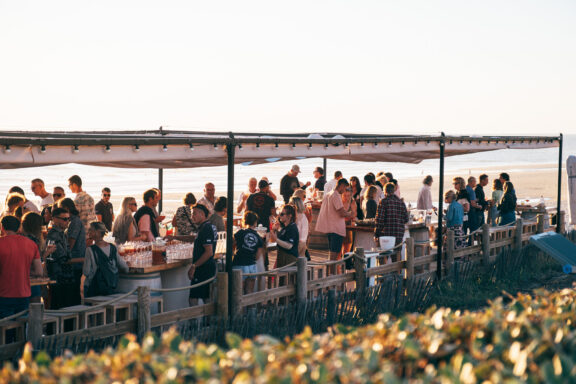 with the friendliest staff you can imagine, it is truly a special place. If you want to get a moment outside of the resort the ocean is 10 minutes away with endless restaurant options right on the beach where you can watch some of the best sunsets imaginable. But as the sun sets on Lacanau, WWS is off to Calgary, Canada, for the second stop of the WWS Overall Tour. On July 29-31 the battle continues to see who will take out the Overall Tour Title.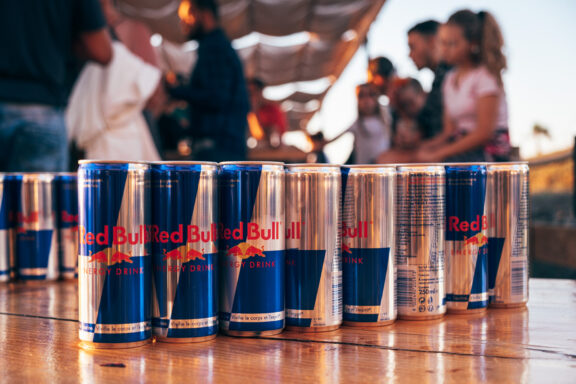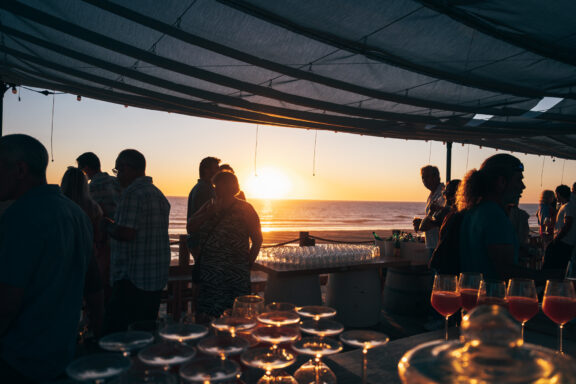 See full WWS Lacanau Cup Overall Story
A Special thank you for all the long hours it takes to put on an event of this level. Hats off to Geraldine, Christophe, the Jamin family, the staff, judges, volunteers, and especially to the sponsors, which are special friends of the water ski community that wants to give back. So please check out the names at the bottom or on the Event Page and drop a personal thank you for their support, it is what builds a stronger foundation for our sport!
Thanks to Eudes M-Tivier for the great shots all weekend –
This club is the real deal, not just world-class coaching – a full pro shop, marine sale and repair, Villa Rental, and dockside Restaurant (Lèau à la bouche), and a world-class beach 10 mins away.
Lacanau Cup Kicks Off This Weekend!
This coming weekend, the Lacanau Ski Club will bring together the world's best slalom and overall skiers. Slalom superstars such as World Champion and World Record Holder Nate Smith, Dane Mechler, Jon Travers, and Moomba Master's Champion Vennessa Vieke. On the Overall end, the event will feature current World Champion and World Overall Record Holder Joel Poland, the Former World Record Holder and World trick Champion Dorien Llewellyn, as well as Brooke Baldwin and Paige Rini, who will both be looking to make their mark in the Overall World Tour over the weekend. The Lacanau ski club, one of the premier sites in the world, has put on countless international events, and the site claims the 1st 230-foot jump by Jaret Llewellyn (CAN), 1st run over 12,000pt by Nicolas Le Forestier (FR), and 1st full 10.25m by Jamie Beauchesne (USA) performed in a pro event.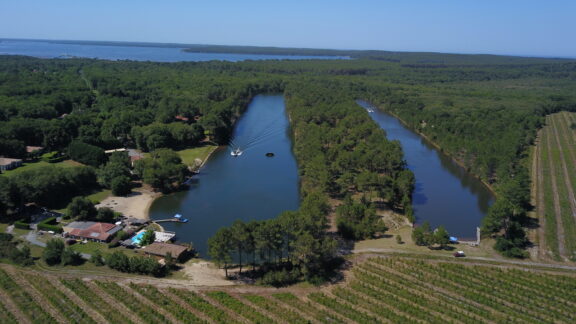 The Lacanau Ski club is a world-renowned ski school run by European superstars, Geraldine Jamin and Christoff Duverger. The club
facilities include a full pro shop, on-site villas for rentals, and a high-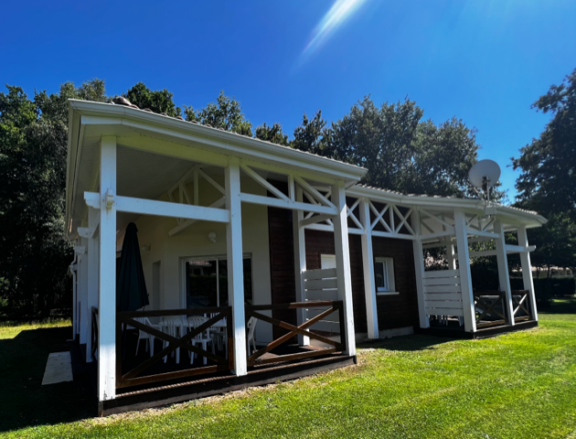 end restaurant with fresh food and ingredients provided daily. In fact, you may never want to leave this oasis of a
ski club. Yet, if you want to venture outside of the ski compound, the beach is 10 minutes away and the town of Lacanau has bursting nightlife energy. In the water ski world, this is a bucket list item that will leave you wanting to come back time and time again!
The Lacanau Cup is the launch of the 2022 season for the overall skiers. WorldWaterSkiers (WWS) is proud to have partnered with the Lacanau Water Ski Club and the professional slalom event being held in conjunction with the first Overall Tour Stop. Combining the two events will be one of the biggest
payouts the sport has seen in a decade, Totaling $62,500 – with $37,000,- for Slalom on the PRO-AM side + $25,500 going to the Overall skiers, plus points towards the tour rankings and Year-End TOUR BONUSES.  Lacanau Ski Club partnered with World Water Skiers to utilize the EMS hub built by WWS, giving clubs and federations novel technology to promote better the sport we all love. The unity on display over the course of the weekend will be a beacon of the potential for the sport to reach larger fan bases together. Moreover, the prospects of the congregation between the world's best slalom skiers, along with the reintroduction of the Overall World Tour is something that no water ski enthusiast is going to want to miss. So be sure to check the schedule on the Lacanau Cup event page for all the details like Live streaming or scores. 
What A Roller-coaster Ride!
The WWS Austrian Open Did Not Disappoint!
With the World Waterski Open, Austria's most successful water skier, Britta Grebe-Llewellyn, once again brought the international elite of the action-packed water sport to Upper Austria. On August 7 and 8, some of the best of their guild competed in Fischlham in the disciplines slalom, trick and jump. The event was organized for the second time by Britta Grebe and her husband, the multiple world champion and world record holder Jaret Llewellyn. Their son Dorien took part again, who is currently the world's number two in the Overall. He also showed the strongest nerves and reclaimed the WWS Austrian Open title back to back. In the women's event, the defending champion from 2020, Giannina Bonnemann, also took the victory.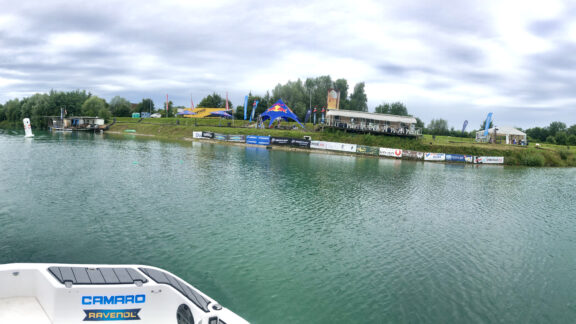 With her ten European Championship titles (in a row) two World Championship titles and four world records, Britta Grebe-Llewellyn was one of the most successful water skiers in the world. Although the native of Gmunden, who has now lived in Florida for 36 years, no longer actively participates in competitions herself, she now shares her experience in athlete management and event organization.
The athletes had to prove their skills in the disciplines slalom, trick, and jump. The winner of these three water ski disciplines combined is considered the absolute "King/Queen" of waterskiing. Besides Britta Grebe's son, the 26-year-old Dorien Llewellyn (skis for Canada), Carlo Basic from Austria, Robert Hazelwood from Great Britain, Pol Duplan-Fribourg from France, as well as the German sisters Giannina and Carlotta Bonnemann and the Italian Alice Bagnoli fought for prize money and the podium.
Right from the start, the high quality of the small, but fine starting field was evident. Already on the first day of
competition both the women and men showed world-class form and delivered top performances, although the jump competition could not be held on Saturday due to the strong winds. Dorien Llewellyn came out showing he was not here to play, scoring the highest points of all in both trick and slalom. In tough conditions, the big upset was Robert going down on the 11.25m line. This is Robert's strongest event of the three, so he would have to regroup for Sunday's finals. In the trick discipline, Dorien was able to live up to his role in being the favorite, posting a 10500 ahead of Robert's 9090,  Pol's 8080, and Carlo's 6800.
In womens' slalom the older of the Bonnemann sisters, Giannina, had the better start ahead of the Italian Alice Bagnoli and Carlotta Bonnemann and took this momentum into Sunday.
With cooler temperatures on Sunday, the athletes had to give it their all on the final day. Alice came out in the finals in slalom and prevented Giannina from potentially claiming a clean sweep. Alice posts a 3.5 at 11.25, half a buoy better than Giannina score of 3. Traditionally, the jump event is the last event of the day, but warnings of rain later threaten the jump, so the organizers decided to flip the events because of safety for the athletes. Giannina dominated the jump event with 52m, but a real race for second and third was building. Alice (1,710.98) ahead of Charlotta (1,642.18).  Charlotta stood up both her runs putting pressure on Alice. Alice proved on Saturday that she has a big hand run in her bag, but shocked the crowd when she went down on a flip during the final pass, costing her the second podium spot. Giannina ranked second in the World in Overall was overjoyed about her victory in Fischlham: "The competition was just great again, to have an overall event with all three disciplines is what we train for. For me it went extremely well, I was able to dial up my performances from yesterday. In the trick event, I was able to go one better and set a new course trick record of 10,180 points, which really made it perfect." Giannina took the Overall Crown with 2978.26 points, Carlotta claimed silver with 2160.85, ahead of Alice's 2092.12.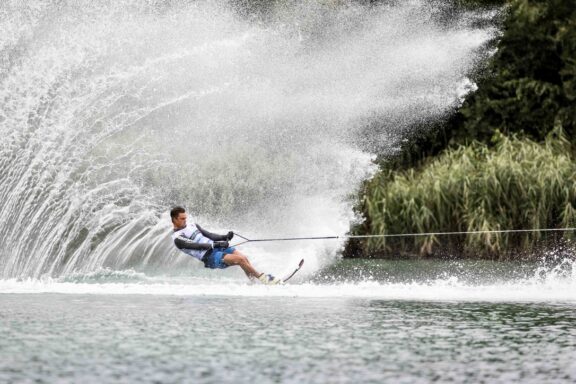 In the men's finals, tables turned on Dorien right out of the gates in the slalom event. Robert Hazelwood posted a huge slalom score of 1 @ 41off, a full pass more than Dorien's top score from the primary round. This is Robert's strongest of the 3 disciplines and Dorien's weaker of the three. Dorien said, "my game plan was to stay as close to Robert's slalom score as possible."  Dorien, unfortunately, went down earlier than expected and trailed Robert by 8.5 buoys (4.5@11.25m). Robert claimed the 1000pts for the tops score and Dorien was awarded 845.45. Pol was only 2.5 buoys (2@11.25)  behind Dorien and was awarded 800pts, with Carlo is 4 buoys (4@12m) off Pol with a score of 727.27.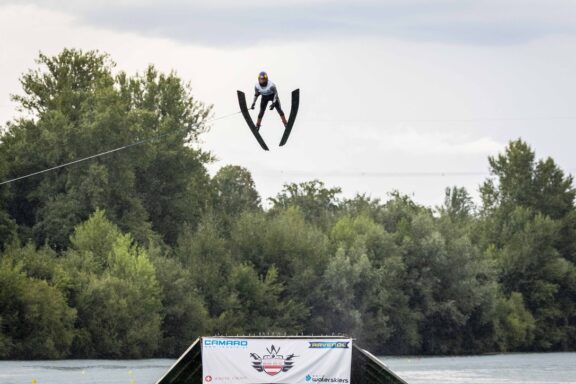 Onto the Jump, with the weather conditions holding favorable. Pol posted a 56.1m, next up Carlo with a 59.9m, and Robert tops that with a 60.0m jump. Dorien last out knew he had to gain ground back on Robert after trailing in slalom. Dorien unleashed 65.1 on his final jump and the Two-way battle is underway with Robert 1,872.82 and Dorien 1,845.45 neck and neck, as well as Carlo 1,597.59 and Pol 1,575.56 battling for 3rd and 4thspot. Finally, in tricks Carlo stood up his two passes, scoring 7,100 a new personal best. Pol's prelim run was 8080 so enough to pull farther ahead of Carlo, but unfortunately, Pol went down on his opening trick which ended all hopes of staying ahead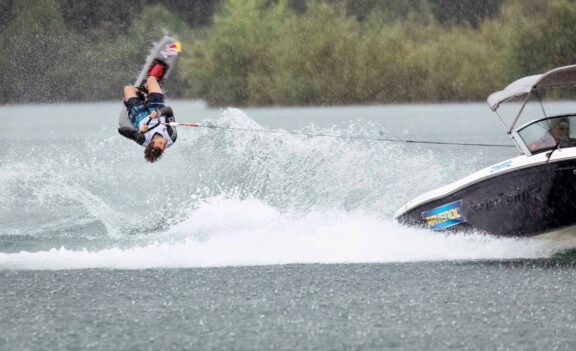 of Carlo. Robert stomped his two passes claiming a score of 9880pt putting enormous pressure on Dorien to score a minimum of 10200. Dorien answered back with 11060, just short of the course record he set last year at the Austrian Nationals 11160pt.  "I am so happy with my victory here at Lake Plana. Especially because I really spent a large part of my "water skiing childhood" here and I have such fond memories of this lake. I am very happy with my performance, it was so exciting and then I had to put all my eggs in one basket," says Grebe's son, delighted with the successful title defense in his second home.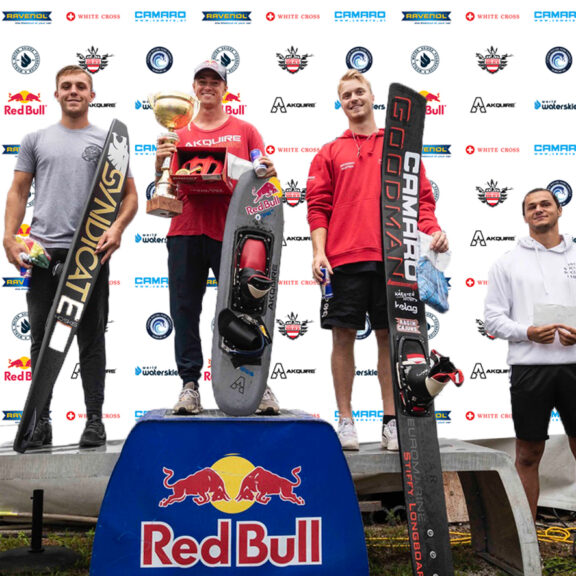 Our sponsors, volunteers, and athletes are special people, and this event would not have happened without them, Thank You! We are grateful for their relationship and support and hope you can keep them in mind when making your next purchases.  Great products and special discounts are available to our viewers in the sponsors' links at the bottom of the
"WWS Austrian Open Event Page".
For WWS, we would appreciate you clicking on "SUBSCRIBE" to the WWS website, Facebook, Instagram, and YouTube page, it will definably help with our algorithm.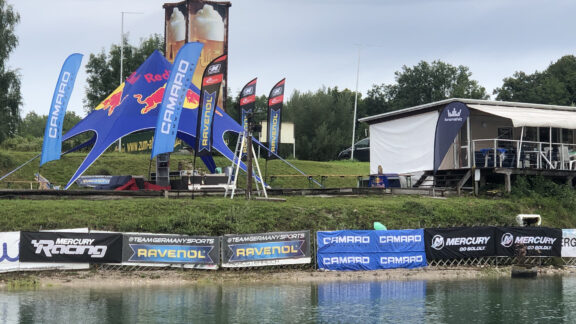 Additional Background- Family business of water skiing
The Llewellyn family is considered to be the most successful family in water skiing because, in addition to Britta, it is also her husband Jaret and their son Dorien who rule the absolute top of the world. Jaret can call himself nine times world champion (in the disciplines combination, trick, and jumping). He also set eleven world records in jumping. He has won 117 pro events in his career (numerous World Cups, PanAm Games, and many more). Thus, Jaret is without a doubt the best water skier in the world so far and was the number one in the Overall for 16 years.
In the youth/junior class, 25-year-old Dorien is a European champion (in the overall, slalom and jump). In the U21 class, Dorien moved from Austria to Canada to compete with his famous father on the team at the World Championships, where he also won the silver medal in the U21 Overall, catapulting himself to first place in the world rankings. For three years now, the waterski talent has dominated the general class of the Overall at the PanAm Games (held every four years), and he is number two in the trick, slalom, and jumping disciplines. At the PanAm Championships (held every year and comparable to the European Championships) he is the undisputed dominator Overall. Recently Dorien is also allowed to call himself "King of Tricks", for winning the King of Darkness, a pro night competition in Orlando.
The dominance of the water ski family was especially evident in 2012 and 2013, as in both years Jaret and Dorien were both number 1 in the World in the Open Division and Juniors, something that has never been seen before in any other sport.
2021 Austrian Crown Is Up For Grabs
World Waterski Open takes place at Lake Plana in Fischlham, Austria
At the Austria stop of the World Waterski Open, the international water-skiing elite will compete in the disciplines of slalom, trick and jumping. Organized by Austria's most successful water skier, Britta Grebe-Llewellyn, the action-packed water sports event will take place on August 7 and 8 from 3 p.m. to 6 p.m. each day with free admission at Planasee in Fischlham, Upper Austria.
After 2020, the 55-year-old American by choice Britta Grebe-Llewellyn will bring international top athletes to her former home country for the second time for a top-class water-skiing event with the World Waterski Open. The event, scheduled for August 7 and 8, is the kick-off of a World Tour whose second stop will be in the USA at the end of the water ski season. At the premiere of the event last year in Steyregg, the crème de la crème of water skiers already showed how exciting and action-packed this type of competition is. This year, the Austrian stop will take place at Lake Plana in Fischlham, Upper Austria.
The athletes must prove their skills in the disciplines slalom, trick and jumping. Only the combination of these three water ski disciplines will be scored. Invited are the top women and men of the world ranking list, eight men (CAN, GB, CZ, UKR, FRA, AUT), as well as four women (GER, ITA). Once again, some of the world's best athletes are taking part, which promises an action-packed event and makes the fight for the podium even more exciting. Last year's two winners, Britta Grebe-Llewellyn's son Dorien Llewellyn and Germany's Giannina Bonnemann will also be back at the start to defend their titles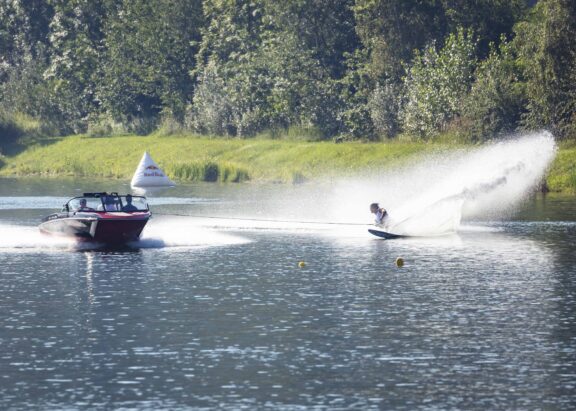 .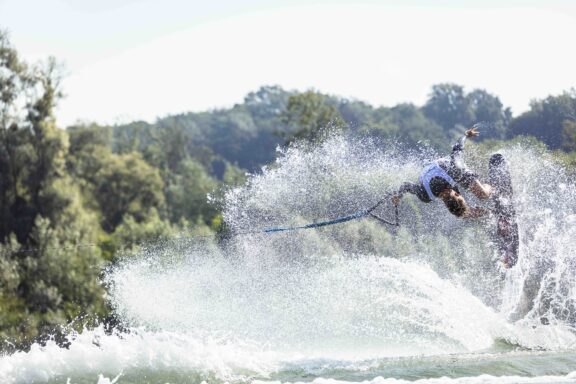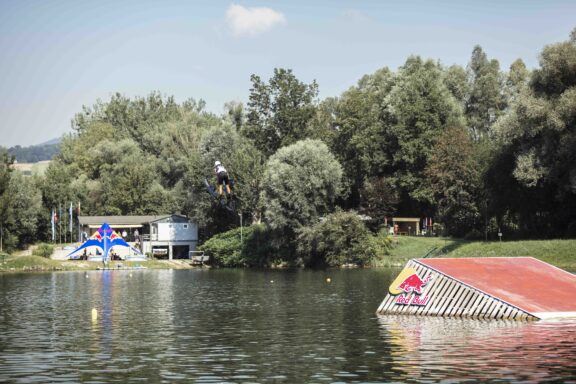 "We are trying to give wings to the sport of water skiing in Austria again and bring a breath of fresh air to Austrian water skiing and I believe with events like this, which are also exciting and entertaining for the spectators, this can succeed. An action-packed afternoon awaits the visitors", organizer Britta Grebe-Llewellyn is looking forward to the Austrian edition of the World Waterski Open.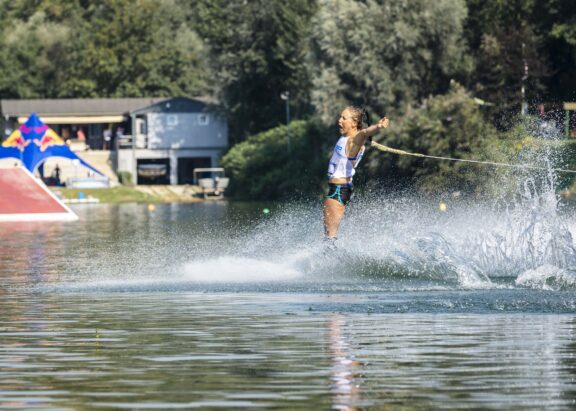 Sectators and fans will have the opportunity to experience the water action live on site. The competitions will take place on both days from 3:00 p.m. to 6:00 p.m. with free admission.
For full details of the Austrian Water Ski Open
---
World Waterski Open findet am Planasee in Fischlham statt 
Beim Österreich-Stopp der World Waterski Open misst sich die internationale Elite des Wasserschifahrens in den Disziplinen Slalom, Trick und Springen. Organisiert von der erfolgreichsten Wasserschifahrerin Österreichs, Britta Grebe-Llewellyn, findet das actionreiche Wassersportevent am 7. und 8. August von jeweils 15.00 bis 18.00 Uhr bei freiem Eintritt am Planasee im oberösterreichischen Fischlham statt.
Nach 2020 bringt die 55-jährige Wahlamerikanerin Britta Grebe-Llewellyn mit den World Waterski Open zum zweiten Mal internationale Top-Athleten zu einem Wasserschi-Event der Extraklasse in ihr ehemaliges Heimatland. Der am 7. und 8. August geplante Event ist der Kick-off einer World Tour, deren zweiter Stopp im September in Florida stattfindet. Bei der Premiere des Events im Vorjahr in Steyregg zeigte die Creme de la Creme der Wasserschifahrer bereits, wie spannend und actionreich diese Art des Bewerbes ist. Heuer findet der Österreich-Stopp am Planasee im oberösterreichischen Fischlham statt.
Die Athleten müssen dabei ihr Können in den Disziplinen Slalom, Trick und Springen beweisen. Gewertet wird nur die Kombination dieser drei Wasserschi-Disziplinen. Eingeladen sind die Top Damen und Herren der Weltrangliste, acht Herren (CAN, GB, CZ, UKR, FRA, AUT), sowie vier Damen (GER, ITA). Mit dabei sind wieder einige der weltbesten Athleten, was einen actionreichen Event verspricht und den Kampf um das Stockerl noch spannender macht. Auch die beiden Vorjahressieger, Britta Grebe-Llewellyn's Sohn Dorien Llewellyn und die Deutsche Giannina Bonnemann werden wieder am Start sein, um ihre Titel zu verteidigen.
Die Athleten müssen dabei ihr Können in den Disziplinen Slalom, Trick und Springen beweisen. Gewertet wird nur die Kombination dieser drei Wasserschi-Disziplinen. Eingeladen sind die Top Damen und Herren der Weltrangliste, acht Herren (CAN, GB, CZ, UKR, FRA, AUT), sowie vier Damen (GER, ITA). Mit dabei sind wieder einige der weltbesten Athleten, was einen actionreichen Event verspricht und den Kampf um das Stockerl noch spannender macht. Auch die beiden Vorjahressieger, Britta Grebe-Llewellyn's Sohn Dorien Llewellyn und die Deutsche Giannina Bonnemann werden wieder am Start sein, um ihre Titel zu verteidigen.
"Wir versuchen dem Wasserski Sport in Österreich wieder Flügel zu verleihen und frischen Wind in den österreichischen Wasserschi-Sport bringen und ich glaube mit solchen Events, die auch spannend und kurzweilig für die Zuseher sind, kann das gelingen. Hier wartet ein mit Action vollgepackter Nachmittag die Besucher", freut sich Organisatorin Britta Grebe-Llewellyn auf die Österreich-Ausgabe der World Waterski Open.
Zuseher und Fans haben die Möglichkeit, die Wasseraction vor Ort live mitzuerleben. Die Bewerbe finden an beiden Tagen jeweils von 15.00 Uhr bis 18.00 Uhr bei freiem Eintritt statt.
Ski Fluid Hosts The MasterCraft Pro / Presented by Action Water Sports
World's Most Elite Waterskiers Set to Compete in Central Florida
The MasterCraft Pro event will take place Oct 23-24 and is free and open to the public.
POLK CITY, Fla., September 28, 2020 – Action Water Sports and MasterCraft Boat Company are excited to announce the 2020 MasterCraft Pro professional waterski event, which will be held at Ski Fluid, situated beside the Action Water Sports shop West of Orlando, FL. The event will feature the world's elite men's and women's slalom and men's professional water skiers jumpers.
The event will begin on Friday, October, 23rd at 9 AM EDT with the best slalom water skiers in the world facing off. The event will conclude Saturday, October 24th with an exciting men's jump finals. It will be held at Action Water Sports home of Ski Fluid training center, 1251 Holy Cow Rd located off I-4 in Polk City, FL.
For the full list of events visit 
actionwater.com/mastercraft-pro/
 .  The event is open to the public with no cost of entry and free parking. Food and drinks will be available for purchase, courtesy of Fillin'Good food truck. All local, state, and CDC Covid-19 guidelines will be encouraged and adhered to.
"The water ski history and culture runs deep in Central Florida and we are excited to partner with MasterCraft to bring a world class professional event to this community," said Action Water Sports General Manager Phil Miklo. "We believe this event will not only be exciting to watch, it will also provide a great opportunity to get your family together to experience water sports competition at the highest level."
Featured water skiers competing will be Freddy Krueger, currently ranked number one in the world for jump, Karen Truelove, Taylor Garcia, Stephen Neveu, world-champion water skier Freddie Winter and many more. Exclusive for event attendees, spectators can sign up to experience the new MasterCraft ProStar on Sunday, October 25th. Additionally, Action Water Sports will be offering store-wide savings inside its state-of-the-art proshop all weekend long.
The event will be powered by the record-setting MasterCraft ProStar, which was recently completely redesigned for the 2021 model year. The latest iteration includes advanced technology which allows for thoughtfully integrated features that cater not just to the skier behind the boat, but to the driver and crew as well.
"Since our founding in 1968, one of our goals has been to cultivate and support water skiing globally," said Vice President of Global Sales for MasterCraft, Matt McDevitt. "With the best athletes coming from around the world to compete, spectators can watch top-tier competition and experience first-hand the all new MasterCraft ProStar, the world's best selling ski boat."
For more information on the event, schedule and location, or to tune into the world-wide broadcast,
About Action Water Sports
Action Water Sports is a premier MasterCraft Boat Company, Barletta Pontoons, and NauticStar dealer who has been bringing families together on the water for over 30 years. With four locations in Florida and Michigan, Action Water Sports strives to set the bar for excellence for service within the Central Florida boating community. They are a major contributor to the watersports community hosting many grassroots events as well as pro waterski and wakeboard events over the last few years. For more information, visit www.actionwater.com 
MasterCraft is a world-renowned innovator, designer, manufacturer, and marketer of premium performance sport boats. Founded in 1968, MasterCraft has cultivated its iconic brand image through a rich history of industry-leading innovation, and more than four decades after the original MasterCraft made its debut, the company's goal remains the same – to continue building the world's best ski, wakeboard, wake surf and luxury performance powerboats.