New Kids on The Water 2023
2019 Moomba Masters – Finals Wrap Up
Another Moomba has come and gone. The 2019 Moomba Masters International Invitational was filled with outstanding skiing, shocking upsets and the same magical flair we have come to expect from the Yarra.

  Let's begin with slalom. On the women's side of the action, there was very little doubt surrounding the superb form of Whitney McClintock-Rini (CAN) and her potential to win the event. Whitney showed a cool head to go along with her red-hot skiing, comfortably slaloming her way to the Moomba title, finishing with the three largest scores of the weekend. Manon Costard (FRA) skied consistently and claimed second in all 3 rounds, while Siani Oliver (AUS) finished 3rd as somewhat of an underdog. She started out a little slow but brought the heat when it counted, peaking in the finals and securing the bronze in front of the home crowd.
  The men's action seemed to be heading in a very familiar direction as well, with Nate Smith (USA) coming off the dock top seed in the finals. Thomas Degasperi (ITA) posted an impressive 2 at 10.25 meters. Nate was unable to beat the score outright, but rather tied Thomas and sent the finals to a runoff. T-Gas was the first skier on the water and after watching the other competitors fail to eclipse his finals score half an hour, he found the conditions too difficult to run 10.75 cold off the dock. He finished with a score of 1.5 at 10.75 and seemed to leave no doubt that Nate would simply round 2 at 10.75 to claim an easy victory. Yet, to the major surprise of the crow, Nate fell around 1 ball and Degasperi was once again a Moomba champion. All so close was hometown hero Joel Howley (AUS), posting a 1.5 at 10.25 to take 3rd. The Men's action proved to be extremely close, with the river once again showing all the skiers who is really in charge on the Yarra.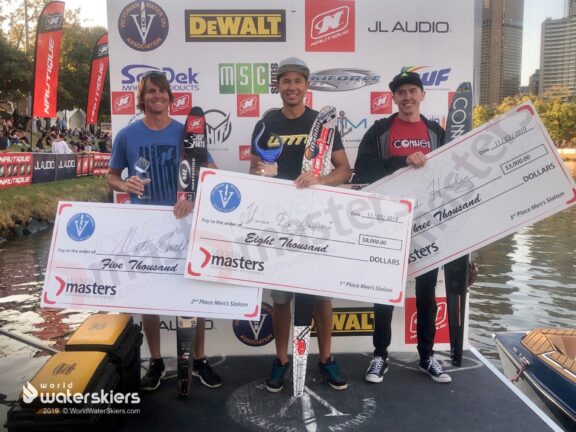 In tricks, Anna Gay (USA) and Neilly Ross (CAN) continued their back and forth rivalry which has persisted for the last couple of years. Anna claimed the first round, with Neilly turning in the first score above 10,000 points of the event to take round two. But it was Anna who would have the last laugh in this one, peaking little by little each round to finish with a score of 10,040 in the finals. World Record Holder Erika Lang (USA) would round out the top 3 with impressive scores, but off her normal pace just enough to give the two prodigies the edge. Erika had an impressive 2nd place finish in the wakeboard event, undoubtedly an extremely hard situation, switching between events during the course of a season, let alone in the same competition, but Erika handled it superbly.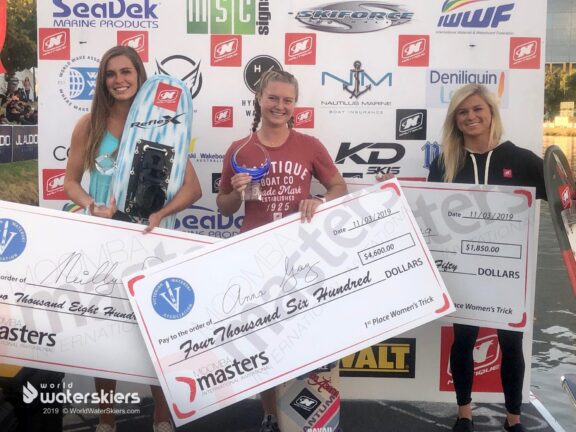 In the men's event, Martin Kolman (CZE) and Patricio Font (MEX) shared a similar back and forth nature each round. Kolman narrowly took round one, while Pato showed great consistency with back to back 11,200 point scores and was the leader heading into the finals, with Dorien Llewellyn (CAN) maintaining a hold on the third and final podium spot each round. In the finals, Llewellyn and Kolman each crushed their respective runs, tricking 10,090 and 10940 respectively. With the potential to win so close, yet so far, Pato began to feel the unrelenting presence of the Yarra and described his toe pass as "rolling down a hill, getting faster and faster as I went on". He sucked an edge on a Toe 5 front, knocking himself out of the title race and earning an invite the US Maters. In the end, Kolman, Dorien, and Russell Gay (USA) were the three to receive trophies on the Moomba podium. Jaret Llewellyn (CAN) made his return to the river after a 9 years absence from the Yarra.  He seemed to be back, healthy and very comfortable, placing 4th with a 9100, setting history with a father and son in the same professional final. Time will tell if the sporting world will ever see a father and son, or mother and daughter standing on a podium together.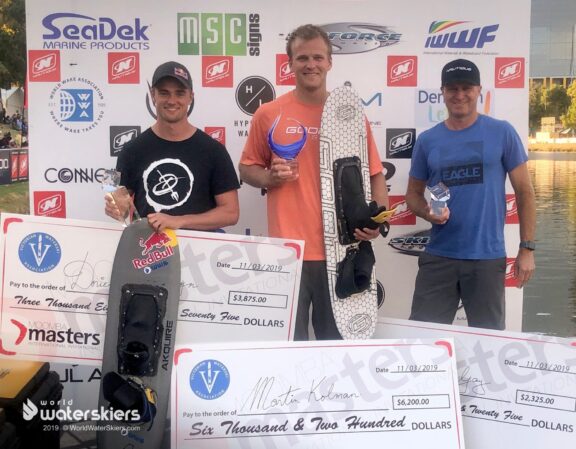 Once again, the little powerhouse from Australia, Jacinta Carroll, aka – Rabbit, took home the women's Moomba jump crown with a 56m jump. This should not be taken so lightly, as it is Jacinta's 6th Moomba title in a row and she continues her winning streak on the professional circuit. Jacinta is continuing to prove that when the dust settles, she very well could go down as one of the top phenoms in all of professional sports. Lauren Morgan (USA) and Giannina Bonnemann (GER) blatted for the second spot. Giannina set the pace with an impressive 50.4m jump, but Lauren answered back on her last attempt with a 51.9m to take 2nd.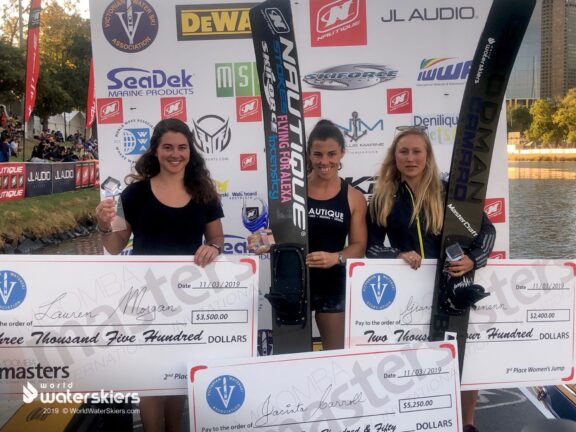 No one can be confident when it comes to the Yarra, but if anyone looked at ease it was Freddy Krueger (USA) in men's jump. With the absence of defending champ Ryan Dodd (CAN), patiently awaiting the birth of his first child at home in Orlando, Florida, nobody was able to unthrone Freddy. Coming out in the 1st round, Freddy soared with a smooth 67m jump. The battle for second was fierce and the pace-maker in the finals was Rodrigo Miranda (CHI), who qualified in the 11th spot. Rodrigo nailed a 65.7m on his 1st attempt, but could not find the same timing on his final two attempts. Young gun Taylor Garcia (USA) looked rather impressive, not only taking home the Sunday Night Jump heat win over Freddy but by finishing with a 65.1m jump in the finals. Igor Morozov (RUS) consistency landed just shy of Rodrigo with a 65.3m, seemingly missing just a touch of kick-off of the ramp on each jump. Knowing what he needed to do, Freddy picked a consistent line towards the ramp and demonstrated his amazing spring ability, comfortable flying to a 66.3m opening jump.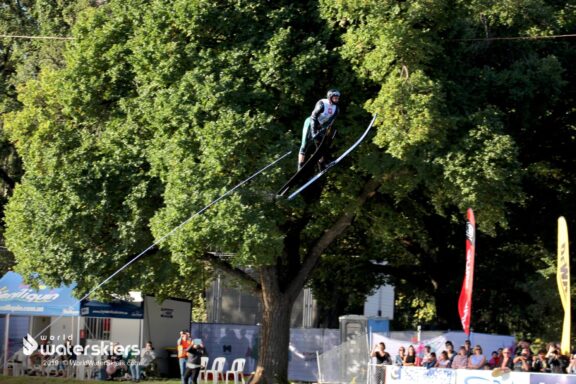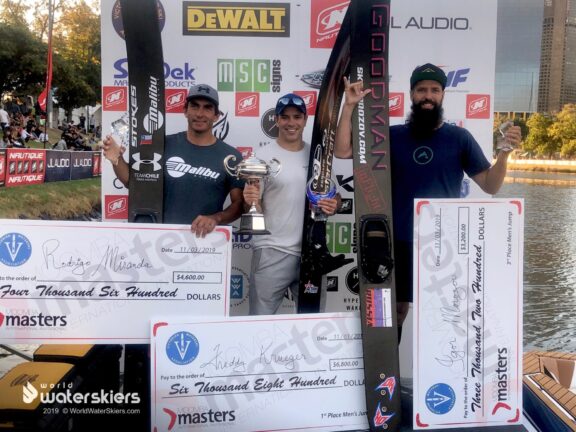 With the sun setting, the top 6-night jumpers came back out to for one more chance at Moomba Glory. The jumpers battled to make the 1st cut, with 3 jumpers left standing. Igor, Freddy, and Taylor all posted jumps bigger than 62.7m and earned the privilege for yet another round on the river. With 2 jumps in the 2nd round, Igor leads off with a 62.6m jump. Having to watch patiently from the dock, Igor exclaimed, "It's not as big a jump as I wanted, but you never know what could happen here on the Yarra, it might just be enough". Garcia stepped up and claimed the first finals spot with a huge 64.5m, showing poise beyond his years. With Igor still hoping for a chance at the title, Freddy extinguished all hope with a 65.6m jump, once again finishing top seed. The final round would be determined by a one jump, head to head jump off. Taylor, knowing he would have to find something special to take down Freddy "the Nightmare" Krueger, nailed a 62.3m jump. While the jump was by no means his farthest, the distance was far enough for any jumper to realized that they need to bring forth their very best with only one chance at glory. But, once again, Freddy was dialed in and unleashed a 65.7m jump, the longest of the night, to wrap up this story.
Schedule for the 2019 Nautique Big Dawg World Tour Announced
ORLANDO, FL (February 20, 2019) – Nautique is proud to announce the dates and locations for the 2019 Nautique Big Dawg World Tour as well as a new event format. As the premier tour for 34-mph over 35 slalom skiers across the globe, the Big Dawg World Tour is towed exclusively by the record-setting Ski Nautique.
The tour this year will include 2 qualifying stops at premier waterski venues as the top slalom skiers battle it out for a spot in the 2019 Nautique Big Dawg World Tour Finals.
Each stop for the 2019 season will include two qualifying rounds of 34-mph slalom skiing. The top 8 best single scores from the two qualifying rounds will advance straight to the Sweet 16 as seeds 1-8. Based upon cumulative scores of both qualifying rounds, skiers 9-24 will advance into a NEW Last Chance Round. The 8 winners from the Last Chance Round will move onto the Sweet 16 as seeds 9-16. See the 2019 NBDWT rules for details.
The Nautique Big Dawg World Tour Final will run the same as the qualifying stops, except that the elite 8 will be under the lights.
"The top 35+ skiers from around the globe will again be battling it out this year during the Nautique Big Dawg World Tour," said Nautique President Greg Meloon. "I'm happy to see this tour flourish in 2019 behind the record-breaking new Ski Nautique, and I'm excited to see the how the new event format plays out." Meloon added.
For more information regarding official rules and regulations for the 2019 Nautique Big Dawg World Tour please visit nautiquebigdawg.com.
If you have not signed up for a WorldWaterSkiers athlete account to create your profile, then now is the time! – https://worldwaterskiers.com/subscribe/
2019 Big Dawg World Tour
Stop #1 – Spain
June 28-30, 2019
Sesena Waterski & Wakeboard Complex
Camino de Servicio de la A-4
Km. 42
45223 Sesena, Toledo
info@botaski.com
+34 673 962 426
www.botaski.com
Stop #2 – California
July 13-14, 2019
Diablo Shores Estates
1038 Petite Sirah Lane
Brentwood, CA 94513
Contact: Greg Badal
925-997-9914
skibadal1@gmail.com
www.caproam.com
Finals – Florida
August 8-9, 2019
Ski Club of the Palm Beaches at Okeeheelee Park
7715 Forest Hill Blvd.
Palm Beach, FL 33413
Contact: Rhoni Barton Bischoff
407-756-3173
rbischoff@nautique.com
www.okeeski.com
Correct Craft acquires electric boat drive system
CORRECT CRAFT ACQUIRES ELECTRIC BOAT DRIVE SYSTEM – PLEASURECRAFT ENGINE GROUP PREPARES FOR THE FUTURE
ORLANDO, FL (July 25, 2018) — Today, Correct Craft announced its newest acquisition, an electric boat drive system, Ingenity P220, that originated in Austria. The acquisition is a result of Correct Craft's Watershed Innovations initiative and will help prepare Correct Craft's Pleasurecraft Engine Group and the company's boat brands for the inevitable future beyond internal combustion engines.
Previously built by Ortner Electric in Villach, Austria, the Ingenity P220 is the highest performing electric towboat propulsion system in the world. The significant demand in Austria for the Ingenity P220 positions the system well for substantial international growth.
The Ingenity P220 is available in the Super Air Nautique 210 and GS20 models in Austria and will soon be available in these models worldwide. Additionally, the Ingenity P220 will eventually be available in more Nautique models and other Correct Craft boat building brands.
Pleasurecraft Engine Group engineers have been involved in the evaluation of the system and will continue to provide insight and support as they work toward its future development with the team from Correct Craft's Watershed Innovations.
Bill Yeargin, President and CEO of Correct Craft stated, "The world is quickly transitioning to electric power and the acquisition of the Ingenity P220 system will help position Correct Craft, Pleasurecraft Engine Group, and our boat companies for a successful transition to the future. I am thrilled we could complete this important acquisition."
Yeargin added, "A few months ago, when Correct Craft kicked off our Watershed Innovations initiative, electric propulsion was one of many items on our list to address. The Watershed Innovations team is taking on all these projects to help prepare Correct Craft and our companies for the future. The future is bright but will undoubtedly be a lot different than today, so we are working hard to prepare our Correct Craft companies for these inevitable changes."
About Correct Craft: Celebrating 93 years of excellence in the marine industry, Correct Craft is a Florida-based company with global operations. The Correct Craft family includes Nautique, Centurion, Supreme, Bass Cat, Yar-Craft, SeaArk, and Bryant boat companies, Pleasurecraft Marine Engine Group, Watershed Innovations, and Aktion Parks. For more information please visit www.correctcraft.com.
About Pleasurecraft Engine Group: Pleasurecraft Engine Group, owned by Correct Craft, manufactures four engine brands, PCM, Crusader, Challenger, and Levitator, from its headquarters in Little Mountain, South Carolina. For over forty years Pleasurecraft has led the industry in providing the highest quality, most innovative inboard engines, backed with exceptional service. For more information please visit www.pcmengines.com.
About Watershed Innovations: Founded in 2018, Watershed Innovations is focused on identifying, researching, developing and integrating exponential technologies to benefit Correct Craft, its subsidiaries and the marine industry. These ideas will strategically align with our businesses, our culture and our focus of "Making Life Better." For more information please visit www.watershedinnovations.com.
Nautique announces the all-new 2019 Ski Nautique
ORLANDO, FL (April 9, 2018) – Nautique is extremely proud to announce the introduction of the all-new Ski Nautique. For nearly 60 years, the Ski Nautique has been the best waterski boat in the world. Those bloodlines continue today with the radically-improved 2019 Ski Nautique.
Tradition. Innovation. Performance. Craftsmanship. When a rare combination of elements like these come together in a ski boat, it's sure to provide the next great waterskiing experience unlike any before it.
The two words "Ski Nautique" have been synonymous for personal bests and world records for the past 58 years. Today, the radically-new Ski Nautique once again raises the bar of what's possible.
With a blended carbon fiber and fiberglass construction method that creates the perfect balance of strength and weight, this new icon is lighter than any other ski boat and creates the softest wakes imaginable. The new era in three-event waterskiing is here.
"Each new Ski Nautique has left a distinct impact on waterskiing and generations of athletes. We are excited to enter a new era for this iconic model and drive the technology and performance further than any previous generation," said Greg Meloon, President of Nautique Boat Company. "Personal Bests and World Records are all going to be in the crosshairs behind this boat, and we can't wait to see what the all-new Ski Nautique does for the progression of waterskiing."
About Nautique Boat Company: Celebrating 93 years of excellence in the marine industry, Nautique is a subsidiary of Correct Craft and has been on the waters of the world with a passion for innovation since 1925. Nautique is known to push the envelope of possibility on the water, and our owners have come to expect nothing but the absolute best. The Ski Nautique has been reinvented as the lightest ski boat on the market, the G-Series has won numerous awards for wakeboard boat and wakesurf boat of the year while unlocking new possibilities in wakeboarding and wakesurfing, and our GS-Series has given families endless days on the water without compromise. Through our Nautique Cares initiatives we're dedicated to not only making a difference on the water, but to people in need around the world. The world's best ski boat, world's best wake boat, and a company that cares. To learn more visit Nautique.com.
Four Nautique athletes take home titles at the 2016 Nautique U.S. Open
Orlando, FLA (October 3, 2016) – The 2016 Nautique U.S. Open of Water Skiing presented by Roger Dean Chevrolet saw the world's best athletes in slalom, trick, and jump put everything on the line behind the record-breaking Ski Nautique 200 this past weekend at the Ski Club of the Palm Beaches in West Palm Beach, FL. Great water conditions set the stage for big scores with four Nautique athletes taking home U.S. Open titles followed by the conclusion of the 2016 Nautique Big Dawg World Tour Championships.
In Women's Tricks, Anna Gay (USA) came off of her world-record setting performance behind the Ski Nautique 200 early last week to win her second consecutive U.S. Open title scoring 10,350 points. Neilly Ross (CAN) placed second with 9,740 points and Natallia Berdnikava (BLR) rounded out the podium in third with a score of 9,520 points. In Men's Tricks, Nautique athlete and world-record holder Aliaksei Zharnasek (BLR) skied flawlessly behind the 200 to defend his U.S. Open title scoring 11,620 points. Frank Desboyaux (FRA) came in second with 11,450 points and Nautique's Josh Briant (AUS) took third with 11,140 points.
For the first time ever in a Women's Slalom event, three athletes ran full 39-off passes behind the record-breaking Ski Nautique 200 in an intense final round. Team Nautique skier Whitney McClintock (CAN) took the win with an amazing performance running 2@41-off. Regina Jaquess (USA) placed second with 1.25@41-off and Manon Costard (FRA) ran 0.5@41-off finishing third. The bar was set high from the first skier on the water in the Men's Slalom final putting pressure on the entire field. Adam Sedlmajer (CZE) took the title running 3@41-off just ahead of Nautique athlete Nate Smith (USA) who returned to action this weekend with a score of 2.5@41-off to finish second in the final. Martin Bartalsky (SVK) rounded out the Men's podium in third scoring 2@41-off.
World-record holder and Nautique athlete Jacinta Carroll (AUS) recorded her 30th career win today jumping 177ft (54.1m) behind the Ski Nautique 200. Alex Laurentano (USA) placed second with a distance of 173ft (52.8m) and team Nautique athlete Natallia Berdnikava (BLR) flew to 171ft (52.8m) to place third. With a beautiful sunset backdrop the Men's Jump rounded out the action as the 200 powered Nautique athlete Ryan Dodd (CAN) off the ramp for a winning distance of 227ft (69.1m). Bojan Schipner (GER) took second with a jump of 218ft (66.5m) and Nautique's Scot Ellis (USA) placed third going 216ft (65.9m).
Greg Badal (USA) clinched the 2016 Nautique Big Dawg World Tour title under the lights followed by Jeremy Newby-Ricci (GBR) in second and Frederic Halt (SUI) in third.
"It is amazing to come back to the Nautique U.S. Open each year to celebrate three-event skiing along with the entire waterski community," said Nautique President, Greg Meloon. "Combining it with the final stop of the Big Dawg World Tour finals once again made for a day of nonstop action behind the Ski Nautique 200. Congratulations to all of the competitors and thank you to all of the sponsors and people who worked to make it happen."
For more information regarding U.S. Open of Water Skiing visit nautique.com. To learn more about the Nautique Big Dawg World Tour please visit nautiquebigdawg.com.
History is made as the Ski Nautique 200 pulls 3 World Records in one day
ORLANDO, FLA (September 27, 2016) – Team Nautique athlete Jacinta Carroll was part of a history-making day setting two new pending jump world records behind the Ski Nautique 200, first flying 194 feet (59.2 meters) and then soaring to 198 feet (60.3 meters) in the finals during yesterday's Ski Fluid Invitational in Polk City, FL. In addition to Carroll's record-breaking jumps, a new pending women's trick world record of 10,610 points was also set behind the Ski Nautique 200.
Carroll's 198ft (60.3m) jump represents the first time a female has ever broken the 60-meter barrier and Jacinta's second time breaking back-to-back world records behind the Ski Nautique 200 in the same competition. In 2015, Carroll shocked the world with a record jump of 193ft (58.8 meters) before returning the following day to break it twice more with distances of 193ft (58.9meters) and 194ft (59.1meters) at the Sunset Cup – Master's LCQ tournament. These records fell during the competitive debut of PCM's powerful direct-injection engines (H6DI and H5DI), which have since gone on to power numerous personal bests, course, national, and world records in the Ski Nautique 200.
"I promised my life-long coach Ray I would go 60 meters and I did! I have worked so hard day in and day out to make him and all of my sponsors proud. Having the reassurance of the Ski Nautique 200's consistent power and tracking made it that much easier to be able to attain this dream yet again, and I know it can pull me even further down the lake!" said Carroll.
This marks Jacinta's 30th consecutive tournament win as she continues to push the level of the sport behind the Ski Nautique 200. Heading to the Nautique U.S. Open of Water Skiing this weekend, she looks to carry this world-record momentum to another dominating performance.
"Congratulations to Jacinta Carroll on her history-making day behind the Ski Nautique 200! We are extremely proud of all of her outstanding accomplishments on and off the water," said Nautique President Greg Meloon. "We are also excited to see that the women's trick world record was once again performed behind the 200. The performance of these amazing athletes continues to motivate Nautique to lead the industry by supporting three-event water skiing like no other brand," added Meloon.
This will be the twentieth, twenty-first and twenty-second world records set among all three waterski disciplines (slalom, trick, and jump) behind the Ski Nautique 200 since it hit the water in 2010. Now holding 3X more world records than all other boat companies combined, the Ski Nautique 200 continues to be the only boat on the water pulling water skiing's next generation into record-breaking territory.
[athlete athlete_name="jacinta carroll"]
Nautique celebrates completion of state-of-the-art manufacturing facility expansion project
Today, a ribbon-cutting ceremony was held at Nautique Boat Company's world headquarters and manufacturing facility to celebrate the recently completed expansion project that began in June of 2015.
Nautique is the world leader in building the most innovative, high-quality towboats on the water at their world-class manufacturing facility located in Orlando, FL USA. The 53,041 square foot expansion brings the facility to a total of 269,936 square feet and includes significant improvements that allow Nautique to increase production and continue to advance their world-class manufacturing techniques. As Nautique continues to experience significant growth in the worldwide marketplace the company plans to increase its workforce by over 100 employees in the next three years to meet consumer demand.
"The entire Nautique team is excited about the new opportunities and manufacturing processes this facility expansion allows us to implement," stated Nautique President Greg Meloon. "As we stay at the cutting edge of manufacturing and design, our facility will provide us the ability to continue to progress and lead the industry in innovation and quality," Meloon added.