The World's Elite Athletes Descend on Calgary
The World's Elite Athletes Descend on Calgary for the Thrilling WWS Calgary Cup
Presented By Tourism Calgary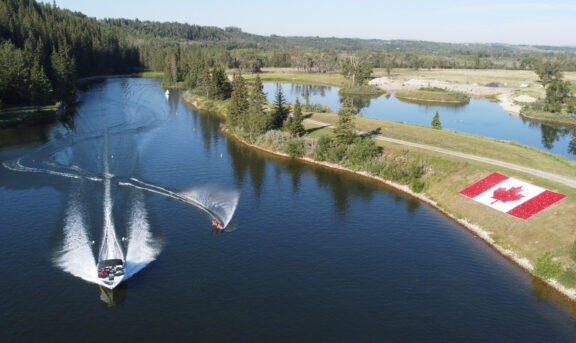 CALGARY, AB – Get ready for an adrenaline-pumping weekend of waterskiing action as the WWS Calgary Cup, presented by Tourism Calgary, takes center stage at the Lakes at Kastyn Stone/Predator Bay Ski Club on August 5th and 6th. This highly anticipated event is the 3rd Stop on the WWS Overall Tour and will feature a star-studded lineup of athletes from six nations, including France, Italy, USA, Germany, Great Britain, and Canada.
Following the immense success of last year's WWS World Overall Tour, Calgary emerged as the ultimate highlight with the largest crowd turnout. This year, we are thrilled to announce that the excitement is bound to be even greater, as the world's best Overall skiers return to Calgary, accompanied by the renowned Pro Slalom Shootout format.
The Lakes at Kastyn Stone/Predator Bay Ski Club, known for its breathtaking natural beauty, has hosted numerous national and international championships, including the unforgettable 2009 World Championships. Now, these world-class athletes will grace these picturesque lakes, surrounded by serene trees and wildlife, to deliver a spectacle that will leave spectators spellbound.
The Pro Women's field Slalom boasts incredible talent, with three out of the top four on the tour standings competing. Allie Nicholson from the USA, fresh off a win in Italy, and Canada's Whitney McClintock, with three wins already this year, will be joined by Alexandra Garcia from the USA, currently placed fourth on the tour, and determined to climb up the rankings.
The Pro Men's division will witness the presence of the reigning World Champion and record holder, Nate Smith from the USA. Smith will strive to beat his own Predator Bay site record of 1@9.75, set back in 2014. Canada's top slalom skiers, Call McCormick, and Stephen Neveu, will be formidable contenders, aiming to challenge the world champion on his throne and secure victories on their home turf.
In the Overall discipline, Germany's Giannina Bonnemann has been on fire, claiming victories in France and Austria. USA's Aliaksandra Danisheuskaya, who led last year in Calgary, will be determined to clinch the Calgary Title this time. World Overall Champion Hanna Straltsova from IWF makes her debut this season in Calgary, while Canada's phenom, Paige Rini, sets her sights on winning her first title of the season on home soil.
In the men's Overall category, Joel Poland from Great Britain has been enjoying an incredible season, winning the first two stops. However, rival Louis DUPLAN-FRIBOURG from France recently set a new national record at the Lacanau stop, and fresh off his European championship wins in jump, trick, and overall, he is a force to be reckoned with. Canada's Dorien Llewellyn, unfortunately recovering from an ankle injury sustained during a jump crash two months ago, is determined to make a triumphant comeback for the World Championships later this year in October.
For the Overall skiers, the WWS Calgary Cup is a game-changing event. They have the chance to drop their lowest score of the four tour events, making Calgary the first event where a tour champion could be crowned. The stakes have never been higher, and spectators cannot afford to miss this opportunity to witness world-class athletes compete for valuable tour points on one of the most beautiful lakes in the world.
The preliminary rounds on August 5th and the finals will on Sunday 6th which will be live-streamed, allowing fans worldwide to be part of the excitement.
For all event details, including schedule and live stream information, please visit the WWS Calgary Cup Event Page:
Admission to the event is free, but attendees must obtain a parking pass for entry. PARKING PASS
Join us at the Lakes at Kastyn Stone/Predator Bay Ski Club on August 5th and 6th to experience the thrilling WWS Calgary Cup and witness waterskiing at its finest!
For media inquiries, interviews, or additional information, please contact:
Contact Tour Director mailto:Jaret.Llewellyn@worldwaterskiers.com
Photo of the Event By Johnny@JohnnyHaywardphoto.com
About Tourism Calgary:
Tourism Calgary is dedicated to promoting Calgary as a world-class tourism destination. Through collaborative efforts, they aim to create memorable experiences and welcome visitors from all corners of the globe.
Records Fall & Champions Crowned
Records Fall & Champions Crowned At WWS Flordia Cup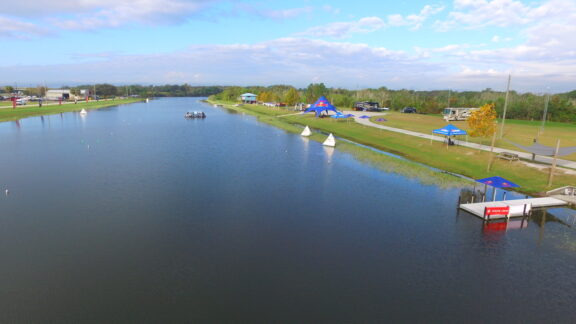 Here it is; 4 countries, 4 stops, 7 winners, 16 records, 2 Tour Champions, and 1 unbelievable year. The Florida Cup was the perfect cap to an unreal year. After an action-packed tour season, the Overall skiers pulled up to the record-setting shores of Ski Fluid, where most recently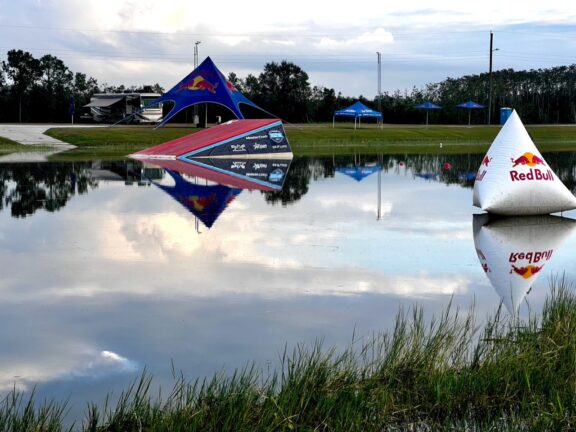 Jacinta Carroll became the first woman to jump 200ft, and Joel Poland and Dorien Llewellyn traded World Overall Records in 2021. Needless to say, expectations were high and the event did not disappoint.
Boasting the largest and most competitive female field a WWS event has seen, the Florida Cup was a staple as to how amazing the women's event can be with the likes of Regina Jaquess, Anna Gay, Hanna Stratslova, and Valentina Gonzalez making their
debuts. After having three different event winners this year, namely Paige Rini, Brooke Baldwin, and Kennedy Hansen, the question was if one of these three girls could become the first to win 2 titles in the same year. Unfortunately, Brooke, the tour leader heading into the event, sustained a back injury at the 3rd stop in Austria and was unable to compete. Nevertheless, the women put on a fierce battle from the onset of the preliminary round, with Regina breaking the WWS slalom record, finishing with a score of 1@10.25m, and Hanna breaking the WWS jump record, with a distance of 55.1m. Their performances were so strong in fact, that Kennedy would be knocked out of the event in the first round, thus, securing the Tour points lead and the WWS Overall Tour Title for Brooke Baldwin.
Heading into the women's final were, in descending order of placement, Hanna, Regina, Paige, and Anna. Beginning with trick, Paige and Anna were considered to be the strongest competitors, but due to a couple miscues, Paige fell early in her toe pass, leaving her in a sizable hole right out of the gate. Anna, on the other hand, showed her World Champion stature, setting a new WWS trick record with a score of 10350 points. Moving into slalom, with Hanna sitting on 8410 and Regina back a bit more at 7130 they both need to step up going into there strong events. Regina, largely considered one of, if not the best slalom skiers of all time, once again put on a clinic in the course, tying her record from the first round with 1@10.25m. Vaulting her into 1st place of the Overall race. Still, the fight raged on, as Hanna powered her way to a personal best in slalom of 0.5@10.75, knowing her strongest event was yet to come. 
Thus, moving into jump, Regina led, Hanna was close behind, and Anna rounded out the podium. All four women jumped exceptionally well, with Paige Rini putting on a spirited performance in an attempt to retake a podium place, and Regina's grit was on display with her solid jumping having only recently begun to truly recover from her ACL tear last year. But, it was Hanna who would not be denied, setting yet another WWS jump record, soaring 56.5m through the air, and thereby breaking Giannina Bonneman's 2 year withstanding Overall record. With all the action this year and the return of Giannina next year, the stage has been set for what could be the most exciting season of Overall skiing in history.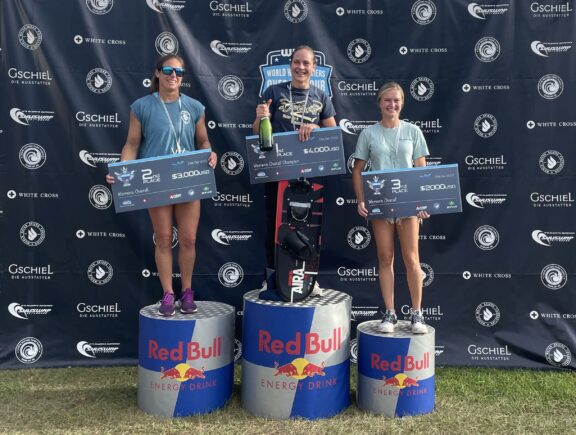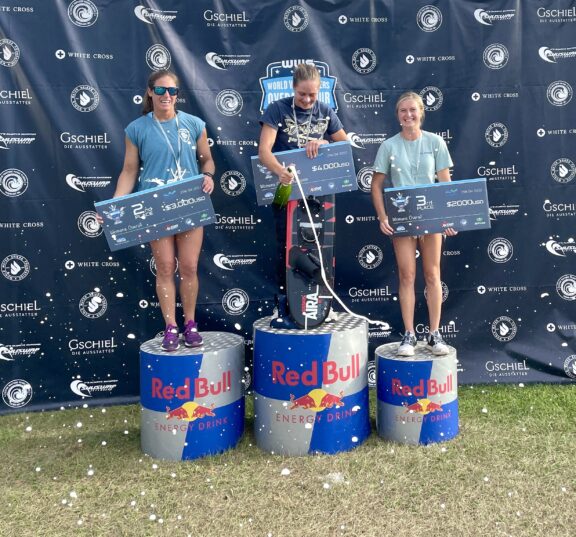 On the Men's side of the action, Dorien Llewellyn and Joel Poland once again looked to square off in their seemingly never-ending, heavyweight slugfest. With each of the Men having been to three stops, all 5 were guaranteed to make the finals, allowing for Dorien and Joel to push for high
scores in the first round, which they absolutely did. Dorien, being ranked an equal 2nd with Louie Duplan-Fribourg heading into the event, was the first of the two to complete a WWS Overall record-breaking round of 5@10.75m, 11060 points, and a 67.8m jump, which also happened to be a new WWS Jump record. Only 1 minute later, Joel would improve upon Dorien's score by a mere 5 overall points, with 5.5@10.75m, 11200 points, and a 67.1m jump! Thus, Joel would be the top seed in the finals, followed by Dorien, Martin Kolman, Edoardo Marenzi, and Tanguy Dialland, in that order.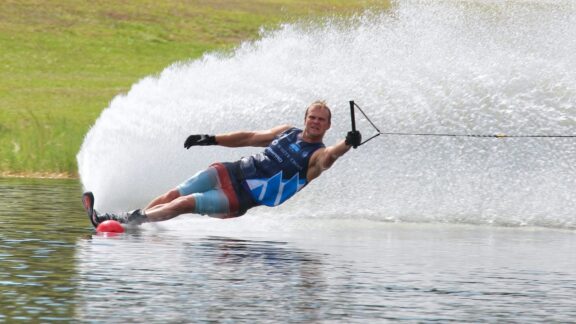 Also beginning with the trick event, Martin Kolman reminded everyone why he is the 2019 Overall World Champion with a blistering trick score of 11730. Still, Dorien kept himself well within striking distance with his own score of 11360 with Joel still to trick. After a slightly early fall in toes, the expectation was that Joel would fire back with his impressive flip sequence, but shockingly, Joel fell after his second flip, potentially eliminating him from the title race. Additionally, Edo proved himself to be a future title contender with a personal best of 10790. Then in the slalom event, Martin, who
had been seemingly struggling to find his form all year, picked the perfect moment to regain his winning ways, swerving to a solid score of 4@10.75m. Knowing that he was now the favorite to win the event, Dorien showed some nerves on his early passes but pulled himself together at the right time to power through the 10.75m line length, only to frustratingly fall at the final buoy. Yet, his score of 5.5@10.75m put him just 6 Overall points behind Martin and with his strength in jump, was a clear advantage to the Canadian.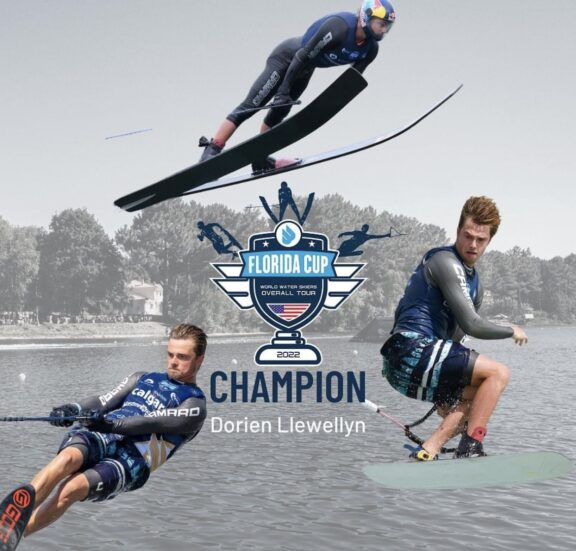 That being said, Martin would not go down without a fight. Despite only performing a 3/4 cut, Martin finished with the second-highest jump score of the round, an impressive 206ft jump, which Dorien would not beat after a 205ft first jump. Still, confident in his jumping, Dorien brought his cut later down the lake and boosted 219 and 220ft jumps to secure himself his first win of the 2022 season, finally able to stand atop the podium to spray the champagne. With these results, Dorien took sole ownership of the runner-up position in the tour standings and Martin found himself rounding out the podium in 3rd place, with Joel Poland's year-long success leading to his first WWS Overall Tour Title and the golden champions bib for the 2023 season.