2022 Florida Cup Official Schedule and Running Order
The 2022 Florida Cup is only days away and we cannot wait to host the best Overall skiers in the world at Ski Fluid. They will be battling it out for event title, the tour title and some big paychecks!
The Men's Overall World Record was broken 3 times at Ski Fluid in 2021 and a past Women's World Overall Record was set at Ski Fluid several years ago. With the caliber of skiers we have on the entry list, there is a good chance more records will be set to finish the 2022 season in style.
The Overall Pros will be skiing their preliminary rounds alongside some top amateur competitors on Friday starting at 7:45am. The Overall finals (Top 4 Women and Top 5 Men) will be webcast live starting at 1pm on Saturday. If you live in the Central Florida area come out and watch…if not tune into the webcast (link on the tournament page).
A link to the full schedule and running order is below:
https://worldwaterskiers.com/wp-content/uploads/2022/10/2022-Florida-Cup-Running-Order-1.pdf
Looking forward to a great event and an awesome after party at Elixir downtown Orlando!
Llewellyn breaks World Overall Record Twice!!
This past weekend Dorien Llewellyn rewrote the record books setting 2 pending World Overall records in consecutive rounds at the Fluid Fall Record event.
Dorien has come close to this record a number of times but to perform all 3 events at this level in the same round of the same competition is intense and there is little room for error. On Saturday the 4th September, Dorien began his quest by tricking 11610, followed by slaloming 2.5@39. In Jump, he needed 225ft and on his second jump launched a massive 230ft leap for pending record number one!
In the second round his jump and trick score was down a little with 224 and 11010 so he needed a big slalom score. In champion fashion he ran a clean 39off pass and got 1@41 for pending record number two!
Congratulations to Dorien and all the best for a successful World Championships next month.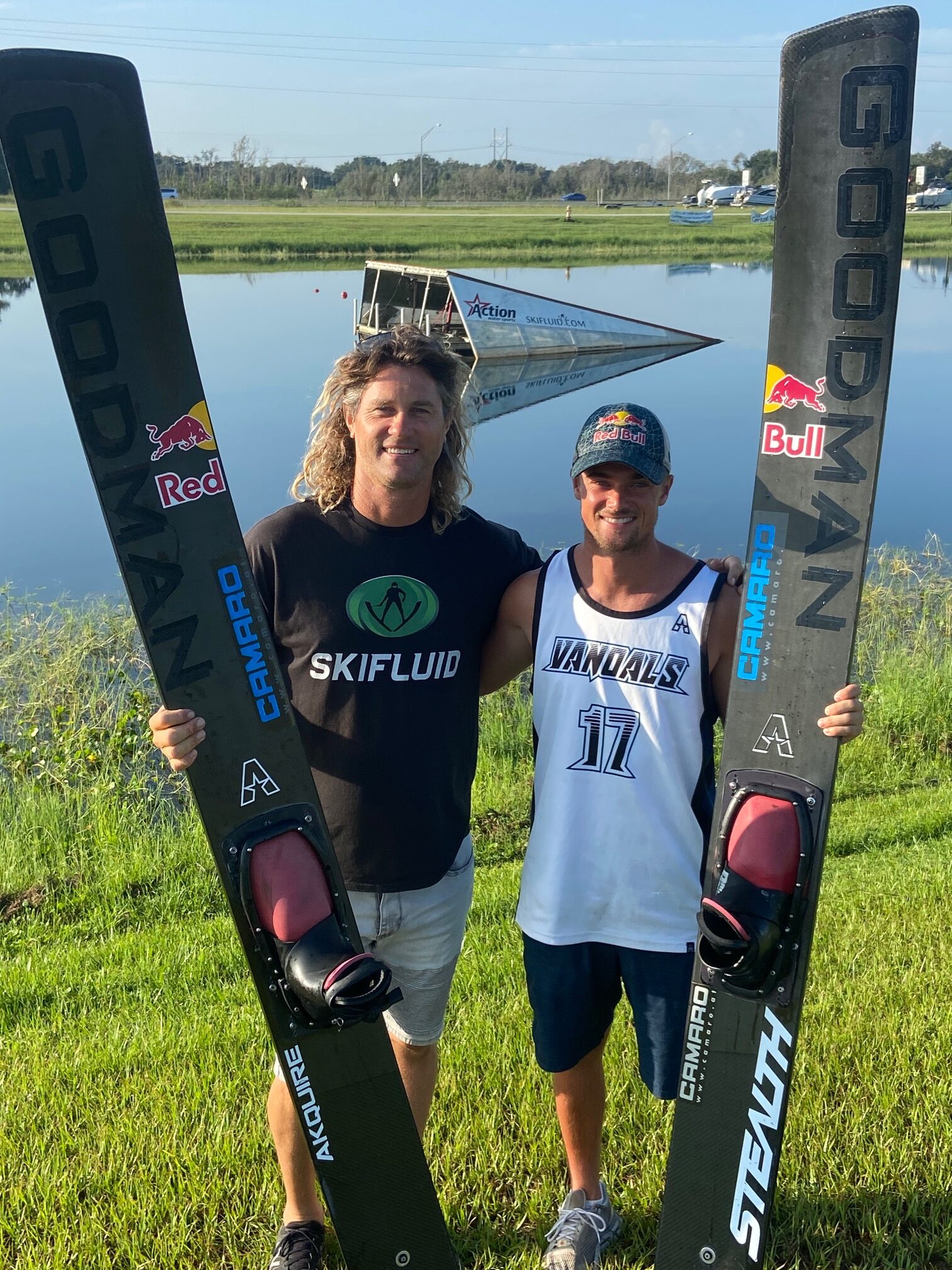 2021 Fluid Fall Record Running Order
Skiers & Officials,
The Fluid Fall Record will be held this coming weekend (September 4th and 5th) at Ski Fluid starting at 7:30 am on both Saturday and Sunday.
The Schedule and Running Order have been posted below but are subject to change depending on the weather. Tricks will be first both days, followed by Slalom around 10 am, then Jump.
Click to access 2021-Fluid-Fall-Record-Running-Order.pdf
All skiers must complete their registration prior to competing. We have 2 busy days of skiing with 90 rides planned each day so please arrive early to ensure you do not miss your turn. Due to the increase in Covid cases, there will be no check-in at Action Water Sports.
Everyone must renew their Florida Water Ski Federation at the beginning of the new ski year which began after Nationals. Please complete this prior to this weekend:
We are looking forward to a great event with a number of skiers moving into new divisions after the Nationals and taking their first shots at new National Records.
See you all this weekend!
Team Fluid