Lacanau Cup 2023 Delivers Unforgettable Waterskiing Action
Lacanau Cup
Presented By Malibu Boats
Lacanau, France – July 3, 2023 – The first World Waterskiers Tour event, the Lacanau Cup, concluded over the weekend, from June 30 to July 2, with thrilling performances that left spectators in awe. With record-breaking feats, intense competition, and extraordinary displays of skill, the Lacanau Cup proved to be an unforgettable experience for both athletes and fans alike.
In the Women's Slalom Event, anticipation ran high as top contenders Jaimee Bull (CAN) and Whitney McClintock (CAN) had been trading wins in recent events. Both athletes showcased their remarkable talent, culminating in an equally impressive top score of 1@10.25m in the prelims. The stage was set for a nail-biting final, and the crowd eagerly awaited the outcome.
Manon Costard (France) was the first to brave the waters, setting a high standard with an impressive 4@10.75m. Allie Nicholson matched Manon's score, resulting in a tie. However, it was Whitney who reset the pace, flawlessly navigating the course at 10.75m. It was now up to Jaimee to surpass her competitors. With the crowd on the edge of their seats, Jaimee delivered an exceptional performance, reaching ball two and securing a final score of 1.5@10.25m, ultimately claiming victory at the Lacanau Cup.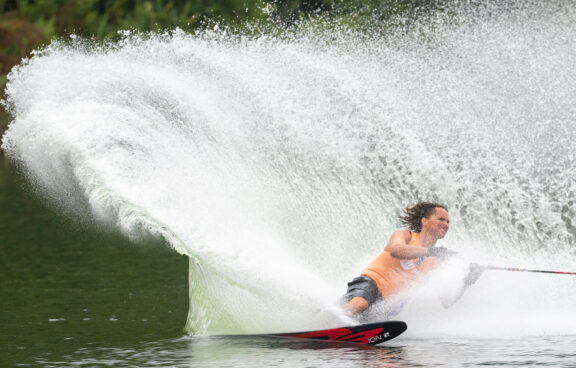 The Men's Slalom competition witnessed a fierce battle between eight talented skiers. Rob Hazelwood (England) and Thomas Degasperi (Italy) set the bar high with a commendable score of 3@10.25m each. Corey Vaughn (USA) and Will Asher (GBR) found themselves stuck at 3, unable to surpass their predecessors. However, Freddy Winter (England) raised the stakes with an impressive 5@10.25m, forcing the remaining skiers to push their limits. Dane Mechler (USA) and Brando Caruso (Italy) showcased their skills with scores of 4, but it was Nate Smith who rose to the challenge, completing the 10.25m line and securing back-to-back wins in Lacanau.
In the Women's Overall Competition, five skiers competed in the finals. Anna Gay faced an unfortunate early exit with 3.5@12m, while Paige Rini (CAN) set the pace in the Slalom event with 2@10.75m, dominating in her strongest discipline. Aliaksandra Danisheuskaya (USA) and Kennedy Hansen engaged in a close battle, with Aliaksandra scoring 3.5@11.25m and Kennedy achieving 1@10.75m. Giannina Bonnemann (GER) displayed remarkable consistency, securing 3@11.25m. Paige, with an exceptional score, ultimately claimed the 1000-point benchmark in Slalom.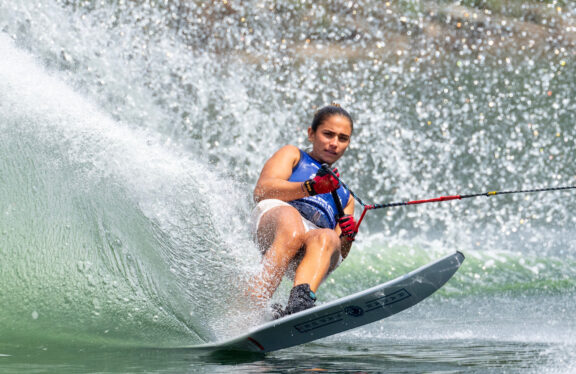 As the competition moved to the Tricks event, Anna Gay faced the challenge of outperforming her opponents but fell short of her usual pace, resulting in a score of 9620. Paige Rini fell near the end of her hand pass, affecting her scoring potential (7500). Aliaksandra's performance was slightly below expectations, resulting in a score of 6890. Giannina, with her blazing speed, secured the thousand points benchmark with a score of 10,180.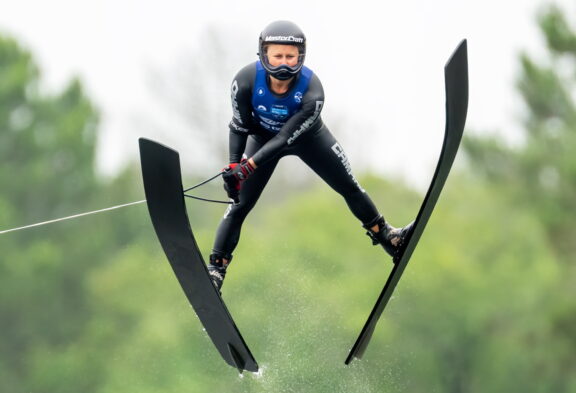 The Jump event witnessed Giannina maintaining her dominance, while a tight race for second, third, and fourth place unfolded. Anna posted a jump of 37.2m, while Paige's 46.9m leap took her to the top of the overall competition with 2598.41 points. Aliaksandra's strong jump of 51.7m put her in second place with 2586.82 points, closely followed by Kennedy's solid 43.3m jump, securing third position. Giannina displayed her expertise in her favorite event, posting an impressive 51.4m on her first jump and securing the overall victory with a total of 2891.35 points.
In the Men's Overall Competition, four finalists battled for the coveted title. Tristan, the younger brother of Louis Duplan Fribourg (FRA), started the proceedings with a score of 3@11.25m. Edoardo Marenzi (ITA) impressed with 1.5@10.75m, followed by Louis with a score of 4@10.75m. Joel Poland (GBR) delivered the best run of the day, achieving 2.5@10.25m and claiming the 1000-point mark.
The competition intensified as Tristan showcased his trick prowess (8570), and Edoardo encountered difficulties, resulting in a lower score of 7480. Louis fell short of his previous year's score, finishing with 10,840 points. However, Joel's performance, slightly off his normal pace, secured him a total of 10,990 points, propelling him into the lead but leaving the door open for Louis to shine in the Jump event.
Tristan faced a disadvantage due to slower speed but managed a respectable jump of 52.5m. Edoardo raised the bar with a leap of 59.6m, but it was Louis who broke the French national record with an astounding jump of 68.1m. Joel needed a 64m jump to claim victory, a challenging feat. Despite slipping on his first attempt, Joel improved on his second but fell just short. The tension was palpable as the score came in at 64.2, securing Joel's win by a mere 2.81 points, a margin less than a quarter buoy.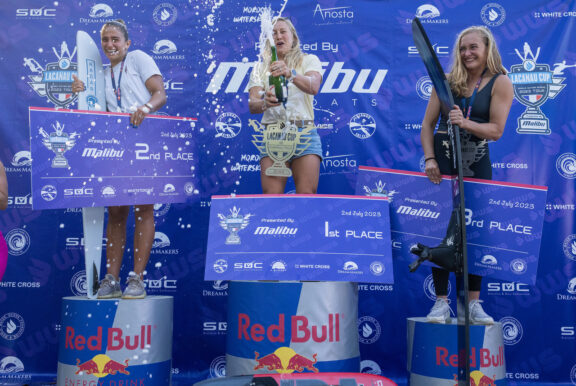 The Lacanau Cup 2023 showcased the highest level of skill, with each discipline fiercely contested right down to the last competitor. National records were shattered, leaving spectators amazed and exhilarated. We extend our heartfelt gratitude to the Lacanau Club, the dedicated judges, tireless volunteers, and generous sponsors whose contributions made this historic event possible. The growth of this tournament, both in terms of the competition and the attendance, is remarkable, and we eagerly anticipate what will unfold in 2024. Mark your calendars for next year's event, as it promises to be another extraordinary spectacle.
Photos of the event can be found on Getty Images
For photos please contact: Johnny Hayword
About World Waterskiers Tour: The World Waterskiers Tour aims to showcase the world's most talented waterskiers and provide them with a platform to compete at the highest level. With a series of events held in stunning locations worldwide, the tour brings together athletes, fans, and industry professionals to celebrate the sport of waterskiing.
What A Roller-coaster Ride!
The WWS Austrian Open Did Not Disappoint!
With the World Waterski Open, Austria's most successful water skier, Britta Grebe-Llewellyn, once again brought the international elite of the action-packed water sport to Upper Austria. On August 7 and 8, some of the best of their guild competed in Fischlham in the disciplines slalom, trick and jump. The event was organized for the second time by Britta Grebe and her husband, the multiple world champion and world record holder Jaret Llewellyn. Their son Dorien took part again, who is currently the world's number two in the Overall. He also showed the strongest nerves and reclaimed the WWS Austrian Open title back to back. In the women's event, the defending champion from 2020, Giannina Bonnemann, also took the victory.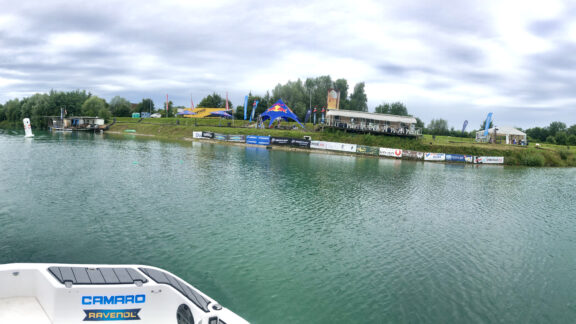 With her ten European Championship titles (in a row) two World Championship titles and four world records, Britta Grebe-Llewellyn was one of the most successful water skiers in the world. Although the native of Gmunden, who has now lived in Florida for 36 years, no longer actively participates in competitions herself, she now shares her experience in athlete management and event organization.
The athletes had to prove their skills in the disciplines slalom, trick, and jump. The winner of these three water ski disciplines combined is considered the absolute "King/Queen" of waterskiing. Besides Britta Grebe's son, the 26-year-old Dorien Llewellyn (skis for Canada), Carlo Basic from Austria, Robert Hazelwood from Great Britain, Pol Duplan-Fribourg from France, as well as the German sisters Giannina and Carlotta Bonnemann and the Italian Alice Bagnoli fought for prize money and the podium.
Right from the start, the high quality of the small, but fine starting field was evident. Already on the first day of
competition both the women and men showed world-class form and delivered top performances, although the jump competition could not be held on Saturday due to the strong winds. Dorien Llewellyn came out showing he was not here to play, scoring the highest points of all in both trick and slalom. In tough conditions, the big upset was Robert going down on the 11.25m line. This is Robert's strongest event of the three, so he would have to regroup for Sunday's finals. In the trick discipline, Dorien was able to live up to his role in being the favorite, posting a 10500 ahead of Robert's 9090,  Pol's 8080, and Carlo's 6800.
In womens' slalom the older of the Bonnemann sisters, Giannina, had the better start ahead of the Italian Alice Bagnoli and Carlotta Bonnemann and took this momentum into Sunday.
With cooler temperatures on Sunday, the athletes had to give it their all on the final day. Alice came out in the finals in slalom and prevented Giannina from potentially claiming a clean sweep. Alice posts a 3.5 at 11.25, half a buoy better than Giannina score of 3. Traditionally, the jump event is the last event of the day, but warnings of rain later threaten the jump, so the organizers decided to flip the events because of safety for the athletes. Giannina dominated the jump event with 52m, but a real race for second and third was building. Alice (1,710.98) ahead of Charlotta (1,642.18).  Charlotta stood up both her runs putting pressure on Alice. Alice proved on Saturday that she has a big hand run in her bag, but shocked the crowd when she went down on a flip during the final pass, costing her the second podium spot. Giannina ranked second in the World in Overall was overjoyed about her victory in Fischlham: "The competition was just great again, to have an overall event with all three disciplines is what we train for. For me it went extremely well, I was able to dial up my performances from yesterday. In the trick event, I was able to go one better and set a new course trick record of 10,180 points, which really made it perfect." Giannina took the Overall Crown with 2978.26 points, Carlotta claimed silver with 2160.85, ahead of Alice's 2092.12.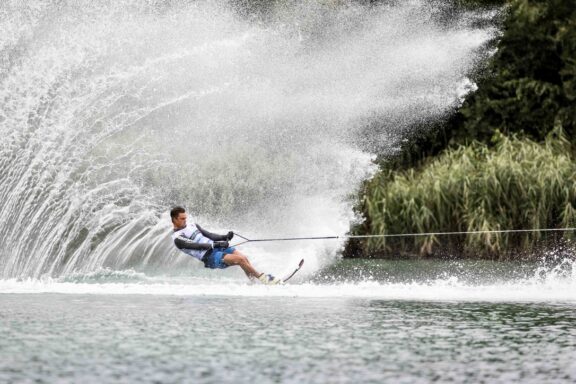 In the men's finals, tables turned on Dorien right out of the gates in the slalom event. Robert Hazelwood posted a huge slalom score of 1 @ 41off, a full pass more than Dorien's top score from the primary round. This is Robert's strongest of the 3 disciplines and Dorien's weaker of the three. Dorien said, "my game plan was to stay as close to Robert's slalom score as possible."  Dorien, unfortunately, went down earlier than expected and trailed Robert by 8.5 buoys (4.5@11.25m). Robert claimed the 1000pts for the tops score and Dorien was awarded 845.45. Pol was only 2.5 buoys (2@11.25)  behind Dorien and was awarded 800pts, with Carlo is 4 buoys (4@12m) off Pol with a score of 727.27.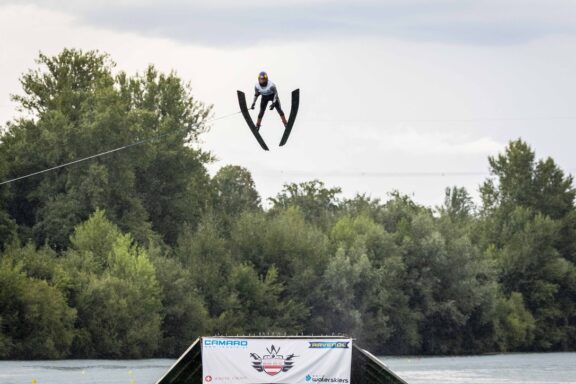 Onto the Jump, with the weather conditions holding favorable. Pol posted a 56.1m, next up Carlo with a 59.9m, and Robert tops that with a 60.0m jump. Dorien last out knew he had to gain ground back on Robert after trailing in slalom. Dorien unleashed 65.1 on his final jump and the Two-way battle is underway with Robert 1,872.82 and Dorien 1,845.45 neck and neck, as well as Carlo 1,597.59 and Pol 1,575.56 battling for 3rd and 4thspot. Finally, in tricks Carlo stood up his two passes, scoring 7,100 a new personal best. Pol's prelim run was 8080 so enough to pull farther ahead of Carlo, but unfortunately, Pol went down on his opening trick which ended all hopes of staying ahead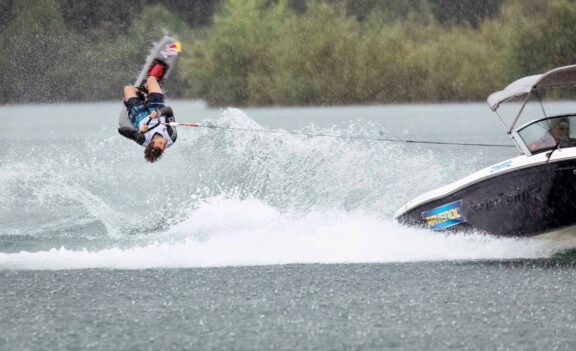 of Carlo. Robert stomped his two passes claiming a score of 9880pt putting enormous pressure on Dorien to score a minimum of 10200. Dorien answered back with 11060, just short of the course record he set last year at the Austrian Nationals 11160pt.  "I am so happy with my victory here at Lake Plana. Especially because I really spent a large part of my "water skiing childhood" here and I have such fond memories of this lake. I am very happy with my performance, it was so exciting and then I had to put all my eggs in one basket," says Grebe's son, delighted with the successful title defense in his second home.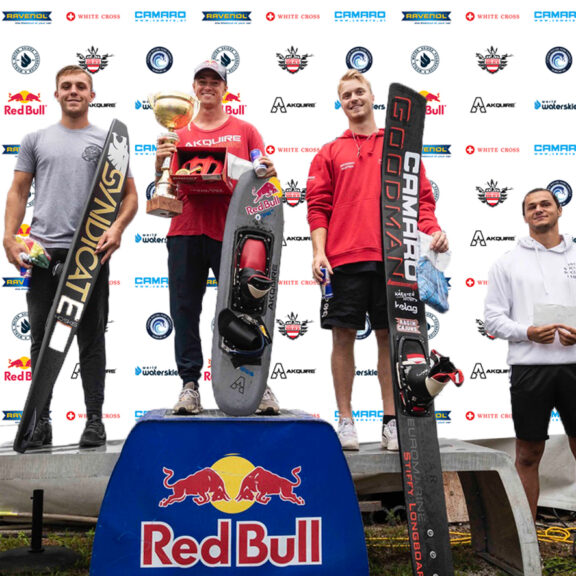 Our sponsors, volunteers, and athletes are special people, and this event would not have happened without them, Thank You! We are grateful for their relationship and support and hope you can keep them in mind when making your next purchases.  Great products and special discounts are available to our viewers in the sponsors' links at the bottom of the
"WWS Austrian Open Event Page".
For WWS, we would appreciate you clicking on "SUBSCRIBE" to the WWS website, Facebook, Instagram, and YouTube page, it will definably help with our algorithm.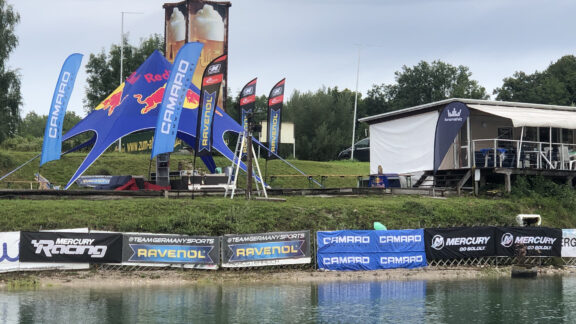 Additional Background- Family business of water skiing
The Llewellyn family is considered to be the most successful family in water skiing because, in addition to Britta, it is also her husband Jaret and their son Dorien who rule the absolute top of the world. Jaret can call himself nine times world champion (in the disciplines combination, trick, and jumping). He also set eleven world records in jumping. He has won 117 pro events in his career (numerous World Cups, PanAm Games, and many more). Thus, Jaret is without a doubt the best water skier in the world so far and was the number one in the Overall for 16 years.
In the youth/junior class, 25-year-old Dorien is a European champion (in the overall, slalom and jump). In the U21 class, Dorien moved from Austria to Canada to compete with his famous father on the team at the World Championships, where he also won the silver medal in the U21 Overall, catapulting himself to first place in the world rankings. For three years now, the waterski talent has dominated the general class of the Overall at the PanAm Games (held every four years), and he is number two in the trick, slalom, and jumping disciplines. At the PanAm Championships (held every year and comparable to the European Championships) he is the undisputed dominator Overall. Recently Dorien is also allowed to call himself "King of Tricks", for winning the King of Darkness, a pro night competition in Orlando.
The dominance of the water ski family was especially evident in 2012 and 2013, as in both years Jaret and Dorien were both number 1 in the World in the Open Division and Juniors, something that has never been seen before in any other sport.
Tough day today in Austria
Tough day today in Austria, especially with a tailwind like no tomorrow! As most overall competitions go, there is always drama. Unfortunately, with dangerous conditions, we opted to cancel the jump, instead only having a single-cut competition for the crowd. But today was mainly about seeding and vying for the individual event's high scores, which hold cash prize bonuses. Tomorrow the finals battle begins anew and with a forecast for great conditions, the performances should only improve! Check the Event Page for LIVE Webcast start time in your time zone.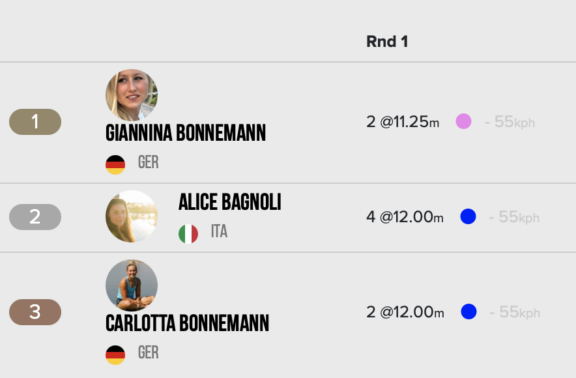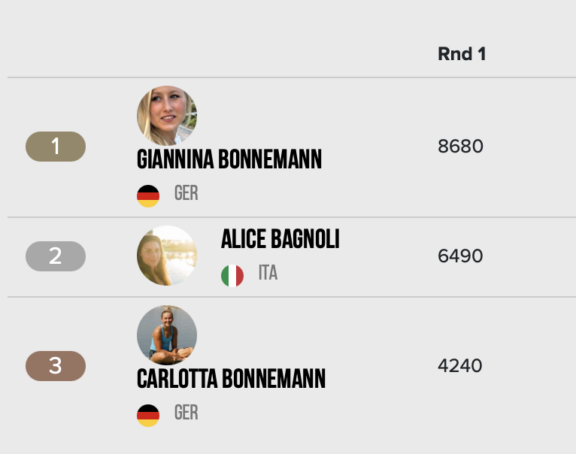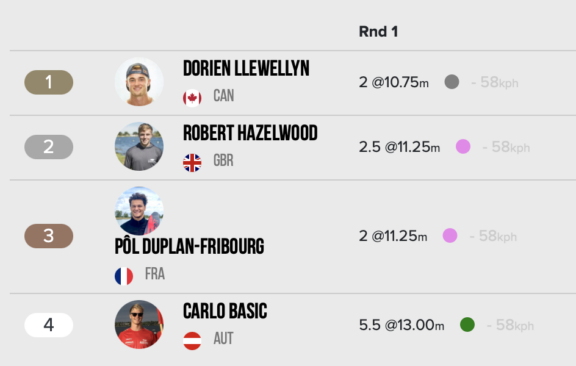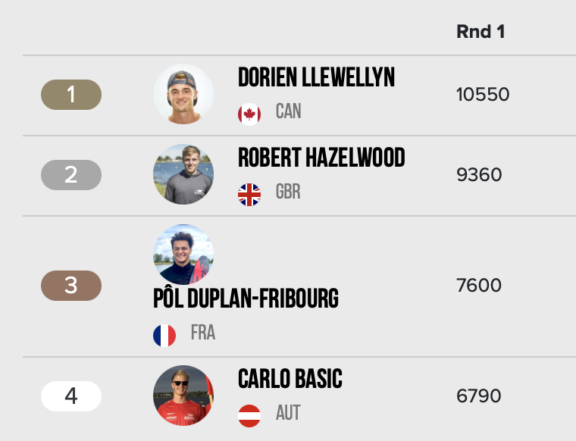 No Jump yet!
Dorien​ Robert​ Pol​ Carlo​ Giannina​ Alice​ Carlotta​
RAVENOL​ Camaro Watersports​ Akquire​ White Cross Québec​ Centre Nautique Pierre Plouffe Tremblant Inc​ kronehit​ Red Bull​
Invited To The World Waterski Open
Water ski action of the World's elite in Upper Austria 
Grebe-Llewellyn family invited to the World Waterski Open at Salmsee in Steyregg
WorldWaterSkiers had the pleasure to invite to the World Waterski Open, an action-packed water sports event in Upper Austria, with international elite athletes. On August 8th and 9th some of the best skiers in the World battled in the disciplines of slalom, trick and jump. The event was organized by Britta Grebe-Llewellyn and her husband, the multiple world champion, Jaret Llewellyn. Her son Dorien took part, he is currently the world's best in overall. He also showed the strongest nerves and finished as the men's winner after two action-packed days. Giannina Bonnemann from Germany took the victory in the women's event.
With her ten European Championship titles, two World Championship titles and four World records, Britta Grebe-Llewellyn was one of the most successful water skiers in the world. The native of Gmunden, who has lived in Florida for about 35, no longer actively participates in the action, but now shares her experience in the Athlete performance management and event organization.
The exciting battle between some of the top skiers in the world took place on August 8th and 9th at the WSZ-Salmsee in Steyregg. The top 12 men and 8 women in the world rankings were invited, however, due to the current travel stops most of the international Athletes could not take part in the competition in Austria. But despite the difficulties some of the world's best athletes did not miss out on the exciting competition. The athletes had to show their skills in the disciplines of slalom, trick and jump, to win the Overall event.The Overall is the hardest of all the waterski events to win, so it is the ultimate goal of these athletes to put on this "crown". Next to Britta Grebe's son, the 24-year-old Dorien Llewellyn, Canada, the British Robert Hazelwood,  the French Pol Duplan-Friborg,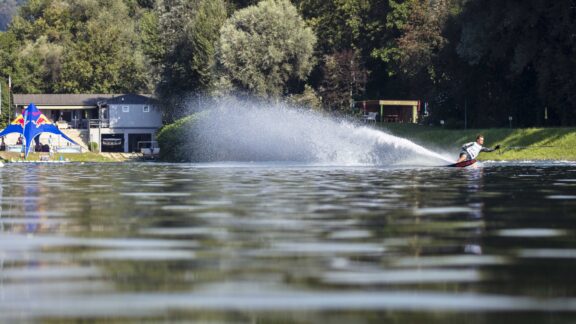 as well as the two ladies Giannina and Carlotta Bonnemann from Germany fought hard for prize money and podium. Right from the start, the high quality of the small, but fine starting field was evident. Already on the first day of the competition, both the women and the men showed World class form and delivered top performances. Dorien Llewellyn took top spots in all 3 events to reach the highest number of points in Overall, with Robert Hazelwood second and Pol Duplan-Friborg third. With the two sisters from Germany, the older of the two Giannina, had the better start and took this dynamic right into Sunday. The final day was beautiful, sunny and 32 degrees C. Conditions were perfect. In the ladies event, Giannina continued her run of success and won the "sister-battle" with 3061.38 points. Being 3rd on the World ranking list in Overall, Giannina was very satisfied with her performance in Steyregg: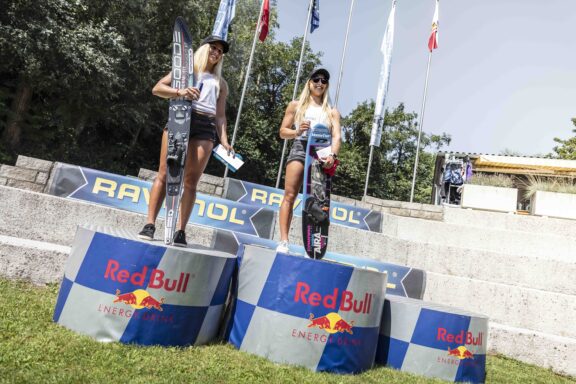 " The competition was just great, having an Overall only event with all three disciplines is amazing and I certainly hope that something like this will take place again in the future. My performance was great, I am very pleased with the results.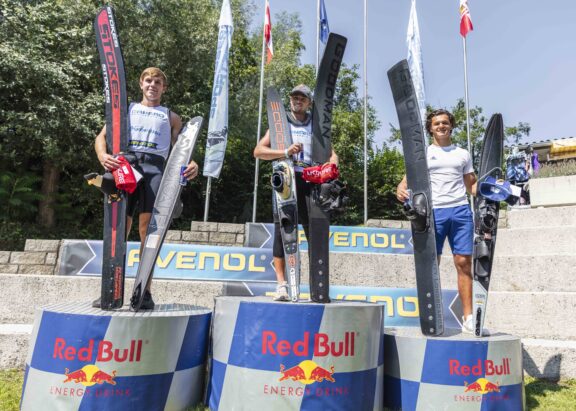 In the men's category, Dorien Llewellyn walked away with the "home win". With a total of 2631.51 points\he prevailed ahead of Robert Hazelwood (2528.81 points) and Pol Duplan-Friborg (2295.52).
" I am so happy about my victory here at Salmsee. It was a fantastic event my parents organized. I am very satisfied with my performance, all three disciplines were really as I had hoped. Now I can fly back to America happy and hope to continue the flow." the 24-year-old son Grebe's is happy about his victory in his second Homeland.
Family business water skiing
The Llewellyn family is considered to be the most successful family in water skiing, because next to Britta, her Husband Jaret and their son Dorian, are absolute world leaders in the Sport. Jaret is a nine times World champions (in the disciplines of overall, trick and jump).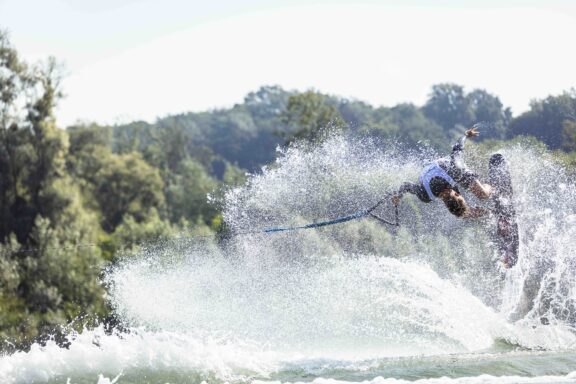 He also set eleven World records in jump. He has won 117 pro events in his career (numerous World Cups, PanAm Games and many more). Jaret is without a doubt the best water skier in the world ever and was number one in Overall for over 10 years. Son Dorien is currently ranked number one in the World in Overall, he also works his way up in the individual disciplines. In the youth / junior division the 24 year old won the European champion (in combination, slalom and jumping). In the U21 class, Dorien switched from Austria to Canada to compete on the team at the World Championships with his famous father.
Dorien won the silver medal in the U21 Overall Worlds and catapulted himself to first place in the world rankings. For two years now, the talented skier has dominated the Overall at the PanAm Games (take place every four years), and PanAm Championships (every year). The dominance of the water ski family was particularly evident in 2012 and 2013, when Jaret and Dorien were 1st in the world ranking list in their age groups, which has never happened in any other sport in the World.
Best-Event Bergfeldweg 2/2 – 5340 St. Gilgen
Tel.: 0043664/8558677
E-mail: presse@best-event.at
ORIGINAL PRESS RELEASE IN GERMAN
Wasserskiaction der Weltelite in Oberösterreich
Familie Grebe-Llewellyn lud zu den World Waterski Open in Steyregg
Mit den World Waterski Open brachte die erfolgreichste Wasserschifahrerin Österreichs, Britta Grebe-Llewellyn, internationale Elitesportler des actionreichen Wassersports nach Oberösterreich. Am 8. und 9. August maßen sich einige der Besten ihrer Zunft in Steyregg in den Disziplinen Slalom, Trick und Springen. Organisiert wurde der Event von Britta Grebe und deren Ehemann, dem mehrmaligen Weltmeister, Jaret Llewellyn. Auch ihr Sohn Dorien nahm teil, der aktuell der Weltbeste in der Kombination ist. Er zeigte auch die stärksten Nerven und ging nach zwei actionreichen Tagen als Sieger bei den Herren hervor. Bei den Damen holte sich Giannina Bonnemann den Sieg.
Mit ihren zehn EM-Titeln (in Folge) zwei WM-Titeln und vier Weltrekorden zählte Britta Grebe-Llewellyn zu den erfolgreichsten Wasserschifahrerinnen der Welt. Zwar nimmt die gebürtige Gmundnerin, die seit nunmehr 35 Jahren in Florida lebt, nicht mehr selbst aktiv an Bewerben teil, doch teilt sie ihre Erfahrung mittlerweile im Athletenmanagement und Eventorganisation.
Mit der World Waterski Open brachte die 55-jährige Wahlamerikanerin nun einige internationale Top-Athleten zu einem Wasserski-Event der Extraklasse in ihr ehemaliges Heimatland. Der spannende Battle zwischen einigen der Top-Fahrern der Welt fand am 8. und 9. August beim WSZ-Salmsee Wasserski in Steyregg statt. Eingeladen waren die Top-Damen und -Herren der Weltrangliste, allerdings konnten, aufgrund der derzeitigen Reise-Stopps die Athleten aus der USA, Australien und Chile nicht an dem Bewerb in Österreich teilnehmen. Doch trotz der schwierigen Reisebedingungen ließen es einige der weltbesten Athleten nicht nehmen, nach Oberösterreich zu kommen, was den Kampf um das Stockerl noch spannender machte. Die Athleten mussten dabei ihr Können in den Disziplinen Slalom, Trick und Springen beweisen. Gewertet wurde dann die Kombination dieser drei Wasserski- Disziplinen. Denn die Kombination aller drei Wasserski-Sportarten ist die absolute "Königsklasse", und somit ist es das höchste Ziel der besten Athleten, sich diese "Krone" aufzusetzen. Neben Britta Grebes Sohn, dem 24-jährigen Dorien Llewellyn (fährt für Kanada), kämpften noch der Brite Robert Hazelwood, der Franzose Pol Duplan-Fribourg und die beiden Damen Giannina und Charlotta Bonnemann aus Deutschland um Preisgeld und Stockerl.
Gleich von Beginn an, zeigte sich die hohe Qualität des kleinen, aber feinen Starterfeldes. Gewertet wurden die besten Durchgänge beider Tage. Schon am ersten Wettkampftag bewiesen sowohl die Damen als auch die Herren Weltklassenform und lieferten Top-Performances. Dorien Llewellyn legte beinahe erwartungsgemäß vor und konnte in allen drei Disziplinen die höchste Punktezahl aller Starter erreichen. In den Disziplinen Trick und Springen konnte er seiner Favoritenrolle gerecht werden, im Slalom galt es für den für Kanada antretenden Llewellyn erst den Briten zu schlagen, da dieser als absoluter Slalomspezialist gilt. So reihte er sich schlussendlich am ersten Wettkampftag vor den Franzosen und den Briten. Bei den beiden Schwestern aus Deutschland hatte die ältere der Beiden, Giannina, den besseren Start und nahm diese Dynamik auch gleich in den Sonntag mit. Ebenso wie der Samstag, zeigte sich auch der Finaltag bei strahlendem Sonnenschein und mit besten Bedingungen. Bei den Damen konnte Giannina ihren Erfolgslauf fortsetzen und den "familieninternen" Kampf mit 3061,38 Punkten für sich entscheiden. Die Drittplatzierte der Weltrangliste in der Kombination zeigte sich sehr zufrieden mit ihrer Leistung in Steyregg: "Der Bewerb war einfach super, einen Overall-Event zu haben mit allen drei Disziplinen ist ein toller Event und ich hoffe, dass so etwas auch in Zukunft hier wieder stattfinden wird. Meine Leistung war grandios, es ist einfach super gelaufen". Bei den Herren konnte sich Dorien Llewellyn den "Heimsieg" schnappen. Mit insgesamt 2631,51 Punkten setzte er sich vor Robert Hazelwood (2528,81 Punkte) und Pol Duplan-Fribourg (2295,52) durch. "Ich bin so glücklich über meinen Sieg hier am Salmsee. Es war eine tolle Veranstaltung, die meine Eltern hier organisiert haben. Ich bin sehr zufrieden mit meiner Leistung, alle drei Disziplinen waren wirklich so, wie ich es mir erhofft hatte. Jetzt kann ich happy nach Amerika zurückfliegen und hoffe, den Erfolg und Flow mit zum nächsten Bewerb kommendes Wochenende mitnehmen zu können", freut sich der 24-Jährige Sohn Grebes über seinen Sieg in seiner zweiten Heimat.
Familienbusiness Wasserski
Die Familie Llewellyn gilt als die erfolgreichste Familie im Wasserskisport, denn neben Britta, sind es auch ihr Ehemann Jaret und ihr Sohn Dorian, welche die absolute Weltspitze mitregieren. Jaret darf sich neunmaliger Weltmeister nennen (in den Disziplinen Kombination, Trick und Springen). Zudem holte er elf Weltrekorde im Springen. Er hat 117 Pro-Events in seiner Karriere gewonnen (zahlreiche Weltcups, PanAm-Games uvm.). Somit ist Jaret ohne Zweifel der bisher beste Wasserschifahrer der Welt und war 16 Jahre lang die Nr. Eins in der Kombination. Und auch für den Nachwuchs ist gesorgt, denn ihr Sohn Dorien ist mittlerweile Nummer Eins der Welt in der Kombination, zudem arbeitet er sich in den Einzeldisziplinen nach vorne. In der Jugend/Juniorenklasse ist 24-jährige Europameister (in der Kombination, Slalom und Springen). In der U21 Klasse wechselte Dorien von Österreich nach Kanada, um mit seinem berühmten Vater im Team bei der Weltmeisterschaft anzutreten, wo er auch die Silbermedaille in der Kombination der U21 holte und sich so auf Platz Eins der Weltrangliste katapultierte. Seit nunmehr zwei Jahren beherrscht das Wasserschitalent die allgemeine Klasse der Kombination bei den PanAm Games (finden alle vier Jahre statt), in den Disziplinen Trick, Slalom und Springen ist er die Nummer Zwei. Bei den PanAm Championships (dies finden jedes Jahr statt und ist mit der EM vergleichbar) ist er der unumstrittener Dominator in Trick und Kombination. Die Dominanz der Wasserschifamilie zeigte sich vor allem 2012 und 2013, denn in beiden Jahren waren Jaret und Dorien jeweils Weltranglisten-Erster ihrer Altersklassen, das hat es bisher in keinem anderen Sport gegeben.
Best-Event Bergfeldweg 2/2 – 5340 St. Gilgen
Tel.: 0043664/8558677
E-mail: presse@best-event.at