Shalom Park to host the Worlds Best U21 water skiers
The worlds best water skiers are returning to the Great White North!
On July 4-7, Shalom Park, located in Edmonton, Alberta, will be hosting the Under-21 Water Ski World Championships. The premium event site of the Canadian Open the past three years, Shalom Park will undoubtedly offer its skiers one of the best U21 Worlds experiences in their young and promising careers.
World Water Skiers is excited to support Shalom Park with the launch of the Official 2019 IWWF World U21 Water Ski Championships tournament web page. Through the information and profiles embedded into the website, WWS will be able to assist Shalom Park in highlighting all the action.
Shalom Park is a beautiful man-made water ski lake just south of the city. Shalom Park was built in 1985 and has hosted a multitude of local, national and international tournaments, including multiple Canadian National Championships, Canadian Opens and the 1996 Junior World Water Ski Championships. Countless national and international records have been set at this pristine lake, including an IWWF Open Men Overall record, in 2000 by Jaret Llewellyn of Canada, and an IWWF Junior Men Slalom Record set by Chris Parrish of the USA. The record set by Parrish stood almost 20 years until it was broken by Robert Pigozzi from the Dominican Republic in 2015. With tournament conditions sure to be ideal, the U21 skiers will look to claim their own piece of history!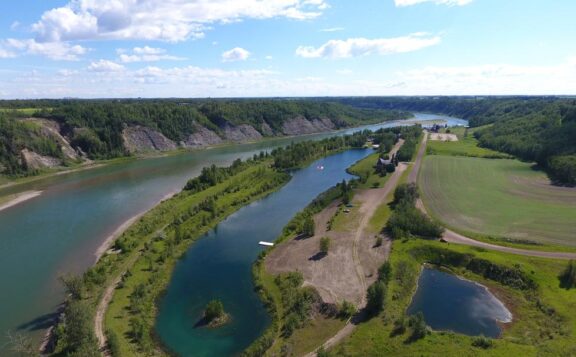 Shalom Park Water Ski Site Located 20 minutes away from the Edmonton International Airport (YEG) and is a short drive from many Edmonton area attractions, including West Edmonton Mall, one of the largest shopping complexes in North America. The event is guaranteed to provide world-class skiing and attractions.

With the 2019 IWWF World U21 Championships quickly approaching, the countdown has begun and Shalom Park has launched their "Tournament Page" that has all the links and details to keep the water ski enthusiasts well informed.  Everyone, Athletes, Official, family, and friends can all signup too WWS to get updates on all WWS featured events. Check out the page and plan your trip to be down on the stadium shores of Shalom Park this July 4th-7th.

Please help us by sharing the Official Tournament Page and link – https://worldwaterskiers.com/tournament/19iwwf01/

The 2019 IWWF World Under 21 Waterski Championships will be supported by WSWA, WSWC, WWS and IWWF, and towed by the all-new Ski Nautique.

#U21Worlds2019 #WWS #IWWF
---
PostTags:

Credit:

WorldWaterSkiers
---