Round 3 for the World Waterski Open in Austria  
Round 3 for the W
orld Waterski Open
in Austria
20. und 21. August in Fischlham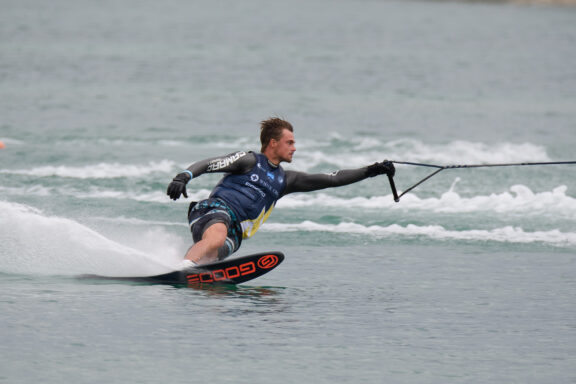 With the World Waterski Open, Austria's most successful water skier, Britta Grebe-Llewellyn, is bringing the international elite of action-packed water sports to Austria for the third time. On August 20 and 21, the best of their guild will compete at Planasee in Fischlham/Upper Austria.
FISCHLHAM. The athletes have to prove their skills in the disciplines of slalom, trick and jumping. Only the combination of these three water ski disciplines will be judged. Invited are the top women and men on the world ranking list, including five world champions. This high-caliber field of the world's best athletes promises an action-packed event and an extremely exciting battle for the podium.
The special thing about the event is that many of the top water ski athletes only train in one or two disciplines and thus only master slalom, slalom, and trick, slalom and jumping, etc… Therefore, the combination of all three sports is the absolute "top class". Because mastering all three events naturally means even more discipline, drive, ambition, and mental strength. "The combination in water skiing is extremely hard and time-consuming. The athletes push themselves to incredible limits here," says Britta Grebe-Llewellyn.
Also taking part again is son Dorien, reigning world champion in his own right, who took victory in Austria at each stop of the previous years.
The competitions will take place on both days from 1 p.m. to 6 p.m. with free admission and free beer.
Saturday, 20.8.: 1 p.m. slalom, approx. 2.45 p.m. trick, 4.15 p.m. jumping
Sunday, 21.8.: 2 p.m. slalom, 3 p.m. trick, 4 p.m. jumping, afterward award ceremony
World
Waterski
Open geht in die dritte Runde
20. und 21. August in
Fischlham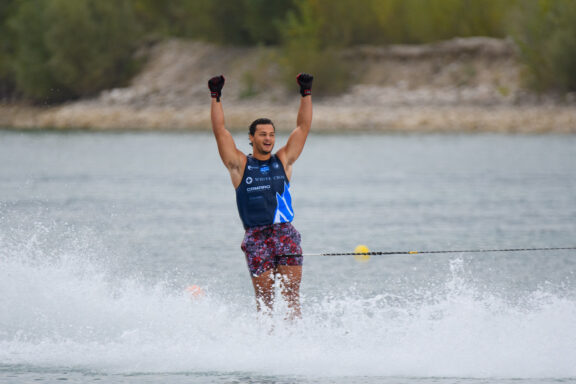 •
Mit den World
Waterski
Open bringt die erfolgreichste Wasserschifahrerin Österreichs, Britta Grebe-Llewellyn, zum bereits dritten Mal die internationale Elite des actionreichen Wassersports nach Österreich. Am 20. und 21. August messen sich die Besten ihrer Zunft am
Planasee
in
Fischlham
/OÖ.
FISCHLHAM. Die Athleten müssen ihr Können in den Disziplinen Slalom, Trick und Springen beweisen. Gewertet wird nur die Kombination dieser drei Wasserschi-Disziplinen. Eingeladen sind die Top Damen und Herren der Weltrangliste, darunter fünf Weltmeister. Dieses hochkarätige Teilnehmerfeld der weltbesten Athleten, verspricht einen actionreichen Event und einen extrem spannenden Kampf um das Stockerl. 
Das Besondere an dem Event ist, dass viele der Top-Wasserschiathleten nur eine oder zwei Disziplinen trainieren und so nur Slalom, Slalom und Trick, Slalom und Springen, usw. beherrschen. Daher ist die Kombination aller drei Sportarten die absolute "Königsklasse". Denn alle drei Disziplinen so zu beherrschen, bedeutet natürlich noch mehr Disziplin, Drive, Ehrgeiz und mentale Stärke. "Die Kombination im Wasserschi-Sport ist extrem hart und zeitaufwendig. Die Athleten gehen hier an unglaubliche Grenzen", so Britta Grebe-Llewellyn.
Mit dabei ist auch wieder Sohn Dorien, seines Zeichens amtierender Weltmeister, der in den Vorjahren jeweils den Sieg bei den Österreich-Stopps holte.
Die Bewerbe finden an beiden Tagen jeweils von 13 Uhr bis 18 Uhr bei freiem Eintritt und Freibier statt.
Samstag, 20.8.:  13 Uhr Slalom, ca. 14.45 Uhr Trick, 16.15 Uhr Springen
Sonntag, 21.8.: 14 Uhr Slalom, 15 Uhr Trick, 16 Uhr Springen, anschließend Siegerehrung
Redaktion Mario Born
• 12. August 2022, 10:13 Uhr
---
PostTags:

Akquire clothing | austria cup | Britta Llewellyn | Brooke Baldwin | camero | Centre Nautique Pierre Plouff | Dorien Llewellyn | Dream Makers | Fischlham | Gmunden | Grumberg Hotel | Gschiel | Joel Poland | Kennedy Hansen | Kronehit | Louis Duplan | Martin kolman | Pol Duplan | Red Bull | Salzburg | Stieglbauer | wasserski | waterski | wels | White Cross | WWS Overall Tour | zum Alfons

Credit:

Mario Born -https://www.meinbezirk.at/wels-wels-land/profile-521997/mario-born?type=article

Source:
---