Moomba Final Cut Day Recap
Plenty of action was on the menu this Sunday for the Semi-finals day of the Moomba International presented by Nautique. Big names went down in Slalom, new faces made big statements, and jumpers posted both big scores and scary moments.
In Women's tricks, Yarra newcomer Giannina Bonnemann laid down two stand up passes, finishing with a score of 8980 to take the lead into the final day of competition. On upset alert was former world record holder Erika Lang, who fell only four flips into her hands run. In an unusual turn of events for her, Lang had to rely on her toe pass to make it through to the finals. She was able to stand up her second pass and grab the final spot heading into Moomba Monday.
In the Men's event, Ace once again was unstoppable. Even while missing a couple tricks in his run, he is in the lead heading into the finals. The big story of Men's tricks was the emergence of young 11-year- old Martin Labra, who may have just become the youngest finalist of all time at a Moomba Masters (no source was used in this statement). The eight men making it through to the final all could make a good run at the title, but in the end, its Ace's day to lose.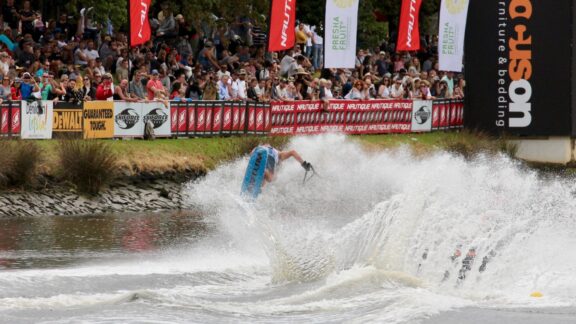 Men's jump featured the classic jumping giants against each other. Ryan Dodd and Freddy Krueger are only adding fuel to their ever growing rivalry. Their back and forth
competition is leaving the spectators on their seats at every jump. Joshua Wallent proved himself very well in the semi-finals, posting a new personal best of 62.3 meters to finish 7 th andqualifying for the finals tomorrow.
In the Night Jump event, Claudio Kostenberger made up for his mistakes in the day jump, not making it through the semis, by securing one of six spots in the final Monday night. Yet once again, the event turned into Canada vs. the USA, Dodd vs. Krueger. The two were joined by Igor Morozoff in the second round of the heat, but in the end, the final one jump round was down to the two rivals. Dodd jumped first, posting a score of 66.5 meters. Despite soaring for the longest jump of the entire event only moments before in the second round of the heat jump off with a 68.6 meter jump, Freddy did not get a hold of his one jump, ending with a distance of 61.9. Dodd took this round, but come tomorrow, everything will begin again for the two. Be sure not to miss it!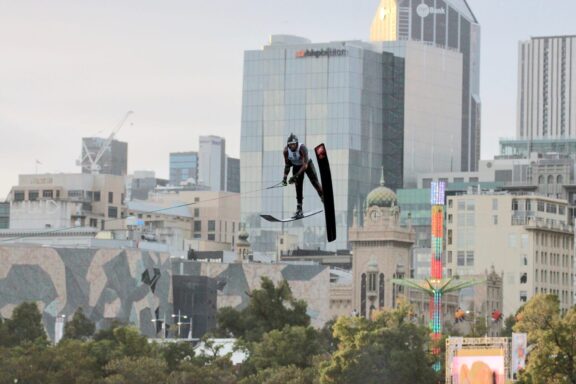 The final day of competition will run all of Monday.
---
PostTags:

Credit:

WWS
---