Jennifer Leachman LaPoint wins 4th annual Queen's Cup
Jennifer Leachman LaPoint wins 4th annual SportsInsurance.com Queen's Cup in NC
Hall of Famer Jennifer Leachman LaPoint outlasted Phillipa Shedd in a battle of wills to win the fourth annual SportsInsurance.com Queen's Cup at Little Mountain Lake in Maiden, N.C., on Sunday, Sept. 22.
Both skiers ran into 38 off in the final three of four rounds of head-to-head competition, with Shedd scoring 1.5 at 38 in the final, and No. 1 seed LaPoint following her with 3 at 38.
Jill Knutson of Washington state finished third, with 2.5 at 38 in her semifinal loss to Shedd, who got 3 at 38. Fourth place went to Michaela Cooper Bagwell as she scored 2.5 at 35 off in her semifinal round against LaPoint, who completed the pass. Fifth place went to Lori Krueger.
The SportsInsurance.com Queens Cup, also sponsored by area Nautique dealer Race City Marine in Mooresville, N.C., gives women slalom skiers a weekend of camaraderie, friendly competition and excellent skiing conditions on a lake known for world record performances. This year's event drew 38 skiers representing 13 states and Canada.
The top 16 skiers after two rounds of Saturday qualifying advanced to Sunday's head-to-head competition. The top eight seeds were LaPoint of Florida, No. 2 Knutson, No 3 Shedd of Indiana, No. 4 Joy Kelley of Tennessee, Cooper Bagwell of Colorado, Krueger of Texas, Trish Burt of Florida and Jennifer Wood of South Carolina.
Seeds 9-16 were Leza Harrison of Florida, Sandra Cummings of Michigan, Ellen Bennett of Florida, Crystal De Bey of New York state, Linda Springs of Texas, Tina Lindsey of Texas, Jeannette Van Akelijen of Ohio and Marjo Rankin of North Carolina.
Skiers who didn't advance to the Sweet 16 got a third round of skiing Sunday morning before the head-to-head rounds.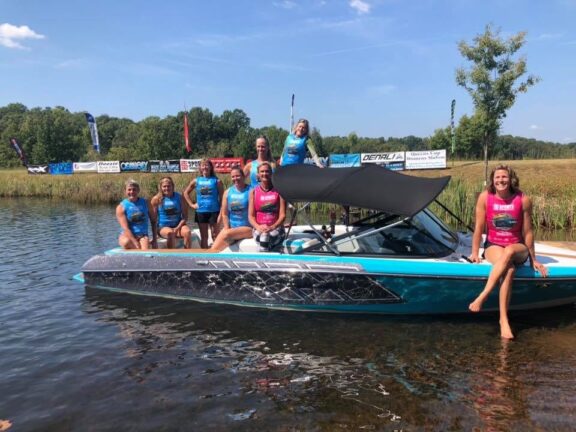 LaPoint earned $1,400 and prizes for winning, and Shedd got $800 and prizes. The top five places earned cash and prizes.
Performance-based prizes and other prizes donated by numerous sponsors were also distributed at Saturday night's banquet, which included a keynote speech by Krueger.
---
PostTags:
---