Jaramillo Wins 1st Ever Gold Medal for Colombia & Ross Wins 2nd Gold at IWWF Junior Worlds
Federico Jaramillo from Colombia won his country's first ever IWWF World gold medal at the 2018 IWWF World Junior Waterski Championships held at the Sesena Waterski & Wakeboard Complex.  In the boys slalom final, Federico grinded out a historical win with 2.5 buoys on the 10.75 metre line, narrowly edging out Tim Tornquist (SWE) and Garrett Reese (USA) who both skied 2 @ 10.75 metres.
Federico Jaramillo (Columbia)
Photographer: Ismael Herrero Sanchez
Having won the IWWF girls trick title the day before, Neilly Ross (CAN) had her sight set on another medal and posted the highest score of the day, 4.50 @ 11.25 metres, to win her second gold medal of the tournament. Luisa Jaramillo (COL) was a buoy and half short, 3 @ 11.25 metres, of making it a brother-sister gold medal photo moment and had to settle for a silver medal instead, followed by Alexandra Garcia (USA) winning the bronze medal with a score of 2.5 @ 11.25 metres.
In the girls jump final, Australia's Sade Ferguson narrowly won the gold medal with a 41.4 metre jump, followed by  Sofia Maksimenkova (UKR) 41.3 metres and Prosvetova Stanislava (UKR) 41.1 metres.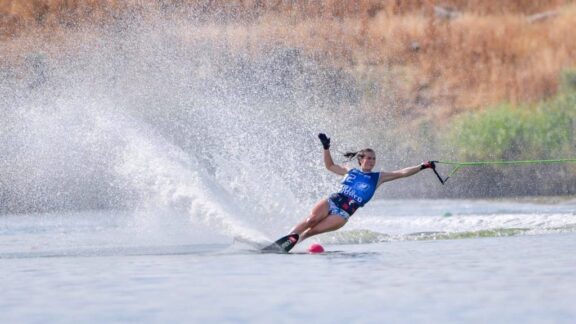 Neilly Ross (Canada)
The last event of the day and of a very exciting event was the boys jump final with the top skiers all pumped up to jump far behind the Ski Nautique, IWWF's Official World Waterski Championships towboat.  With seven skiers posting scores over 50 metres, top-seed Alexander Samoilov (UKR) let rip the longest jump of the tournament, 56 metres, to win the gold medal. The silver medal went to Blake Keller (USA) with a 55.2 metre jump and bronze to William Roberts (USA) 53.9 metres.
With strong and consistent skiing all week long, in perfect skiing conditions at the Sesena Waterski & Wakeboard Complex, Kennedy Hansen (USA) and Alexander Samoilov (UKR) deservedly won their IWWF girls & boys individual overall titles.
The IWWF junior team overall gold medal went to Team USA, consisting of Kristen Baldwin, Kennedy Hansen, William Roberts, Griffin Stange, Blake Keller and Ryan Gay.  France and the Ukraine won the silver and bronze medals respectively.
---
PostTags:

Source:
---