Profile
Current Age:

47 years old

Place of Birth:

in a wagon, Innisfail, Alberta, CAN

Hometown:

Dodd's Lake, Innisfail, Alberta, CAN

Currently Reside:

Lago Del Sol, Lake Worth, FL, USA

Height:

1.68 m / 5'6" ft

Weight:

68 kg / 150 lbs

Stance:

Right

Spouse:

Britta

Siblings:

Brother, Kreg

Children:

Dorien
Skiing Background
Started Skiing:

6 yrs

Who Got Me into Skiing:

My Father Loving skiing, Grandfather had a cabin at Sylvan Lake, we were there every weekend

My Ski Site(s):

West Palm Beach

My Coaches:

Don Llewellyn, Bruce Dodd, Mike Ferraro, Kreg Llewellyn, Britta Llewellyn

Started Competing:

9 yrs

Strongest Discipline:

Overall

My Waterski Idol:

Kreg Llewellyn

My Waterski Goal:

To unite the sport, grass roots to Pro
Accomplishments
SL Practice P.B:

1@10.25m - 58kph

TR Practice P.B:

12,000 with 25 sec, in my mind points

JP Practice P.B:

73-75ish meters

SL Tournament P.B:

3@10.75m - 58kph

TR Tournament P.B:

11220 points

JP Tournament P.B:

73.1 meters

1st Tournament:

Sylvan Lake, Alberta

1st Tourny I Won:

Not sure have to check with Mom!
Ski Equipment
Slalom Ski & Bindings:

Goode XT 65.25 - double boot Goode setup

Trick Ski & Bindings:

Goodman Slot 43, Wiley custom Llewellyn

Jump Skis & Bindings:

Goodman LlewellynPro 89s, Wiley custom Llewellyn
My Story
Jaret Llewellyn was born in Innisfail, Alberta, Canada playing ice hockey in the winter and water skiing at the family cabin in the summers. Jaret and his older brother Kreg were always competing against each other, from childhood to the top of the waterskiing world.
With 117 professional wins, 9 World Titles and 11 World Records Jaret has traveled the World and continues to love the sport he grew up with his family. Jaret married Britta Grebe, World renown water skier and they became one of the most dominant couples on the pro tour circuit. Their son Dorien is climbing the world-ranks and has the passion to follow in his parent's footsteps. After 22 years on the pro circuit, Jaret suffered his first major injuries. Jaret is back on the mend and looking to show his son the ropes.
Over Jaret's career, he has worked just as hard off the water as on the water. Serving on countless boards, ranging form Pro Skiers Associations, Athlete Rep & Board Of Director of Water Skier Wakeboard Canada, Board Of Director Water Ski Canada, High Performance, and Media Committee of Water Ski Canada, Athlete Commission Canadian Olympic Committee.
Coaching
Photos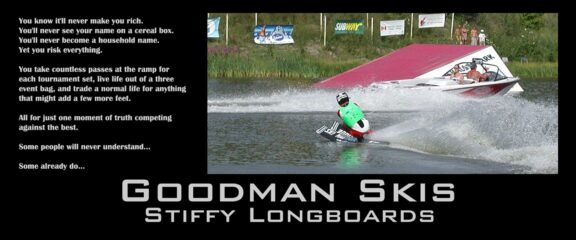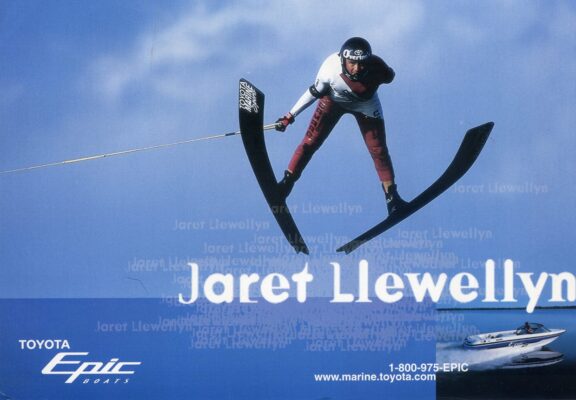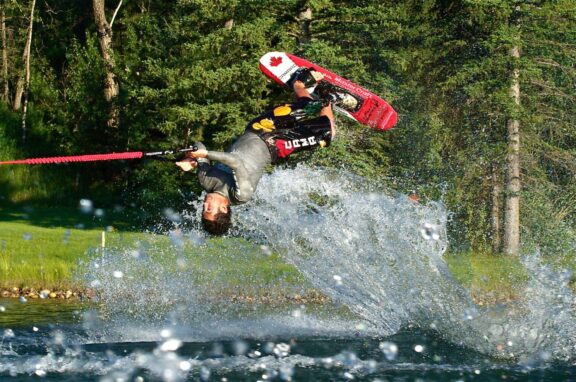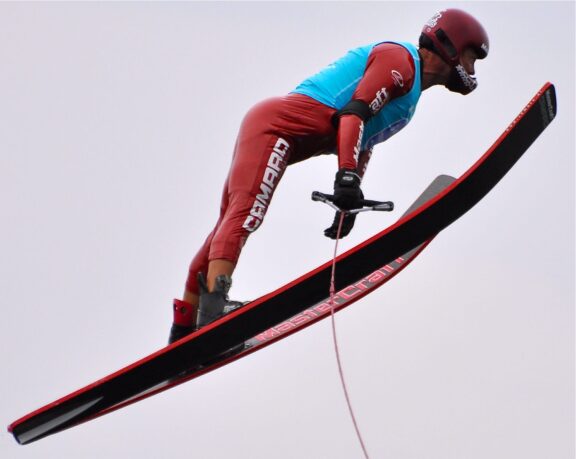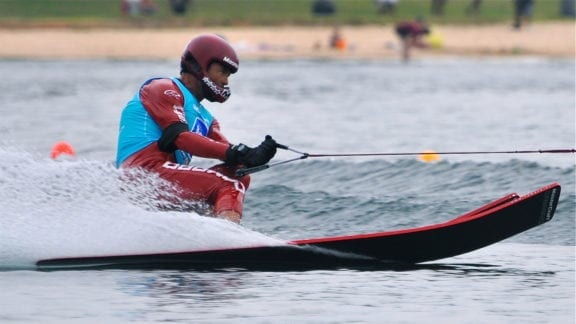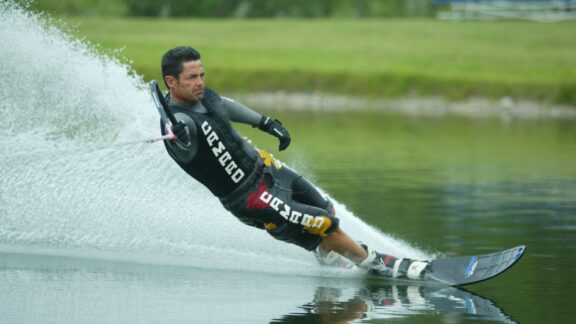 A search of YouTube videos of Jaret
The Sport Of Water Skiing
Step In The Right Direction Coaching DVD
World Jump Record 240FT
World Sky Fly Record 299FT
Jaret Global TV interview
Jaret Profile