2022 Florida Cup Official Schedule and Running Order
The 2022 Florida Cup is only days away and we cannot wait to host the best Overall skiers in the world at Ski Fluid. They will be battling it out for event title, the tour title and some big paychecks!
The Men's Overall World Record was broken 3 times at Ski Fluid in 2021 and a past Women's World Overall Record was set at Ski Fluid several years ago. With the caliber of skiers we have on the entry list, there is a good chance more records will be set to finish the 2022 season in style.
The Overall Pros will be skiing their preliminary rounds alongside some top amateur competitors on Friday starting at 7:45am. The Overall finals (Top 4 Women and Top 5 Men) will be webcast live starting at 1pm on Saturday. If you live in the Central Florida area come out and watch…if not tune into the webcast (link on the tournament page).
A link to the full schedule and running order is below:
https://worldwaterskiers.com/wp-content/uploads/2022/10/2022-Florida-Cup-Running-Order-1.pdf
Looking forward to a great event and an awesome after party at Elixir downtown Orlando!
WWS Florida Cup @ Ski Fluid
WWS Florida Cup The Final Stop 
The Florida Cup is the 4th Stop and final stop on the 2022 WWS Overall Tour. $25 thousand for each stop + year-end bonuses totaling $114 thousand is up for grabs this season. All 3 stops have come down to the wire and with the podiums changing hands all season long, it is anyone's game.  Ski Fluid will be no different – being a world-renowned ski club that can boost numerous world records these athletes will put down chilling scores in all 3 disciplines, (slalom, trick, jump) calculated together to determine who will be the named the best skier on the planet for 2022.  WWS is super pumped to be partnering with Ski Fluid to give the athletes the best opportunity to shine at the final stop on the tour. The event is FREE and there will be food trucks lakeside to keep you happy.
Friday, Oct 28th – Preliminary Rounds – Top 5 men and 4 women will advance to the Saturday finals
Saturday, Oct 29th at 1 pm Finals – Will be 3 hrs of action-packed skiing in all 3 disciplines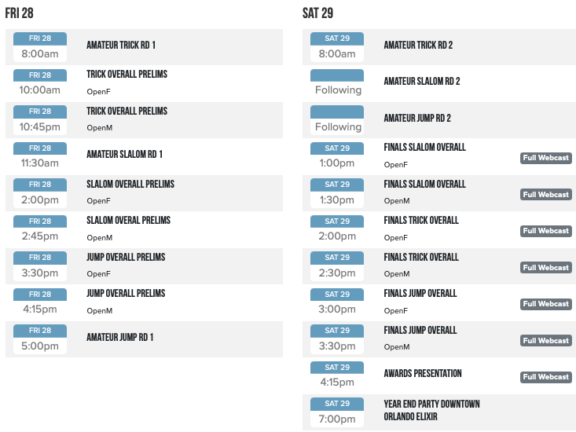 WWS Florida Cup Champions will be taking home $25 thousand USD 
but also the Year End Overall Tour Champions will take home another $14 thousand in bonuses, marking history as the 1st legitimate World Tour Bonus payout in 24 years. "World Water Skiers is super proud of putting together this 4-stop World Tour + year-end bonuses that give credence to the Tour Title." "All incredible athletes deserve a stage to perform on."
Please see the "Scheduling Tab" for a complete order of events. Finals will be Live Streamed, so please set a reminder on the WWS YouTube Page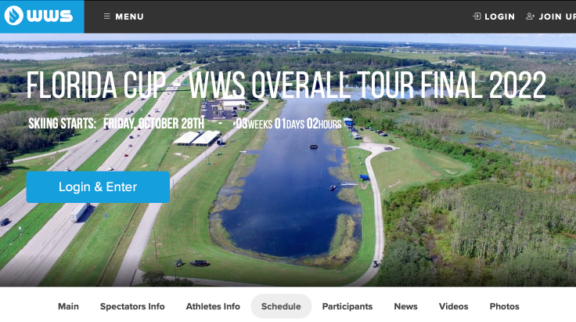 Ski Fluid Ski Club is in Polk County Florida in-between Tampa and Orlando just off I4 (exit 44). Situated just behind the world-famous Action Water Sports dealership, MasterCraft's largest dealership in the world. These incredible boats will be pulling these insane athletes to new heights and there is a big change we will see a world record go down at this event! History is being made at Ski Fluid and we hope to see you there.
*AFTER PARTY Saturday, 29th OCT *
After the finals, all the athletes will be heading downtown Orlando to Elixir to end the year right!
You will need to RSVP for VIP Tickets cost $25.00.
VIP pass covers Food + AfterParty Headliner 
7 PM Meet Athletes on the Tour – Appetizers Served 
8 PM Dinner – Fajita Bar Served
9 PM -2 AM After Party DJ Music – Headliner Martin Ikin 
Please let us know as early as you can, this helps the bar know how many are coming.
***WWS VIP passes will not be offered at the door***
Our Event and Tour Sponsors love our sport and they genuinely want to help build the sport. Please check them all out by doing a little research on them. Maybe even send them a note and thank them for us! Also, don't forget to hit the share button right on the TOURNAMENT PAGE, below, so all your friends and family can take part.
@WWSOverallTour   or   #WWSOverallTour
2022 Holy Cow Cup Running Order
The 2022 Holy Cow Cup begins this Friday 14th October and extends through the weekend with exciting action all 3 days.
The official Schedule and Running Order has been posted below:
https://worldwaterskiers.com/wp-content/uploads/2022/10/2022-Holy-Cow-Cup-Running-Order.pdf
Ski Fluid is the home of several World Records and countless National Records from countries all over the world.
If conditions stay as forecast, it is almost guaranteed a number of new records will be set over the weekend.
Skiing starts at 8am all 3 days.
See you out there!!