What A Roller-coaster Ride!
The WWS Austrian Open Did Not Disappoint!
With the World Waterski Open, Austria's most successful water skier, Britta Grebe-Llewellyn, once again brought the international elite of the action-packed water sport to Upper Austria. On August 7 and 8, some of the best of their guild competed in Fischlham in the disciplines slalom, trick and jump. The event was organized for the second time by Britta Grebe and her husband, the multiple world champion and world record holder Jaret Llewellyn. Their son Dorien took part again, who is currently the world's number two in the Overall. He also showed the strongest nerves and reclaimed the WWS Austrian Open title back to back. In the women's event, the defending champion from 2020, Giannina Bonnemann, also took the victory.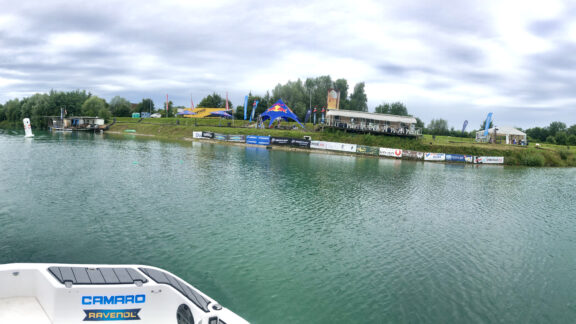 With her ten European Championship titles (in a row) two World Championship titles and four world records, Britta Grebe-Llewellyn was one of the most successful water skiers in the world. Although the native of Gmunden, who has now lived in Florida for 36 years, no longer actively participates in competitions herself, she now shares her experience in athlete management and event organization.
The athletes had to prove their skills in the disciplines slalom, trick, and jump. The winner of these three water ski disciplines combined is considered the absolute "King/Queen" of waterskiing. Besides Britta Grebe's son, the 26-year-old Dorien Llewellyn (skis for Canada), Carlo Basic from Austria, Robert Hazelwood from Great Britain, Pol Duplan-Fribourg from France, as well as the German sisters Giannina and Carlotta Bonnemann and the Italian Alice Bagnoli fought for prize money and the podium.
Right from the start, the high quality of the small, but fine starting field was evident. Already on the first day of
competition both the women and men showed world-class form and delivered top performances, although the jump competition could not be held on Saturday due to the strong winds. Dorien Llewellyn came out showing he was not here to play, scoring the highest points of all in both trick and slalom. In tough conditions, the big upset was Robert going down on the 11.25m line. This is Robert's strongest event of the three, so he would have to regroup for Sunday's finals. In the trick discipline, Dorien was able to live up to his role in being the favorite, posting a 10500 ahead of Robert's 9090,  Pol's 8080, and Carlo's 6800.
In womens' slalom the older of the Bonnemann sisters, Giannina, had the better start ahead of the Italian Alice Bagnoli and Carlotta Bonnemann and took this momentum into Sunday.
With cooler temperatures on Sunday, the athletes had to give it their all on the final day. Alice came out in the finals in slalom and prevented Giannina from potentially claiming a clean sweep. Alice posts a 3.5 at 11.25, half a buoy better than Giannina score of 3. Traditionally, the jump event is the last event of the day, but warnings of rain later threaten the jump, so the organizers decided to flip the events because of safety for the athletes. Giannina dominated the jump event with 52m, but a real race for second and third was building. Alice (1,710.98) ahead of Charlotta (1,642.18).  Charlotta stood up both her runs putting pressure on Alice. Alice proved on Saturday that she has a big hand run in her bag, but shocked the crowd when she went down on a flip during the final pass, costing her the second podium spot. Giannina ranked second in the World in Overall was overjoyed about her victory in Fischlham: "The competition was just great again, to have an overall event with all three disciplines is what we train for. For me it went extremely well, I was able to dial up my performances from yesterday. In the trick event, I was able to go one better and set a new course trick record of 10,180 points, which really made it perfect." Giannina took the Overall Crown with 2978.26 points, Carlotta claimed silver with 2160.85, ahead of Alice's 2092.12.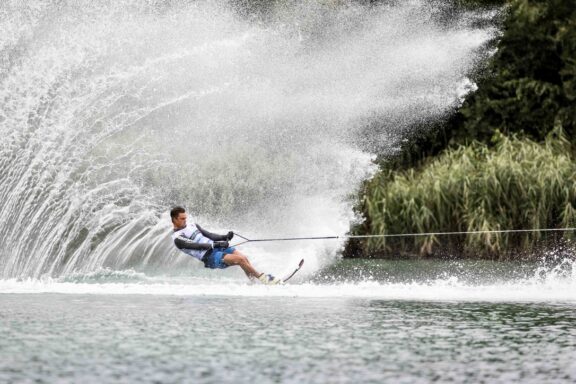 In the men's finals, tables turned on Dorien right out of the gates in the slalom event. Robert Hazelwood posted a huge slalom score of 1 @ 41off, a full pass more than Dorien's top score from the primary round. This is Robert's strongest of the 3 disciplines and Dorien's weaker of the three. Dorien said, "my game plan was to stay as close to Robert's slalom score as possible."  Dorien, unfortunately, went down earlier than expected and trailed Robert by 8.5 buoys (4.5@11.25m). Robert claimed the 1000pts for the tops score and Dorien was awarded 845.45. Pol was only 2.5 buoys (2@11.25)  behind Dorien and was awarded 800pts, with Carlo is 4 buoys (4@12m) off Pol with a score of 727.27.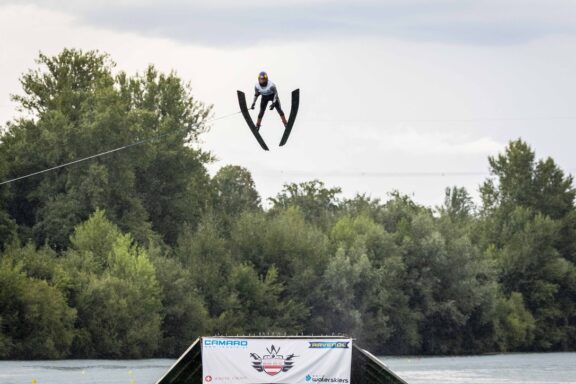 Onto the Jump, with the weather conditions holding favorable. Pol posted a 56.1m, next up Carlo with a 59.9m, and Robert tops that with a 60.0m jump. Dorien last out knew he had to gain ground back on Robert after trailing in slalom. Dorien unleashed 65.1 on his final jump and the Two-way battle is underway with Robert 1,872.82 and Dorien 1,845.45 neck and neck, as well as Carlo 1,597.59 and Pol 1,575.56 battling for 3rd and 4thspot. Finally, in tricks Carlo stood up his two passes, scoring 7,100 a new personal best. Pol's prelim run was 8080 so enough to pull farther ahead of Carlo, but unfortunately, Pol went down on his opening trick which ended all hopes of staying ahead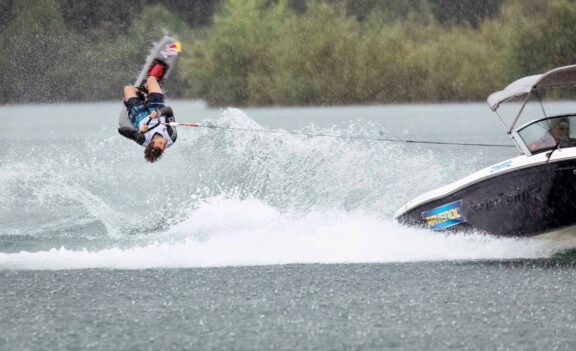 of Carlo. Robert stomped his two passes claiming a score of 9880pt putting enormous pressure on Dorien to score a minimum of 10200. Dorien answered back with 11060, just short of the course record he set last year at the Austrian Nationals 11160pt.  "I am so happy with my victory here at Lake Plana. Especially because I really spent a large part of my "water skiing childhood" here and I have such fond memories of this lake. I am very happy with my performance, it was so exciting and then I had to put all my eggs in one basket," says Grebe's son, delighted with the successful title defense in his second home.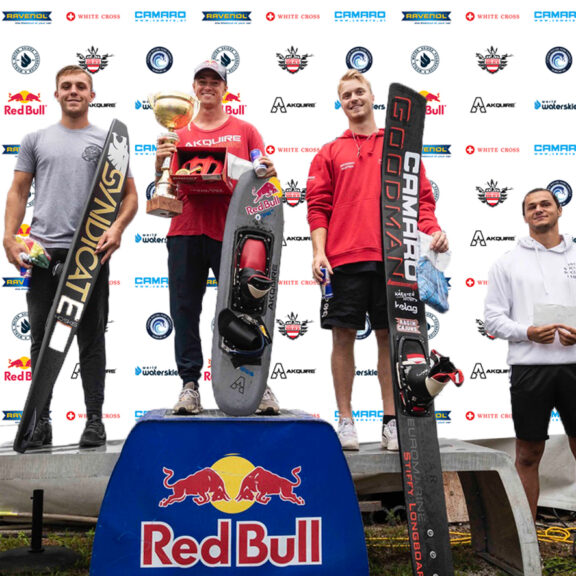 Our sponsors, volunteers, and athletes are special people, and this event would not have happened without them, Thank You! We are grateful for their relationship and support and hope you can keep them in mind when making your next purchases.  Great products and special discounts are available to our viewers in the sponsors' links at the bottom of the
"WWS Austrian Open Event Page".
For WWS, we would appreciate you clicking on "SUBSCRIBE" to the WWS website, Facebook, Instagram, and YouTube page, it will definably help with our algorithm.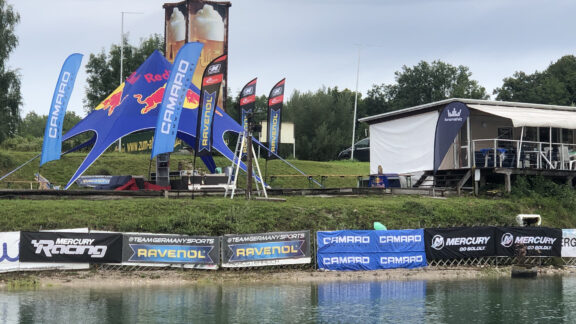 Additional Background- Family business of water skiing
The Llewellyn family is considered to be the most successful family in water skiing because, in addition to Britta, it is also her husband Jaret and their son Dorien who rule the absolute top of the world. Jaret can call himself nine times world champion (in the disciplines combination, trick, and jumping). He also set eleven world records in jumping. He has won 117 pro events in his career (numerous World Cups, PanAm Games, and many more). Thus, Jaret is without a doubt the best water skier in the world so far and was the number one in the Overall for 16 years.
In the youth/junior class, 25-year-old Dorien is a European champion (in the overall, slalom and jump). In the U21 class, Dorien moved from Austria to Canada to compete with his famous father on the team at the World Championships, where he also won the silver medal in the U21 Overall, catapulting himself to first place in the world rankings. For three years now, the waterski talent has dominated the general class of the Overall at the PanAm Games (held every four years), and he is number two in the trick, slalom, and jumping disciplines. At the PanAm Championships (held every year and comparable to the European Championships) he is the undisputed dominator Overall. Recently Dorien is also allowed to call himself "King of Tricks", for winning the King of Darkness, a pro night competition in Orlando.
The dominance of the water ski family was especially evident in 2012 and 2013, as in both years Jaret and Dorien were both number 1 in the World in the Open Division and Juniors, something that has never been seen before in any other sport.
Tough day today in Austria
Tough day today in Austria, especially with a tailwind like no tomorrow! As most overall competitions go, there is always drama. Unfortunately, with dangerous conditions, we opted to cancel the jump, instead only having a single-cut competition for the crowd. But today was mainly about seeding and vying for the individual event's high scores, which hold cash prize bonuses. Tomorrow the finals battle begins anew and with a forecast for great conditions, the performances should only improve! Check the Event Page for LIVE Webcast start time in your time zone.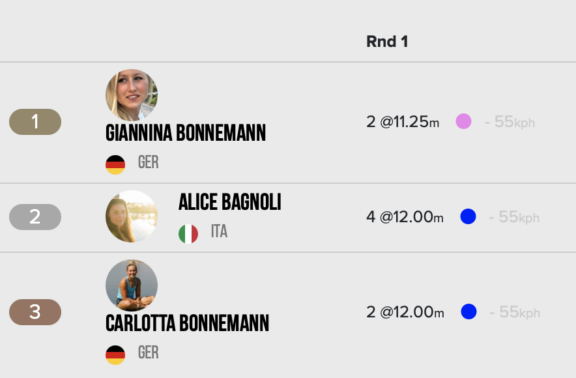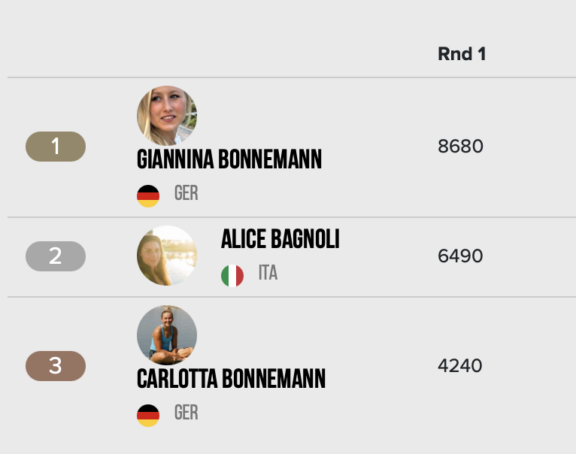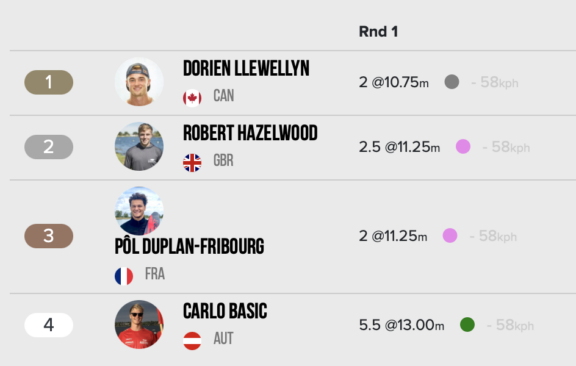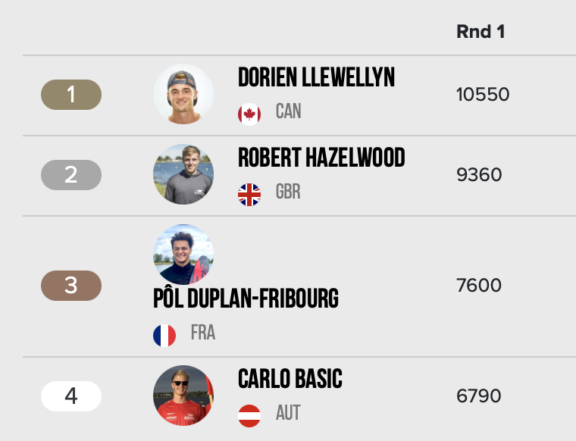 No Jump yet!
Dorien​ Robert​ Pol​ Carlo​ Giannina​ Alice​ Carlotta​
RAVENOL​ Camaro Watersports​ Akquire​ White Cross Québec​ Centre Nautique Pierre Plouffe Tremblant Inc​ kronehit​ Red Bull​