The 61st Nautique Masters Tournament Update
A message from Greg Meloon, President of Nautique Boat Company:
The health, safety and well-being of everyone is our top priority at Nautique Boat Company. As you are all aware, the Coronavirus (COVID-19) outbreak has become a matter of great concern around the world. Our hearts and prayers go out to those who have been impacted by this virus and especially those who have lost loved ones.
Nautique Boat Company cares deeply about your overall well-being. It is a priority for Nautique to stay informed with trustworthy, reliable information on this topic. Our information and best practices are coming from the Centers for Disease Control and Prevention (CDC), the World Health Organization (WHO), and the Georgia Department of Public Health, as well as Harris County authorities.
As a result of this group effort and based upon information from these sources that are grounded in facts provided by official agencies, we have decided to take the necessary steps of postponing the 61st Masters Waterski & Wakeboard TournamentTM.
We are currently working with Callaway Gardens, in addition to the sanctioning Federations and Associations, to finalize a date later in the year to host the most prestigious water ski and wakeboard tournament in the world.
For those who have already purchased tickets for the event, we will honor them for the new date. For the latest news and event information, please check masterswaterski.com.
This moment in our history transcends sport. This is a time for all of us to come together and take care of each other. Your unwavering support has always meant the world to us, but never more so than now.
I thank you and send you all best wishes during this difficult time, and I look forward to seeing you all at the 61st Masters this fall.
Regards,
Greg Meloon
President
Nautique Boat Company, Inc.
60th Moomba Masters wrap up.
The 60th Moomba Masters waterski event concluded this weekend with the world's best athletes taking home titles in front of thousands of people on the Yarra River in downtown Melbourne, Australia.
In men's trick, current IWWF World Trick Champion Pato Font (MEX) picked up right where he left off last season by claiming another victory and standing on top the podium yet again after an incredible performance ahead of Dorien Llewellyn (CAN) and Joel Poland (GBR). In the women's trick event, women's world record trick record holder Erika Lang (USA) took home the top spot with current world women's trick champion Anna Gay (USA) placing second  followed by Giannina Bonnemann (GER) in third.
Current world women's slalom champion, Manon Costard (FRA) won an exciting tie-breaker against Allie Nicholson (USA) and Luisa Jaramillo (COL) to win the women's slalom title.  Men's slalom was just as exciting with current World Men's Slalom Record Holder Nate Smith (USA) having to a ski a tie-breaker against defending Moomba Champion Thomas Degasperi (ITA), running 3.00 buoys on the 10.25 metre rope length to win the men's slalom title.  World champion Joel Howley rounded 4.50 buoy on the 10.75 metre rope length to place third.
Current women's world jump champion and record holder Jacinta Carroll (AUS) jumped 20 metres further than Aliaksandra Danisheuskaya (BLR), ANOC World Beach Games Jump Champion to win the women's jump event. Giannina Bonnemann (GER) place third.
Men's Jump brought an exciting end to the 60th Moomba Masters with defending champion and former world record holder Freddy Krueger (USA) winning his event with a 65.1metre jump, just edging out Igor Morozov (RUS) by one metre and Felipe Miranda 3rd with a 64.3 metre jump.
Giannina Bonnemann (GER), with 3rd place finishes in women's trick and jump, won women's overall followed by Aliaksandra Danisheuskaya (BLR) in second place and Paige Rini (CAN) in third.
The legendary Hazelwood name has not been heard for years on the Yarra River but Robert Hazelwood made his Moomba Masters debut in spectacular fashion, surely making his uncle Mike Hazelwood proud, qualifying for the finals in all 3 events and placing second in overall behind fellow countryman Joel Poland who impressed throughout the event, also qualifying for the finals of all 3 events and placing 2nd in men's trick.  Dorien Llewellyn (CAN), 2019 Pan American Games Overall Champion, placed third.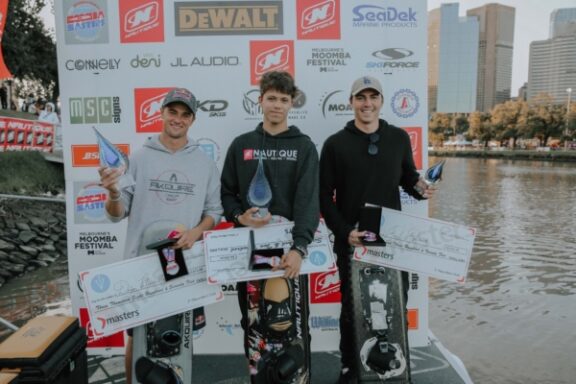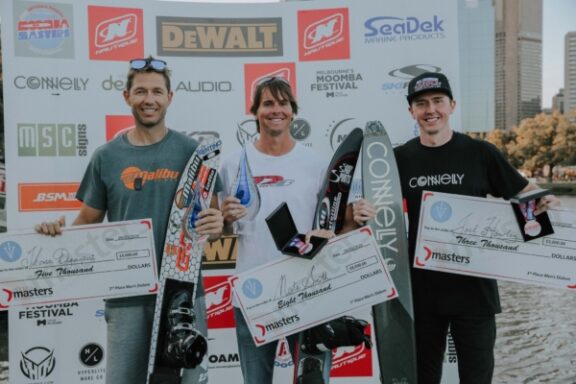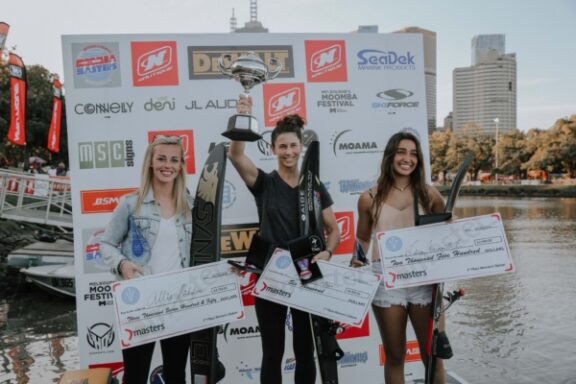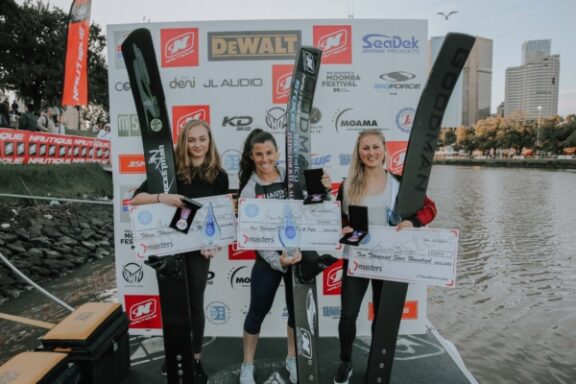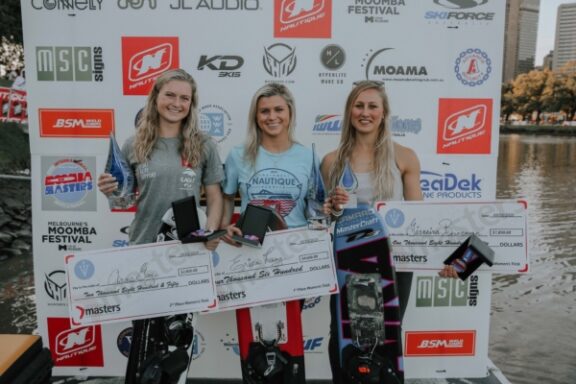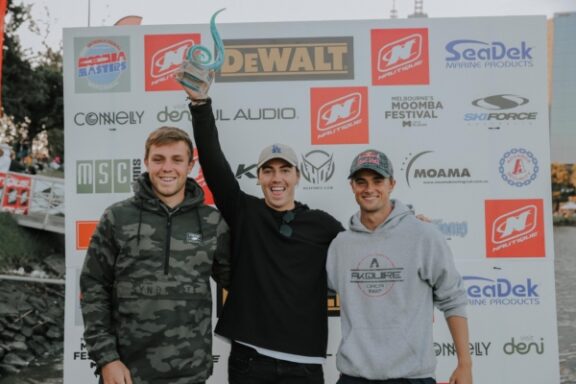 International waterskiers hit the Yarra River for the 60th Moomba Masters
The list of skiers include Manon Costard (FRA) and Joel Howley (AUS) the current IWWF World Slalom Champions, Anna Gay (USA & defending Moomba Masters Champion) and Patricio Font current IWWF Trick Champions, and Jacinta Carrol (AUS) current IWWF World World Women's Jump Champion. Current IWWF World Waterski Champions and World Record Holders will hit the Yarra River this morning at the  60th Moomba Masters in downtown Melbourne, Australia.
Also joining the field of slalom skiers are former World Slalom Champions Thomas Degasperi (ITA / defending Moomba Masters Champion), Will Asher (GBR), Nate Smith (USA / current IWWF World Record Holder) and Frederick Winter (GBR).
Current Women's World Trick Record Holder Erika Lang (USA) and current World Men's Overall Champion  Martin Kolman (CZE & defending Moomba Masters Trick & Overall Champion) will join the field of trick skiers.
2019 ANOC World Beach Games Women's Jump Champion Aliaksandra Danisheuskaya (BLR), former World Overall Champion Felipe Miranda (CHI) and former World Jump Champion and Record Holder Freddy Krueger (USA & defending Moomba Masters Champion) will compete in the jump event.
Ski Nautique, IWWF's Official World Waterski Championships towboat, will be used to tow all 3 waterski disciplines – slalom, trick and jump.
The event will be live-streamed all Saturday to Monday.