The 2018 Action Pro Night Jump Recap
On September 10th Action Water Sports opened its doors with a bang to Central Florida. In Partnership with MasterCraft and GMC, Action Water Sports' grand opening featured a Pro Night Jump event at the Ski Fluid Training Center.
During the day the Worlds best jumper challenged each other for one of the top 4 spots to go under the lights for the 1st Action Pro Night Jump Crown. Even with a slight cross-tailwind Ryan Dodd (CAN) and Freddy Krueger (USA) banged their jumps out of the park, leaving the battle for the last two spots. Both Rodrigo Miranda (CHI) and Jack Critchley (GBR) claimed the spots with a tie at 67.2m (220ft). Adam Sedlmajer (CZE), Taylor Garcia (USA), Felipe Miranda (CHI), Scot Ellis (USA), Zack Worden (USA) where all within 3 feet of each other, but would not get to move on to the next round.
As the sun went down the party started, with MasterCraft bussing in dealers from around the world. Everyone was in awe to see the newly transformed USA Hall Of Fame building into the new state of the art Action Water Sports dealership. In VIP tents, enjoying food and drinks, the dealers were entertained by the top 4 jumpers under the lights.
Each skier got 3 jumps with Rodrigo setting the pace with a 64.7m (212ft) jump. Jack, knowing that Ryan and Freddy were on the dock behind him, he would need to go all out to grab a final spot. Jack posted a 68.9m (223ft) jump, furthering his round 1 daylight jump by 3ft, incredible in the dark. Freddy launched one and bettered Jack by 3 feet, posting a 68.9m (226ft) to take the lead, guaranteeing his spot in the finals.  Ryan dialed in just enough to edge out Jack by a foot, jumping 68.3m (224ft). Ryan opted not to take his last jump, so that he could go right back out, fresh for the head to head battle with Freddy.
Each jumper had two jumps in the final round. Ryan posted at 68.5m (225ft), which was not as far as Freddy's prelim jump. Skiing back to the dock, Ryan was shaking his head knowing that he might have left the door open for Freddy. Freddy tried to put Ryan away on his 1st jump, but missed his "Freddy float" and came up short. With only one more jump, the excitement was felt through the big crowd. This crowd knew these jumpers were laying it on the line and they appreciated it! Freddy pushed hard, but could not equal his prelim jump and had to settle for second with a final jump of 67.4m (221ft).
If you did not get down the shores of Lake Grew, we hope you will enjoy some of the videos WWS has created. We will be adding more videos on this event, but seeing these daredevils fly over 220 ft in the dark in person is something you just have to witness first hand.
Just a reminder to our readers to make comments on the page, or on Action Water Sports, MasterCraft, GMC, SkiFluid social sites, as these events don't happen without their support. With more engagement from the community and its dealers, these athletes could be flying in your backyard.
A special thanks to Freddy- director, all the judges, athletes, volunteers for stepping up and getting it done. Special, Special thanks to Kyle and Karyn Eade for hosting and pulling this event off!
Get all the final results on the Action Pro Night Jump page at
https://worldwaterskiers.com/tournament/19s056/
Queen's Cup Postponed Until Oct. 6-7
The third annual SportsInsurance.com Queen's Cup, which was scheduled to take place Saturday and Sunday at Little Mountain Farms near Charlotte, N.C., has been postponed until Oct. 6-7 due to Hurricane Florence.
The unique format of the Queen's Cup was created to provide women's slalom skiers the opportunity to compete for cash and prizes at a world-record capability water ski site. With a purse exceeding $10,000 in cash and prizes, the tournament is presented by SportsInsurance.com and Race City Marine of Mooresville, N.C. The event is designed to parallel the men's Nautique Big Dawg World Slalom Tour in giving women the opportunity to take center stage at an elite event.
Regional, national and world champions are among the skiers who entered in the first two years, but the event is also open to water skiers of all levels.
The inaugural Queen's Cup champion, Josefin Hirst, will return after having to miss last year's event. The 2017 champion, however, will not be eligible to defend her title because of her placement in the 2018 Moomba Masters. Vennesa Vieke was third at Moomba. Queen's Cup rules prohibit skiers who place in the top seven of an elite tournament from entering.
Previous Queen's Cup skiers include USA Water Ski & Wake Sports Foundation Hall of Fame inductee Jennifer LaPoint, a former world record holder, as well as winners of multiple regional and national championships, such as Leza Harrison, Joy Kelley, Trish Burt, Chelsea Mills, Shirley Coble, Gail Case, Brenda Baldwin, Cyndi Benzel and more.
Skiers ages 30 and older from throughout the United States as well as Europe and Canada competed in the first two Queen's Cups. The top 16 after two rounds of Saturday qualifying advance to Sunday's head-to-head finals. An award is also given to the skier who most exceeds her average score, based on a handicap system, regardless of whether she advances to the Sweet 16.
The most unique aspect of the Queen's Cup is the parity it brings. Skiers of all ages compete on equal footing, as boat speeds are taken out of the equation. For example, women whose maximum boat speed is 30 or 32 mph get the same buoy scores as those whose top speed is 34. A 28-off pass – or any other – counts the same at any boat speed.
That format propelled Joy Kelley, 58 years old at the time, into the head-to-head final against 34-year-old Hirst at the 2016 Queen's Cup. Kelley's top boat speed was 32; Hirst's was 34. Kelley defeated 34-mph skiers Brenda Baldwin and Chelsea Mills in the rounds of 8 and 4, before meeting Hirst in the final.
To enter, click here. For sponsorship opportunities and other information on the Queen's Cup, contact tournament director Jeff Gilbert at gilb41@hotmail.com.
California Pro Am Set For This Weekend
The Sacramento region will serve, for the sixth consecutive year, as host to the largest professional slalom water ski event in the United States when the 16th California Waterski Pro Am takes place Friday through Sunday at Bell Acqua Lakes in Rio Linda, Calif. The event is presented by Nautique Boats and offers free admission to the public.
The tournament will feature nine of the top-10 International Waterski & Wakeboard Federation (IWWF) ranked men's skiers, including Nate Smith, Frederick Winter, Sacha Descuns and Will Asher, and eight of the top-10 women's skiers, including world record holder Regina Jaquess, Whitney McClintock-Rini and Manon Costard. Jaquess recently set a world record of 4 buoys at 41 feet off on July 16, 2018.
Men's and women's amateur skiers from Canada and the Western United States will compete on Friday starting at 8 a.m. PDT along with Masters Men. Saturday's competition will begin at 8 a.m. PDT and feature Open Men's and Open Women's skiers and Amateur Head-to-Head. Sunday's activities will culminate with the Open Men's and Women's finals starting at 9 a.m. (subject to change).
The Action Night Jump
Action Water Sports latest location serving Central Florida, in part with MasterCraft is openings it's doors with a bang. Monday, September 10th, they will be showcasing an under the lights ski jump contest between four of the world's top jumpers, battling it out for a $20,000 cash prize at SkiFluid.
As the sun begins to set, each jumper will attempt to soar to the moon and back, with only the shimmer of stadium lights guiding them through the air. Plus, MasterCraft's latest creation the X22, will be unveiled to the public for the first time ever. As their guest, you'll be one of the very first enthusiasts to put your hands all over this fresh piece of fiberglass.
So gather your closest friends and family, and prep yourself for an evening of full-on fun.
SkiFluid is owned and operated by World Renowned 3-Event Skier Kyle Eade.
Get all the Info, Live Scores and more right here on WWS as we partner with this awesome event.
#theactionnightjump
@WorldWaterSkiers
#WorldWaterSkiers
#WWS
2018 European & African Waterski Championships Begins In Greece
Over 70 skiers from 18 countries will travel to Ioannina, Greece this week to compete in the 2018 IWWF European & African (E&A) Waterski Championships. Some of the best skiers in the world will be on the water, competing for IWWF European & African titles.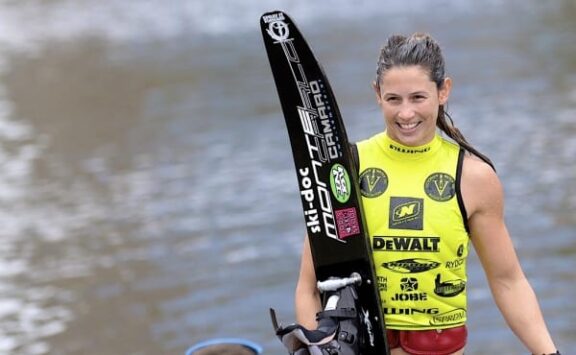 Manon Costard (FRA)
Current IWWF E&A Women's Slalom record holder Manon Costard (FRA) who is having her best season ever will need to fend off the challenge of Geena Krueger (GER), 2017 World Games Slalom Champion & former IWWF World Slalom Champion. Reigning IWWF Men's World Slalom Champion, Freddie Winter (GBR) will go up against a two-time IWWF Men's World Open Slalom Champion Thomas Degasperi (ITA) and Sacha Descuns (FRA) who has been posting some big 10.25 m scores this year.
In the trick event, all eyes will be on the current IWWF Men's World Trick Record Holder and IWWF E&A Men's trick recorld holder Aliaksei Zharnasek (BEL). He will be challenged by French skiers Alexandre Poteau and Pierre Ballon
2017 World Games Trick and Jump Gold Medalist Natallia Bernikava (BEL) will be out to stamp her authority to reclaim her IWWF E&A Women's trick, jump and overall titles. In men's jump, Russia's Igor Morozov, will be looking to reclaim his IWWF E&A men's jump title.
The E&A Open Championships will be live streamed beginning Thursday, 6th September 2018.