2018 IWWF World Junior Waterski Championships Kicks Off This Week
The top 127 junior skiers from 26 countries will arrive in Toledo, Spain this week for the 2018 IWWF World Junior Waterski Championships to be held at the Sesena Waterski & Wakeboard Complex.
The new 2019 Ski Nautique will make its debut for the first time at an IWWF World Titled waterski event and the stage will be set for skiers to perform at their best.
Current IWWF World Open Women's Trick Champion and IWWF Female Athlete of the Year, Neilly Ross (CAN), is expected to defend her IWWF World Junior trick title again. Kennedy Hansen (USA), Malaysia's Aaliyah Yoong, who placed 3rd at the 2018 US Masters, and Stanislava Prosvetova (UKR) are also in contention for a place on the podium.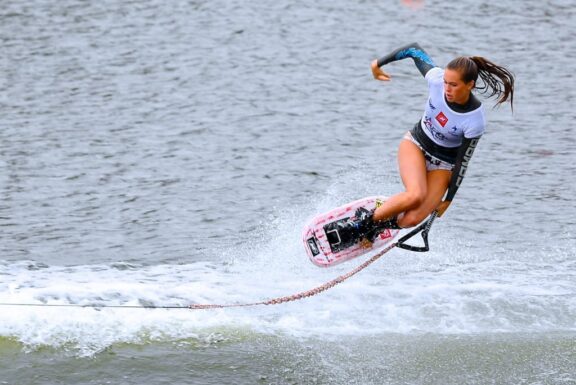 Reigning IWWF World Junior Trick Champion Patricio Font (MEX), with a personal best of over 11,000 points, will be a strong favourite again to win the gold medal.  He will have the likes of Felipe Franco Belmont (PER), Federico Jaramillo (COL) and Alexander Samoilov (UKR) biting at his heels.
Luisa Jaramillo (COL), Kristen Baldwin (USA), Alexandra Garcia (USA), Kennedy Hansen (USA), Valeryia Trubskaya (BLR),  Neilly Ross (CAN) and Molly Ferguson (AUS) are expected to battle it out on the 11 metre line in the girls slalom event.
Boys slalom will see the likes of Griffin Stange (USA), Federico Jaramillo (COL), Pavlos Nathanail (GRE), Tim Tornquist (SWE) and Thomas Witczak (FRA), all likely to be slugging it out on the 10.75 metre line length for the gold medal and a place on the podium.
In girls jump, Sofia Maksimenkova (UKR), Sade Ferguson (AUS), Stanislava Prosvetova (UKR) and Tianna Kosek (USA) are capable of jumping over 40 metres and in contention for a podium finish.
William Roberts (USA), Alexander Samoilov (UKR), Blake Keller (USA), Will Gibson (NZL), Tobias Giorgis (ARG) and Pol Duplan-Fribourg (FRA) will be looking to jump way beyond the 50 metre mark for a place on the podium, better yet for a gold medal in boys jump.
Sponsors
Visit the WWS Tournament page for more information – https://worldwaterskiers.com/tournament/18iwwf01/
Correct Craft acquires electric boat drive system
CORRECT CRAFT ACQUIRES ELECTRIC BOAT DRIVE SYSTEM – PLEASURECRAFT ENGINE GROUP PREPARES FOR THE FUTURE
ORLANDO, FL (July 25, 2018) — Today, Correct Craft announced its newest acquisition, an electric boat drive system, Ingenity P220, that originated in Austria. The acquisition is a result of Correct Craft's Watershed Innovations initiative and will help prepare Correct Craft's Pleasurecraft Engine Group and the company's boat brands for the inevitable future beyond internal combustion engines.
Previously built by Ortner Electric in Villach, Austria, the Ingenity P220 is the highest performing electric towboat propulsion system in the world. The significant demand in Austria for the Ingenity P220 positions the system well for substantial international growth.
The Ingenity P220 is available in the Super Air Nautique 210 and GS20 models in Austria and will soon be available in these models worldwide. Additionally, the Ingenity P220 will eventually be available in more Nautique models and other Correct Craft boat building brands.
Pleasurecraft Engine Group engineers have been involved in the evaluation of the system and will continue to provide insight and support as they work toward its future development with the team from Correct Craft's Watershed Innovations.
Bill Yeargin, President and CEO of Correct Craft stated, "The world is quickly transitioning to electric power and the acquisition of the Ingenity P220 system will help position Correct Craft, Pleasurecraft Engine Group, and our boat companies for a successful transition to the future. I am thrilled we could complete this important acquisition."
Yeargin added, "A few months ago, when Correct Craft kicked off our Watershed Innovations initiative, electric propulsion was one of many items on our list to address. The Watershed Innovations team is taking on all these projects to help prepare Correct Craft and our companies for the future. The future is bright but will undoubtedly be a lot different than today, so we are working hard to prepare our Correct Craft companies for these inevitable changes."
About Correct Craft: Celebrating 93 years of excellence in the marine industry, Correct Craft is a Florida-based company with global operations. The Correct Craft family includes Nautique, Centurion, Supreme, Bass Cat, Yar-Craft, SeaArk, and Bryant boat companies, Pleasurecraft Marine Engine Group, Watershed Innovations, and Aktion Parks. For more information please visit www.correctcraft.com.
About Pleasurecraft Engine Group: Pleasurecraft Engine Group, owned by Correct Craft, manufactures four engine brands, PCM, Crusader, Challenger, and Levitator, from its headquarters in Little Mountain, South Carolina. For over forty years Pleasurecraft has led the industry in providing the highest quality, most innovative inboard engines, backed with exceptional service. For more information please visit www.pcmengines.com.
About Watershed Innovations: Founded in 2018, Watershed Innovations is focused on identifying, researching, developing and integrating exponential technologies to benefit Correct Craft, its subsidiaries and the marine industry. These ideas will strategically align with our businesses, our culture and our focus of "Making Life Better." For more information please visit www.watershedinnovations.com.
Nate Boudreaux Hired As Executive Director Of USA Water Ski & Wake Sports
POLK CITY, Fla., July 18, 2018 – USA Water Ski & Wake Sports is pleased to announce the hiring of Nate Boudreaux as the organization's next executive director. Boudreaux, who will begin his new position with the national governing body of organized water skiing and wakeboarding in August, takes over for Bob Crowley, who announced his retirement earlier this year after eight years with the organization.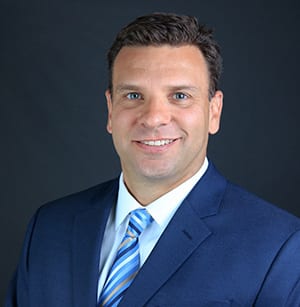 "I am confident Nate will work hard to make a smooth transition from Bob Crowley, who has been a stable rock of leadership in our organization," said Tim Cullen, president of USA Water Ski & Wake Sports. "After receiving national, and even international, interest in the executive director position with many excellent candidates, we're happy to have Nate join us. USA Water Ski & Wake Sports is at a critical juncture and will require an injection of energy, creativity and an inspiring leader who is capable of building on past success while spearheading the growth of our beloved organization."
Boudreaux comes to USA Water Ski & Wake Sports after a four-year (2014-18) stint at the American College of Sports Medicine (ACSM), a non-profit organization made up of over 50,000 sports medicine and exercise professionals. At ACSM, he served as director of corporate partnerships and was responsible for driving new business and revenue streams, while also servicing a portfolio of more than 20 corporate partners. During his tenure at ACSM, Boudreaux increased sponsorship revenue by 64 percent and forged multi-year partnerships with major brands like adidas, Gatorade, Technogym and Polar.
"I'm excited for the opportunity to join a great organization like USA Water Ski & Wake Sports," said Boudreaux, who prior to ACSM, spent nine years (2005-14) at USA Football, an independent non-profit organization endowed by the NFL that serves as the national governing body of youth and amateur football. "I look forward to working with the USA Water Ski & Wake Sports board of directors, as well as our 15,000 members, headquarters staff and sponsors to help take the organization to the next level."
At USA Football, Boudreaux served in numerous management roles within marketing, communications and sponsorships. Most recently, he was the organization's associate director of business development and partnership marketing. Boudreaux also spent four seasons (2002-05) in the NFL as the media relations coordinator with the Cleveland Browns. He also worked as media relations director for a pair of Arena Football League teams (Carolina Cobras, 2000-02; Florida Bobcats, 1999), and spent time in minor league baseball with the New Orleans Zephyrs (1997).
A graduate of Loyola University of New Orleans with a B.A. in communications, Boudreaux earned a post-graduate certificate in Sports Industry Essentials from Columbia University.
About USA Water Ski & Wake Sports
USA Water Ski & Wake Sports is affiliated with the International Waterski & Wakeboard Federation (world governing body) and is recognized by the United States Olympic Committee and Pan-American Sports Organization as the national governing body of organized water skiing and wakeboarding in the United States.Scott N. Atkinson
2018 Canadian Open
With just a week to go before the next stop of the Pro Waterski summer season, all eyes turn towards the Great White North. We are talking about Canada and if there is a can't miss pro event in maple syrup land, you can be sure it will be next week at Shalom Park. Located in Edmonton, Alberta, Shalom Park is a pristine man made lake with the classic Alberta green landscape and a viewing bank perfect for watching the best skiers around the world.
The Canadian Open will be held from Friday, July 20, through Sunday, July 22. While Friday is "only" the amateur event, you won't want to miss out on the action as every skier will be pushing their limits in order to help their respective Pro-Am team. Typically consisting of 3-4 pro skiers and a similar number of Jr's, the Canadian Open functions as a team event both in terms of performance and spirit, much in the same way as Collegiate skiing.
Then in the heart of the weekend, the best pro skiers in the world will fight for the Jump and Slalom titles. Whitney McClintock-Rini will look to defend her title against a red hot Manon Costard, who is fresh off a win at the US Masters and the San Gervasio Pro-Am. In addition, Canada's own Paige Rini, Jaimee Bull, Breanne Dodd, and Taryn Grant will throw their hats into the ring, leaving no room for mistakes in what should be a thrilling event. It should be noted that the Women's Slalom event will achieve a feat not many other female sports can claim, in that the women will be paid equal to the Men's event. #metoo
On the Men's side, Nate Smith has been the King of Shalom Park for the last couple of years. But Will Asher will look to build off of his win at the Botaski Proam in order to take the crown. Canadian power-duo,  Jason "J-Mac" McClintock and Stephen Neveu have come close to the title in recent years and will bring their A-game in front of the home crowd.
The event will finish off with the Men's Jump event. "Beastmode" Ryan Dodd will be looking to rectify his runner up finish at the US Masters by defending his Canadian Open title. Freddy Kruegger seems to be the best bet when it comes to taming the beast, yet young gun superstars Taylor Garcia and Jack Critchley have both been on a tear this year and will not be denied the opportunity to take on the giants of jumping.
With all of the action to come, you won't want to miss on a second of the event. If you can't make it to the event site next weekend, join the action on World Water Skiers, where there will be Live Scoring and a Live Webcast all weekend long. But if you can, head over to Shalom Park to see the greatest show on water!
#thecanadianopen
@skishalompark
@WorldWaterSkiers
#WorldWaterSkiers
#WWS
Lastly, Thank you to all our sponsors! Without you this would not happen.