2018 European & African Waterski Championships Begins In Greece
Over 70 skiers from 18 countries will travel to Ioannina, Greece this week to compete in the 2018 IWWF European & African (E&A) Waterski Championships. Some of the best skiers in the world will be on the water, competing for IWWF European & African titles.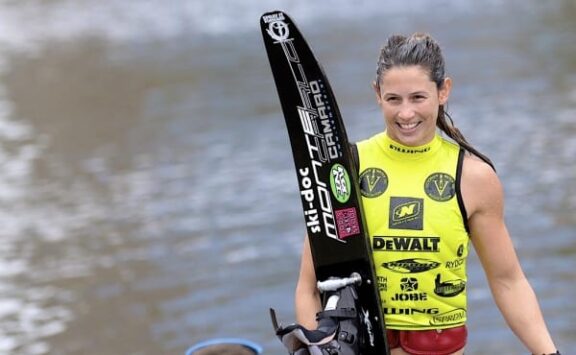 Manon Costard (FRA)
Current IWWF E&A Women's Slalom record holder Manon Costard (FRA) who is having her best season ever will need to fend off the challenge of Geena Krueger (GER), 2017 World Games Slalom Champion & former IWWF World Slalom Champion. Reigning IWWF Men's World Slalom Champion, Freddie Winter (GBR) will go up against a two-time IWWF Men's World Open Slalom Champion Thomas Degasperi (ITA) and Sacha Descuns (FRA) who has been posting some big 10.25 m scores this year.
In the trick event, all eyes will be on the current IWWF Men's World Trick Record Holder and IWWF E&A Men's trick recorld holder Aliaksei Zharnasek (BEL). He will be challenged by French skiers Alexandre Poteau and Pierre Ballon
2017 World Games Trick and Jump Gold Medalist Natallia Bernikava (BEL) will be out to stamp her authority to reclaim her IWWF E&A Women's trick, jump and overall titles. In men's jump, Russia's Igor Morozov, will be looking to reclaim his IWWF E&A men's jump title.
The E&A Open Championships will be live streamed beginning Thursday, 6th September 2018.
---
PostTags:

Source:
---